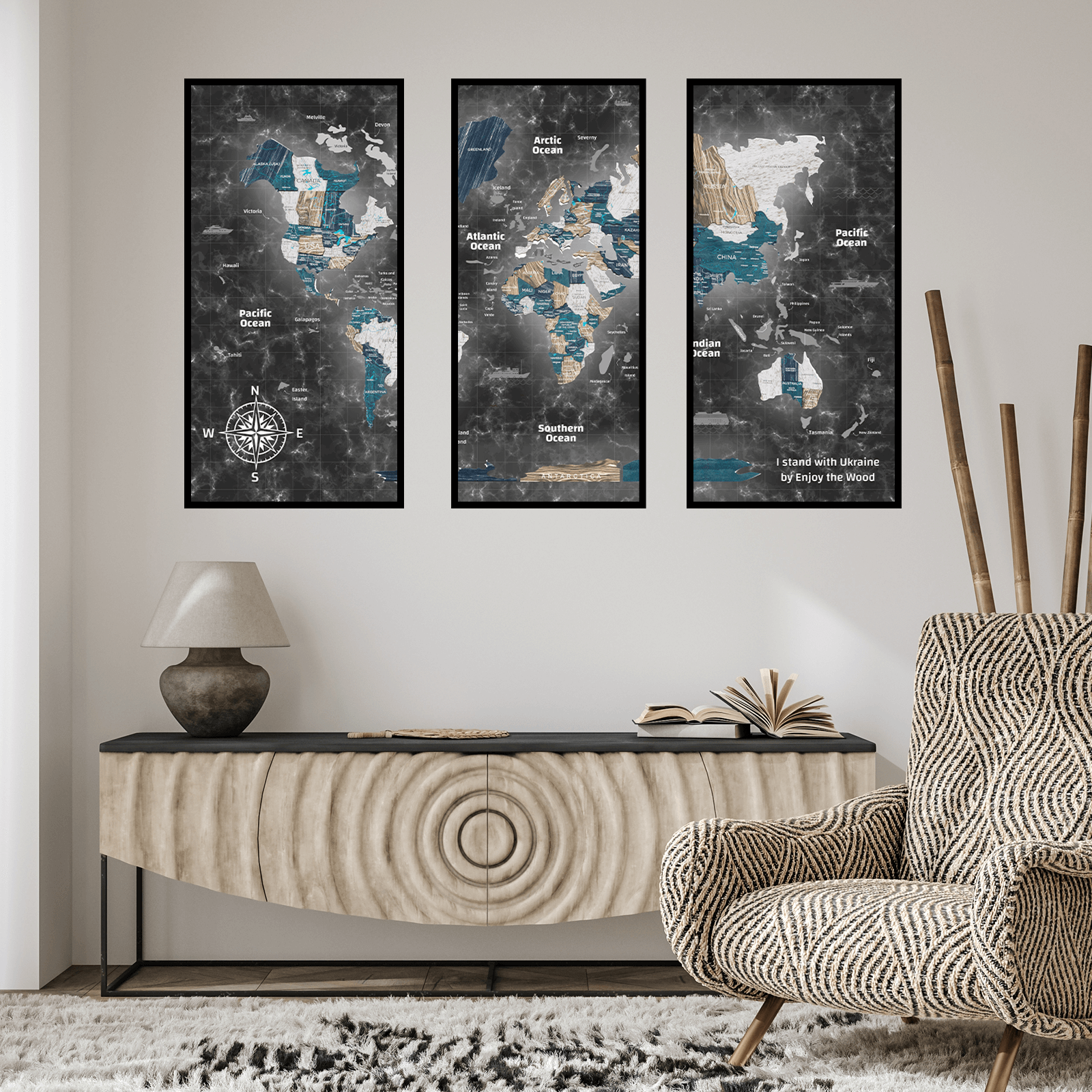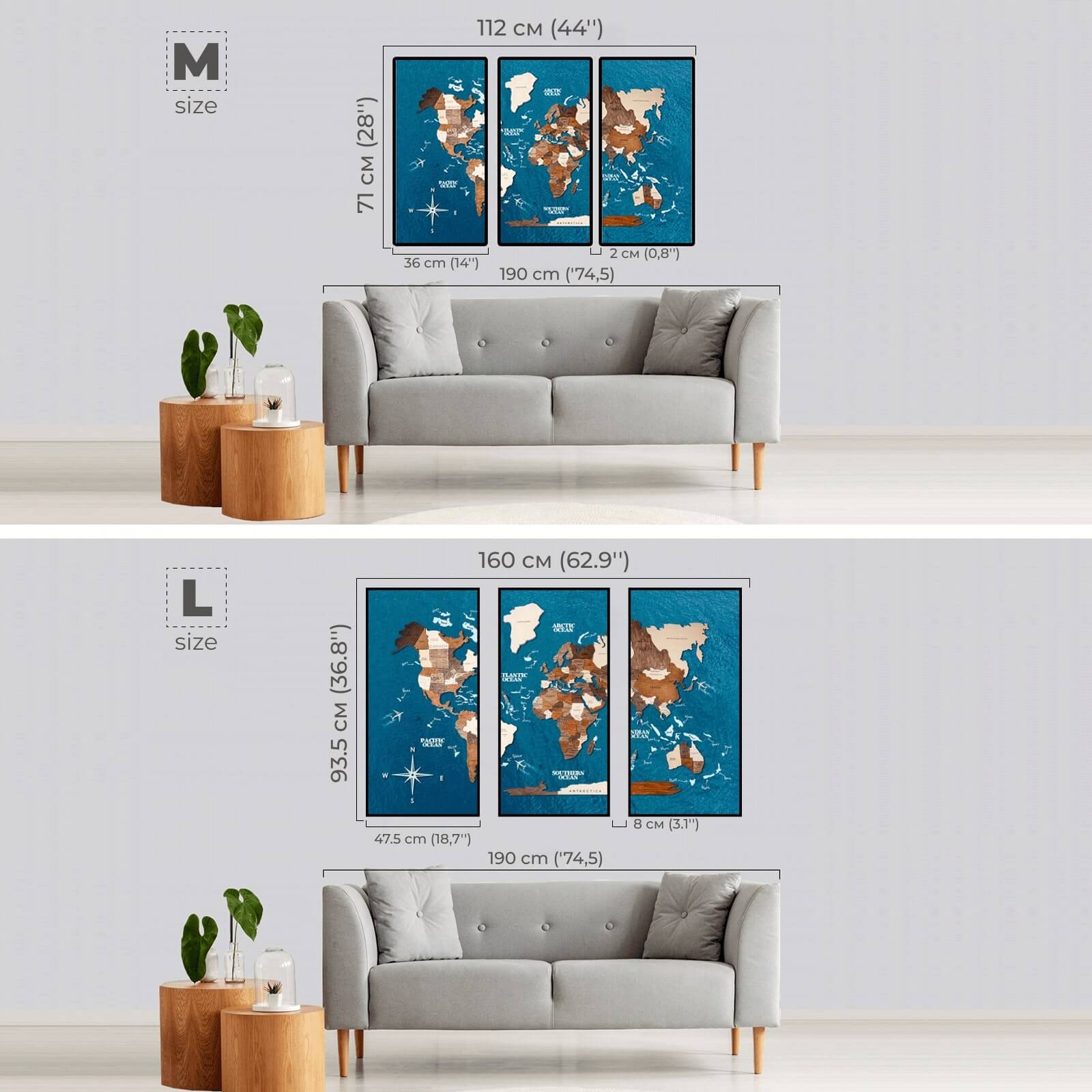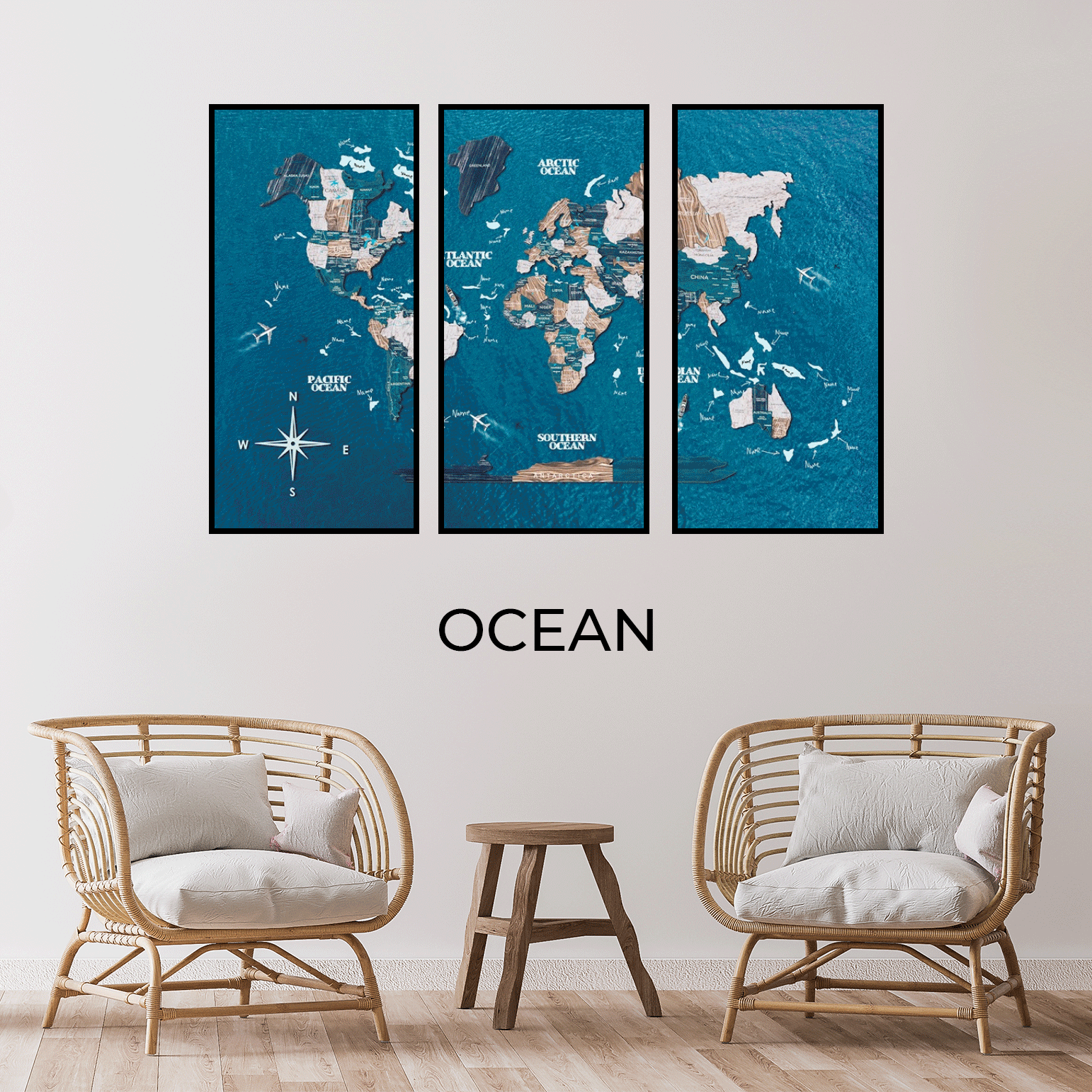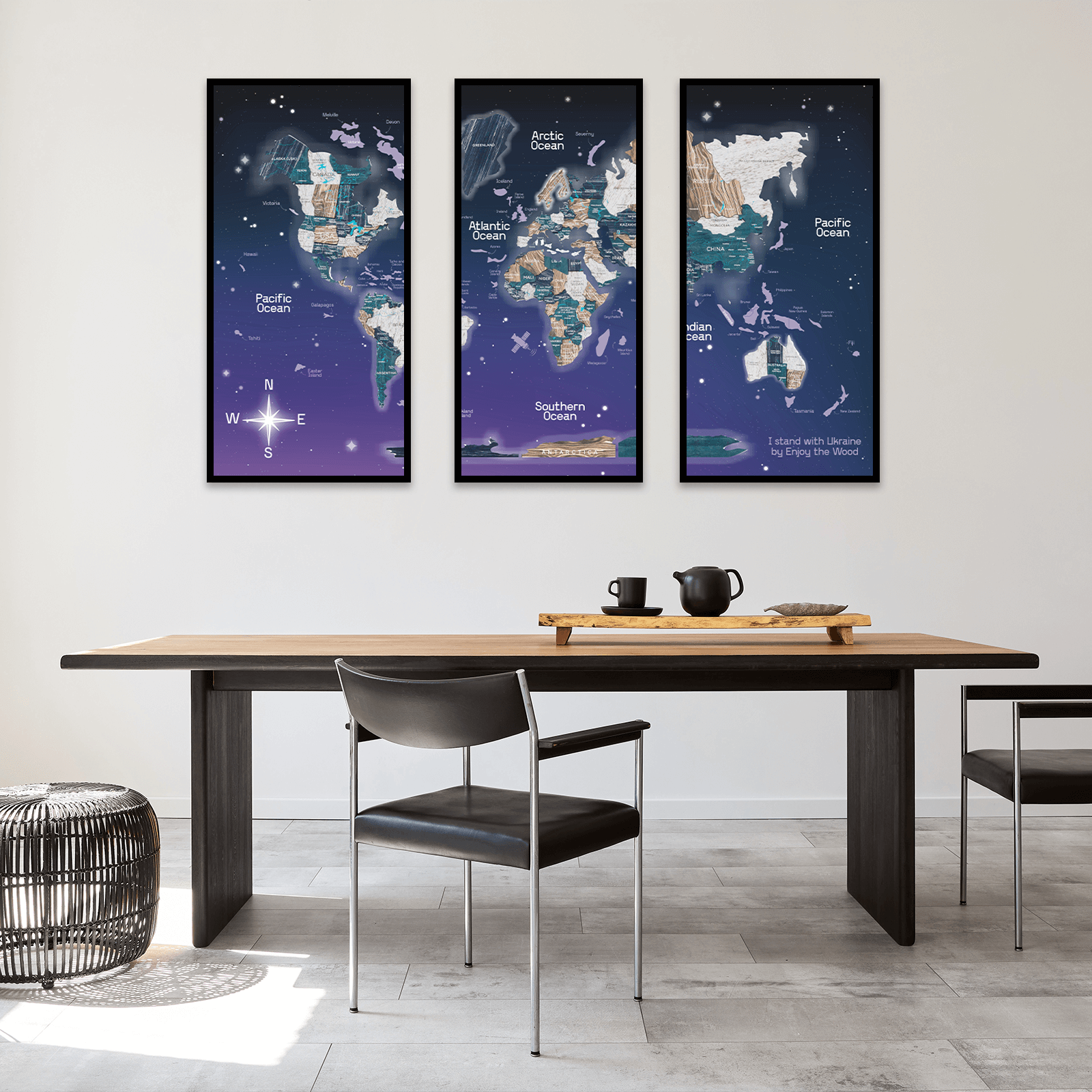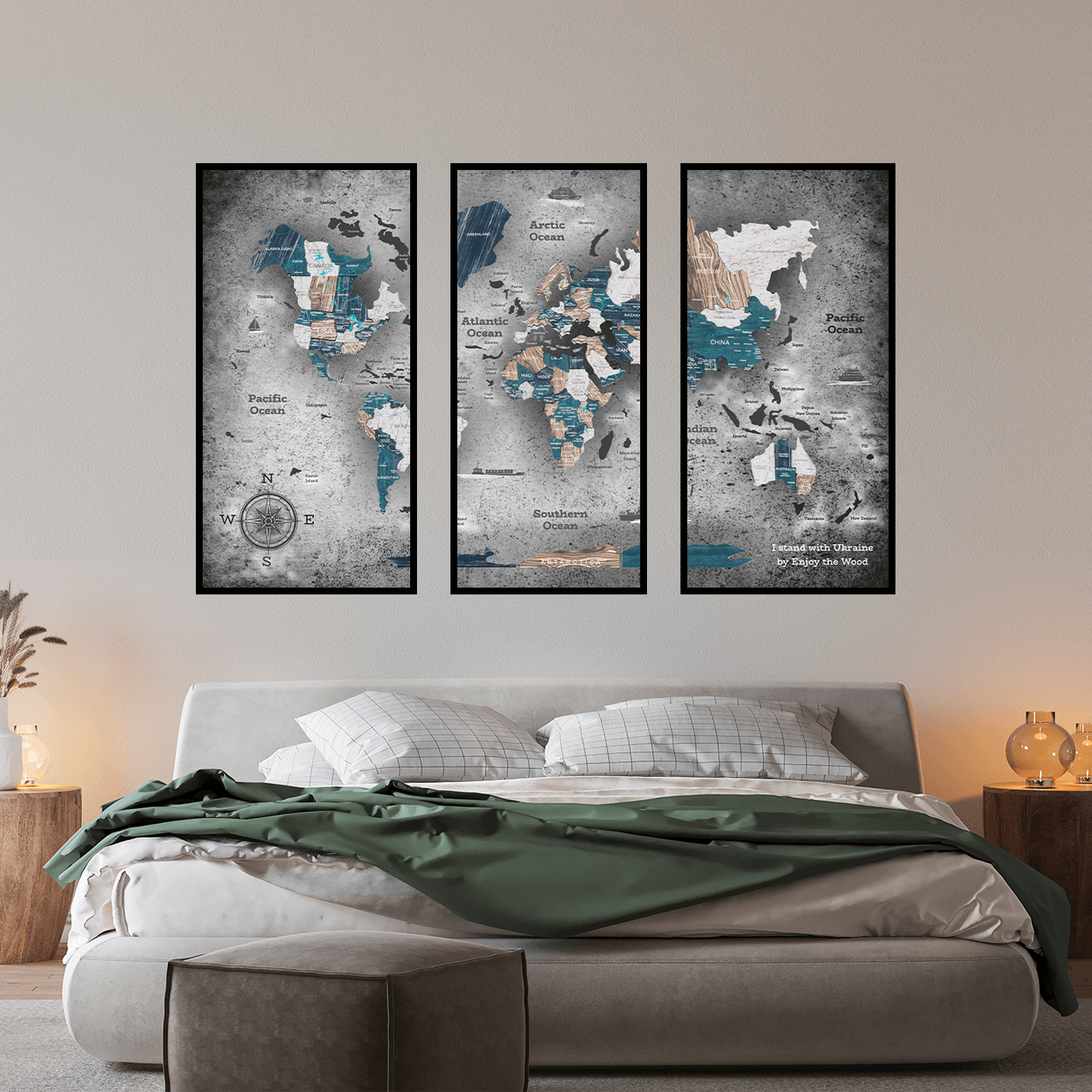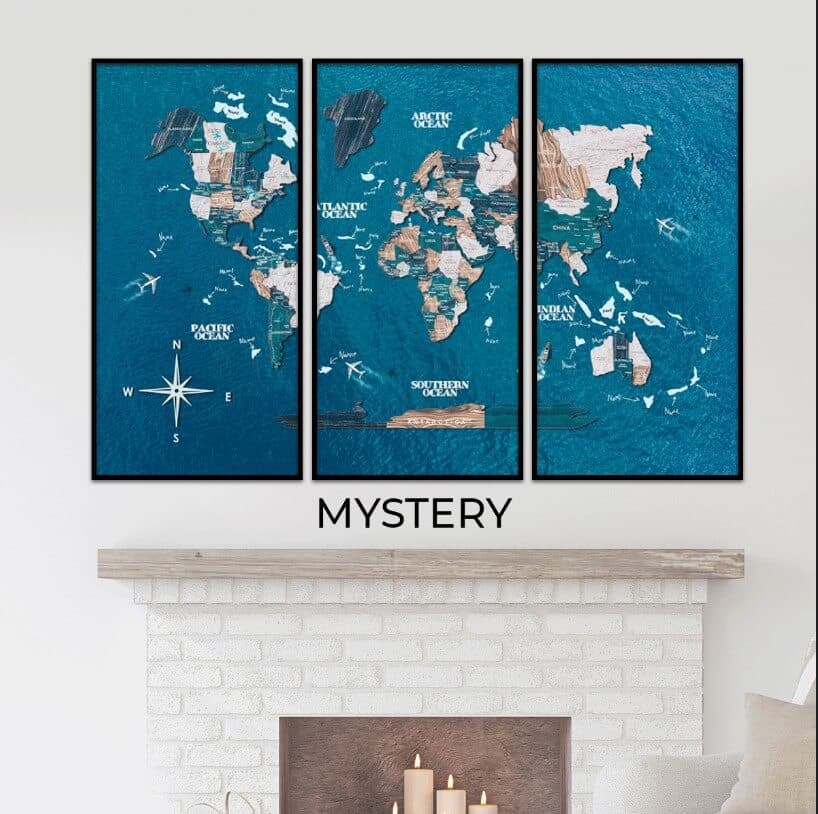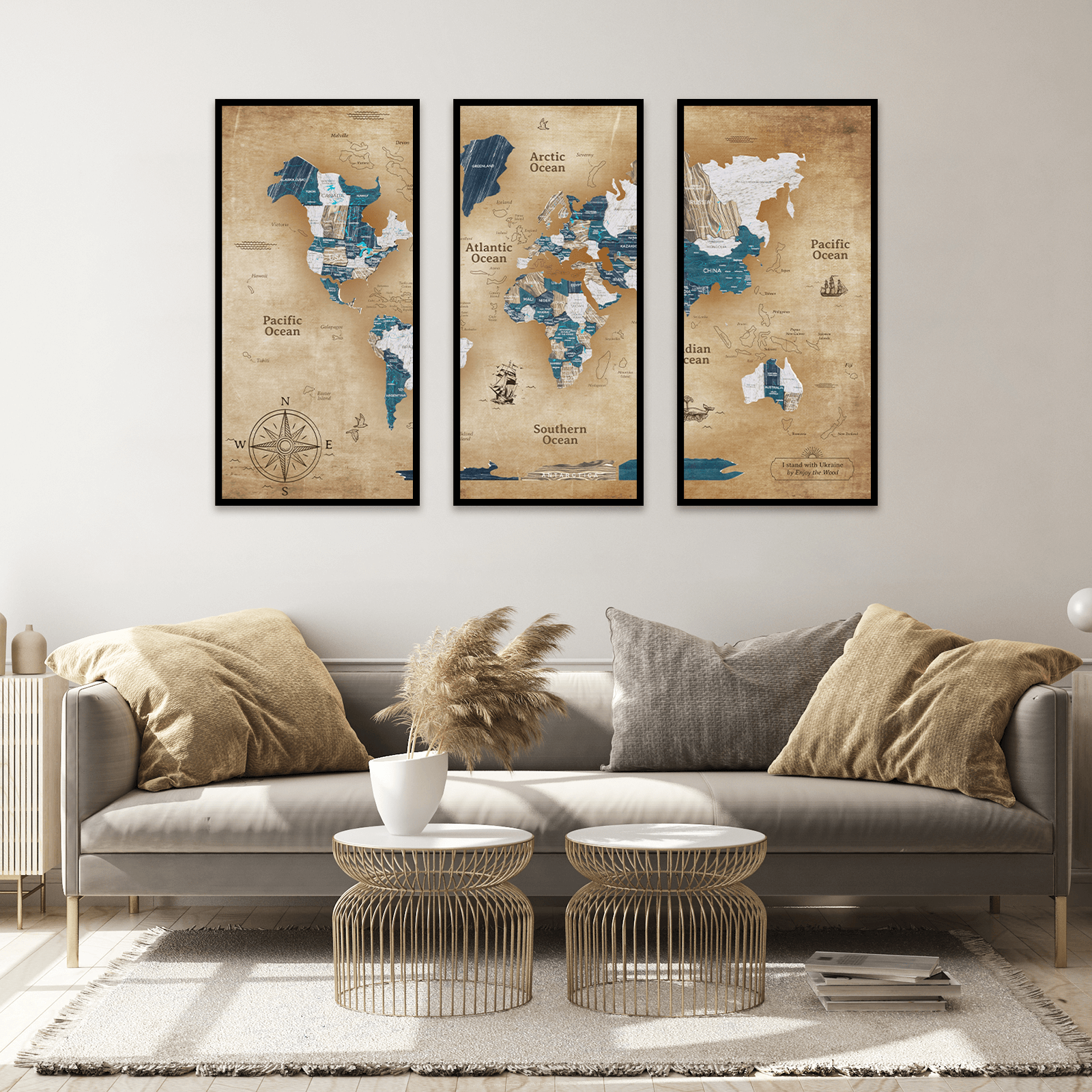 3D Wooden Triptych World Map Mystery
Looking for a piece of wooden artwork that will portray your creative personality and reflect your true wanderlust self? A 3D wooden triptych world map from the mystery series will beautify your interior and tell the story of who you are.
people bought this product in the last 24 hours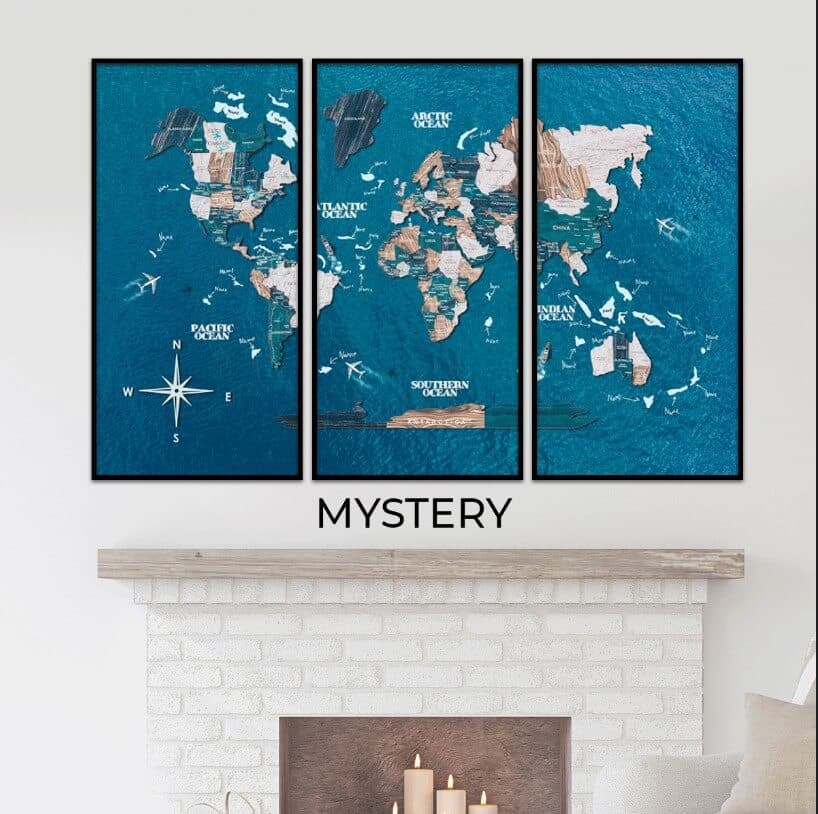 Product description
By choosing a wall art that is both stylish and meaningful to you, you have a chance to complement the room and tell your guests what you stand for. Are you a travel addict? Bring these world map colorful 3 pieces right into your home to express your personality and surround yourself with a more unique form of wall art.
The three piece world map will line perfectly with any interior – from classy or modern to industrial and electric. Besides, the product will look gorgeous over the bed in a cozy bedroom, in a dining room where loads of conversations tend to start, in a dull office, or even in a bathroom.
Create the perfect environment with a 3D triptych, or help your special someone have a comfy place filled with emotionally healing art. Triptychs are guaranteed to impress even the most demanding giftee!
The assembling process requires no prior knowledge. Use the instructions provided in a package and make sure the gaps between the images are straight and equal.
There are 2 sizes available for you: M 71x112 cm (28″x44"), L 93,5x160 сm (37″x63")
PLEASE NOTE: The map is not a geographical one, some smaller countries and islands may be omitted. Each Map is unique and shades vary because it's made of natural wood.
Specification:
Birch plywood that triptych maps are made of is durable and has long-lasting structures. The material is eco-friendly, easier to deal with, and an all-around affordable option in contrast to solid wood furniture.
Default language
English (can be customized)
Other details
the map is pre-installed on board
MISSION OXYGEN:
20 trees today - 50.000 trees tomorrow
FREQUENTLY ASKED QUESTIONS
Have a question ? We are here to help.
Will the Map stick to the wall which is not perfectly smooth and even (i.e. roughcast or wallpaper)?

Yes, it will. It depends on the type and height of the wall surface layer though. The smoother, the better.
How long does it actually take to install the Map?

The installation process takes several hours. It's a fun project to do as a group, if you wish.
Are there any tips to help with the installation?

Hold off on opening your box with the Map for 2-3 hours upon bringing it home, to give it some time to adapt to your home temperature. After opening the box, follow the instructions included and watch the video guides.
Popular Posts
On This Page: Minimalist Decorating Ideas #1 Wooden 2D Map of the World #2 Wooden 3D World Map Wall Art #3 World Map Concrete – Minimalist Home Décor #4 Glass Vases – Minimalist Decorating #5 Aest...
On This Page: #1 Add Decorative Wall Map Like Travel Wall Decor #2 Use Wooden Lake Maps as Travel Themed Decor #3 Add Wooden Key Holder as Travel Inspired Decor #4 Use Wooden City Map Like Travel...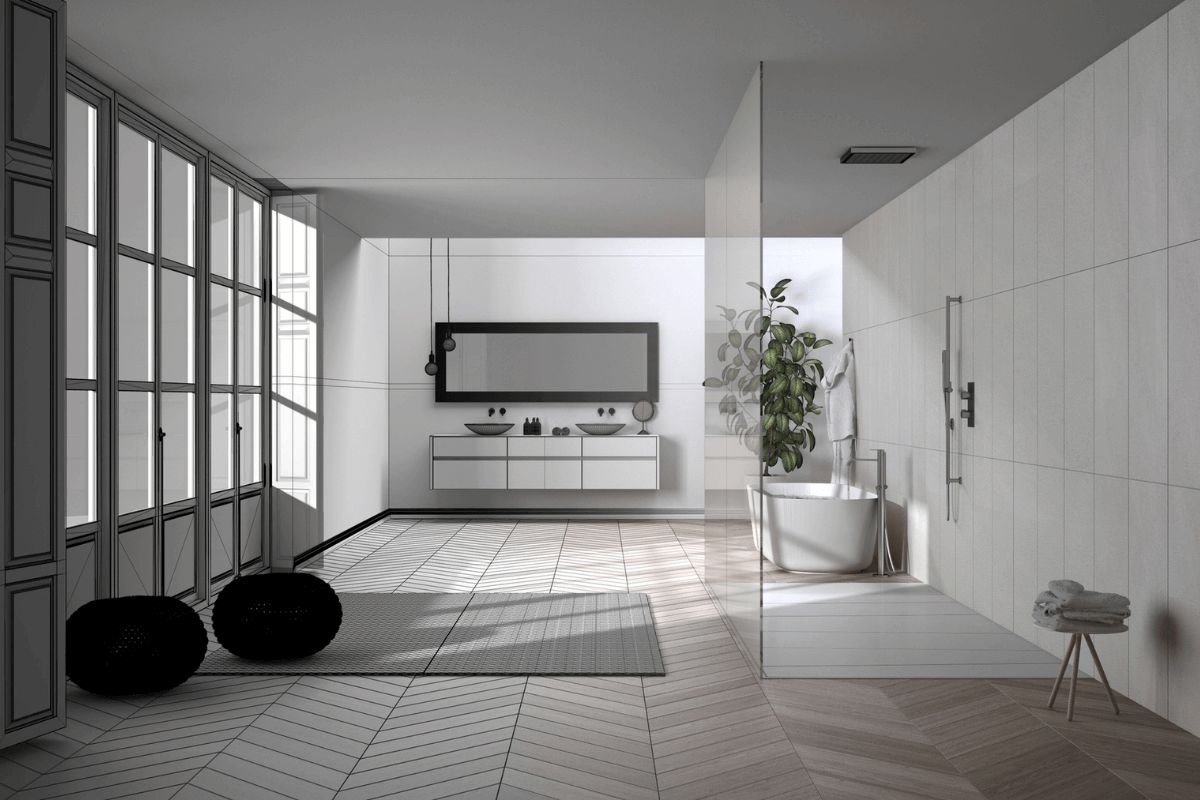 On This Page: Decor Ideas for Beige and Gray Bathroom Black and Grey Bathroom Decor Ideas White and Gray Bathroom Decorating Decorating Ideas for Pink and Grey Bathroom Gray and Gold Bathroom Déco...
WE HAVE BEEN FEATURED