The time we need to prepare an order for shipping (delivery) is 1-4 business days (for the USA) and 3-5 business days (for Europe and the rest of the world). But usually, we are doing everything possible to send your order ASAP. Please NOTICE that we prepare and ship orders on BUSINESS days from Monday to Friday which not includes weekends. Saturday and Sunday are not counted as part of shipping days. Also, we want you to know that sending, preparing, and shipping (delivery) are 2 different processes. And each has its own term.
Here's a table that'll help you with your Wooden World Map order. Shipping rates for other items will be calculated at checkout.
Shipping & customs fees* vary.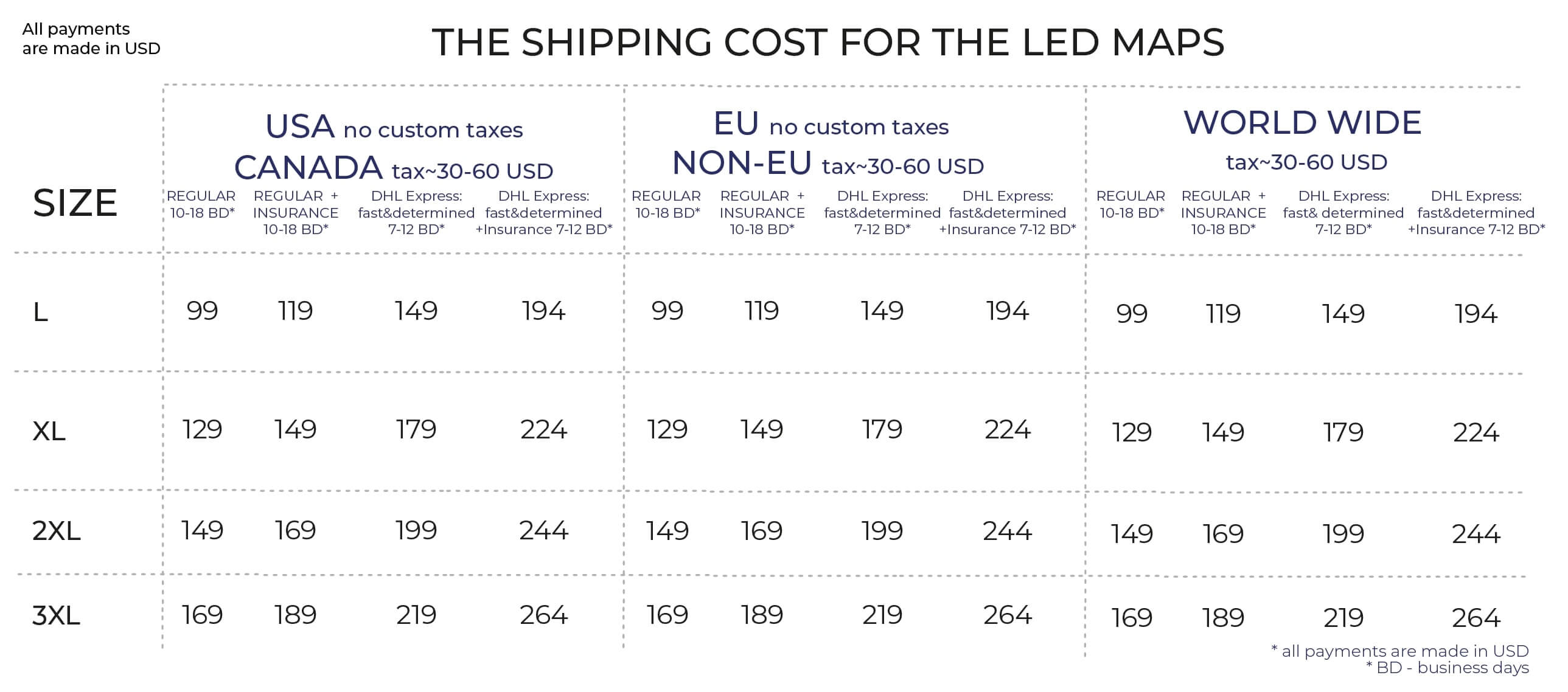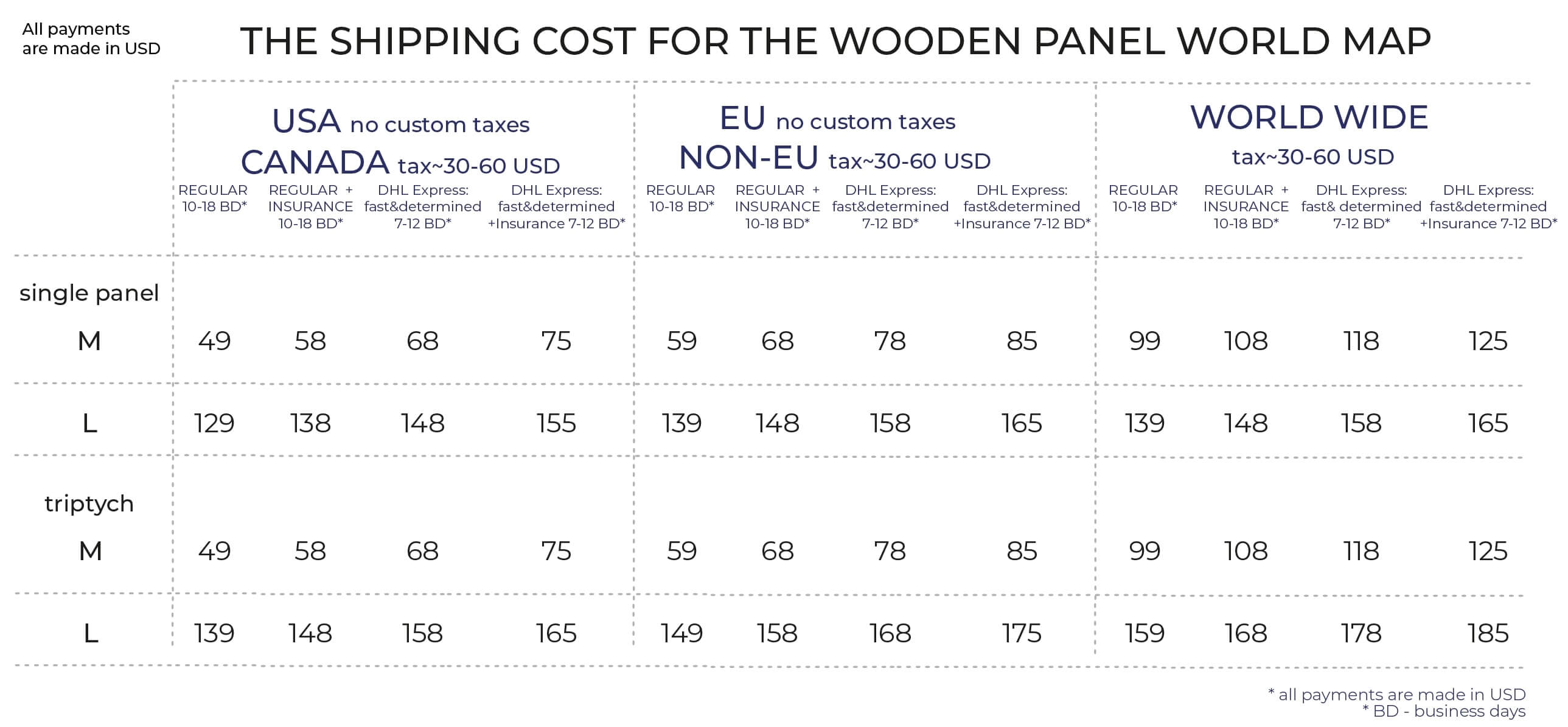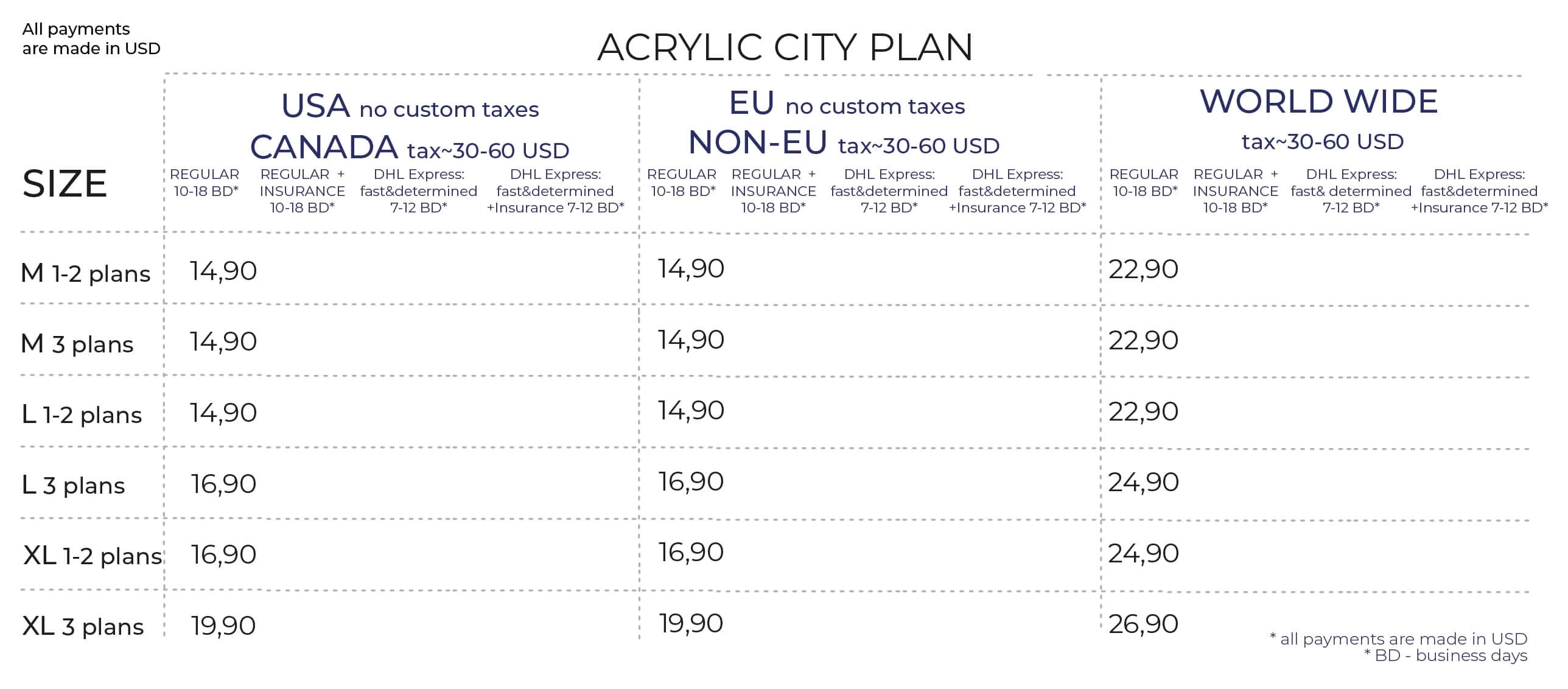 Due to the dimensions of the package, you will pay customs and import taxes. The amount of taxes depends on your country's laws, usually, it's around $30 –$60. Enjoy The Wood is not responsible for them.
CUSTOM TAXES
Our prices DO NOT include VAT, GST, or other country taxes.
For international customers who are required to pay customs, you will receive an email from GFS Gateway, First Mile, or your local customs authorities asking for payment to have your order processed through customs. Unfortunately, there is no legal way around customs. Once you make that payment to the customs broker your order will be processed for final delivery. 
Package weight and dimensions
All pieces of the Map are securely packed in polystyrene and come already gift wrapped.
International Patent
The Wooden World Map is protected by International Patent and Copyright Properties. By copying the product you commit copyright infringement and will face serious legal issues.
RETURNS
We hope you absolutely love every single product we send you.  But sometimes life happens and plans change, we get it.
We accept returns and exchanges on items that are not personalized, not custom made, and not on clearance within 30 days after you received the package. 
TO RETURN/EXCHANGE your order: all items must be in new condition and original packaging. The customer is responsible for the return shipping costs and any shipping costs for the items that were sent in exchange.
We do NOT accept returns or exchanges on personalized, custom made or clearance items. 
REPLACEMENTS:  If we made a wrong personalization on your order, we'll happily send you a replacement of the personalized item. We do not replace items that were incorrectly engraved because we got a wrong picture/misspelled text from you. 
Refund in case of the force majeure circumstances.
Please, notice! We refund the products' costs, but the shipping costs will be charged from the price of the product in case if:
the customer wasn't available during the delivery processthe customer provided not valid phone number and/or email address
If the item was utilized by the post for the same reason, we're not responsible for the costs. If the customer refuses the package without any reason, the package will be utilized and we're not responsible for the costs.