Enjoy The Wood brand history
In the heart of Ukraine, the story of Enjoy The Wood came alive in 2014. Born from the collective vision of Igor and Maryna Fostenko, along with the support of Maryna's parents, this company was founded with a soul and purpose. Their mission? To infuse homes, offices, and lives with joy, inspiration, and adventure through sustainable and stylish creations. And that mission lives on.
Founders
The roots of this remarkable company trace back to Igor's unshakable optimism, even in the face of adversity. His path was forged through a childhood marked by hardship – poverty, loss, homelessness, and personal battles. Yet, these trials transformed into stepping stones that led him to build a purpose-driven business and a resilient family.
Igor's father had left them when he and his sister were not yet three years old, leaving their mother to raise them alone. The mother also had Igor's disabled grandmother in her care. They lived in extreme poverty, sometimes not having enough to eat.
"Money was scarce. When I was six years old, my sister Katya and I would gather strawberries and lilies in the forest valley, and then sell them at the Svyatoshynsky market," Igor recalls.
Igor witnessed his mother's struggles and dreamt of the day when he would grow up and become independent. At the age of 11, a tragedy took the lives of Igor's mother and grandmother.  Igor and his sister were left alone. In the beginning, the kids moved in with their father's new family, but due to constant arguments, they ended up in the streets. 
For four years, Igor survived in a basement not far from his father's house, winter nights spent in subway stations. He became friends with other runaways, hustling for survival by begging and working as market loaders. Their earnings bought them sustenance, but also a dangerous addiction to glue. 
At fifteen, Igor and his sister met Mykola, who became their mentor. He took them into his home, where several other homeless kids were staying. The children worked in the mornings, studied in the evenings, and attended church on weekends.
Mykola's modest salary scarcely met their needs. In winter, Igor cleared snow; in summer, he mowed lawns and helped Mykola dismantle cars for spare parts. Gradually, Igor mastered the trade, and soon enough, he was able to disassemble an entire car in a day.
"Driven by a love for cars, upon completing my evening studies, I joined an electro-mechanical school. I excelled and graduated with honors."
Igor met Maryna when he was sixteen years old, marrying her at twenty-one. He dreamt of starting a family business.
"I craved a life where my family had all they needed. It motivated me to become an entrepreneur."
Igor and Maryna constantly brainstormed new ideas, driven by their affinity for taking risks and bringing innovative ventures to life.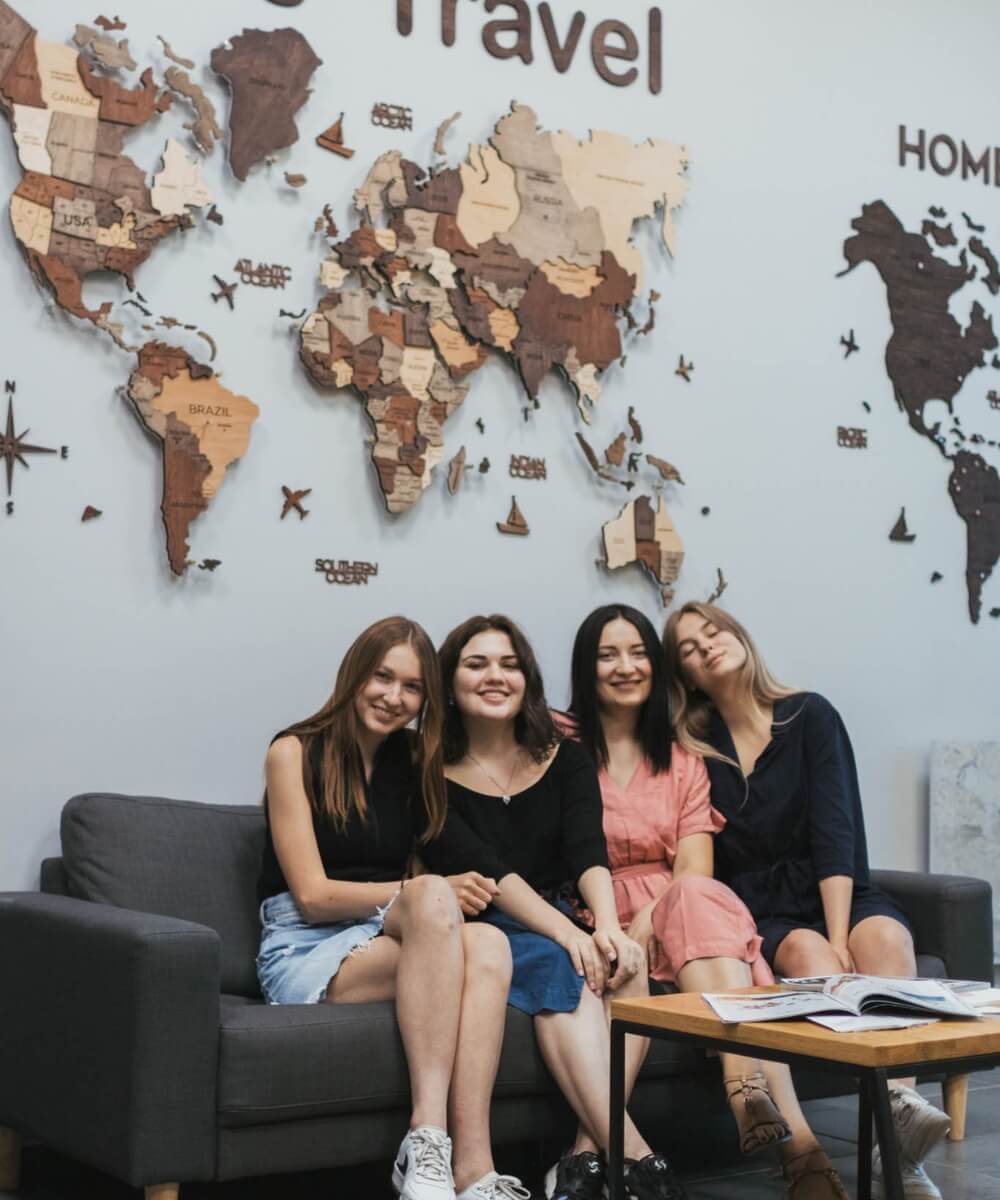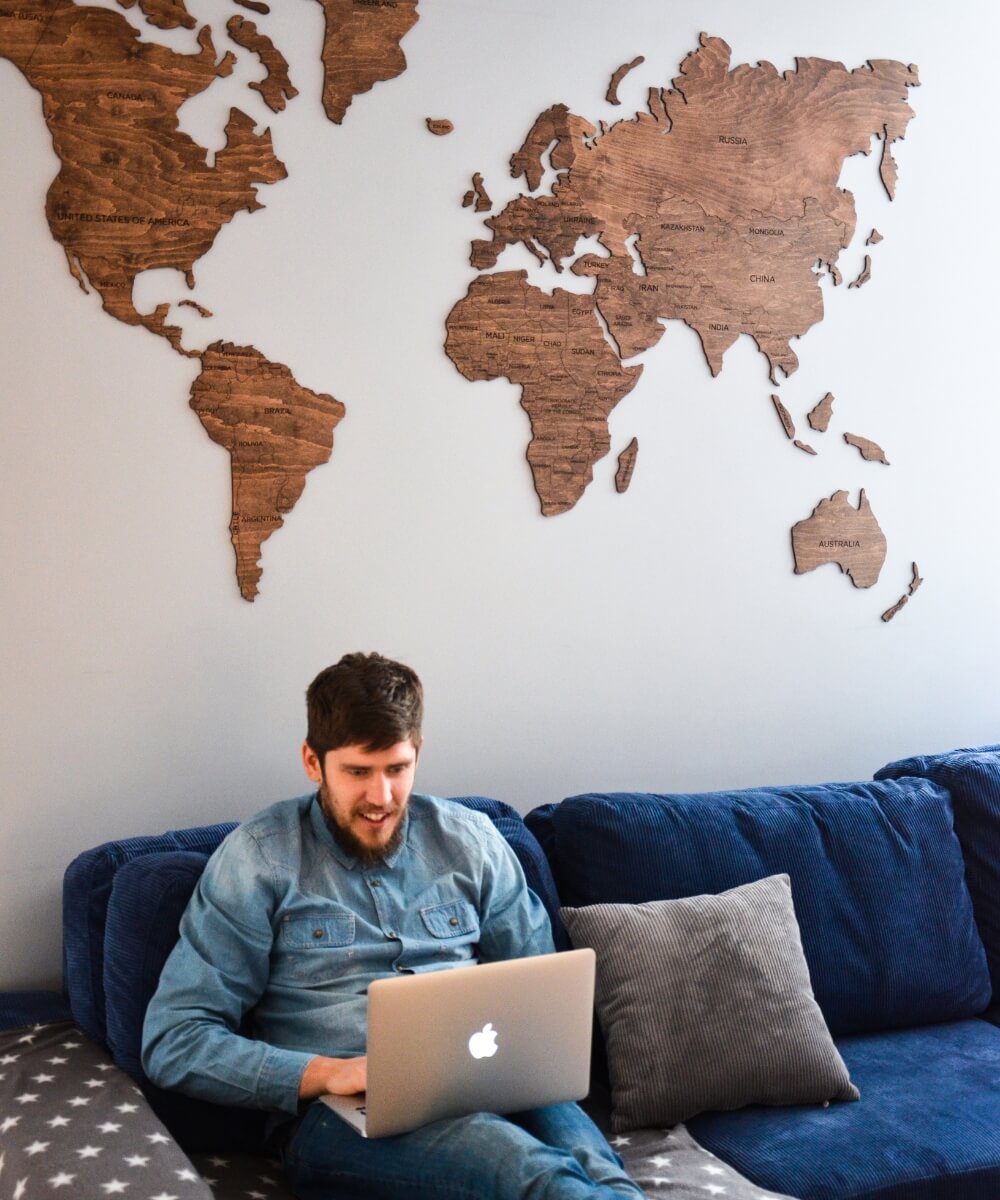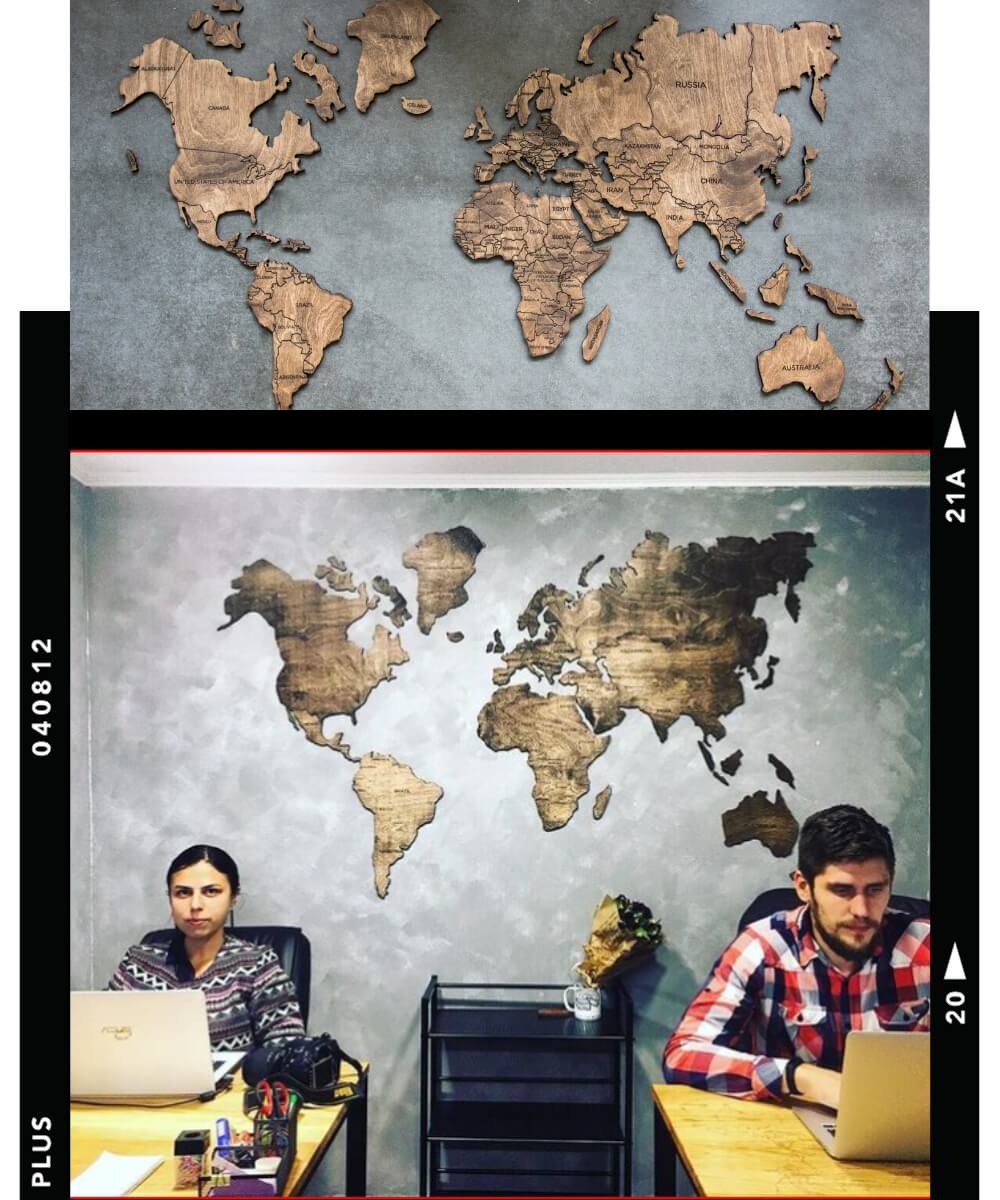 It all started with an idea
During a family dinner, Maryna's parents mentioned a friend who sold engraved items on Etsy. The idea captivated Igor and Maryna. They decided to start by crafting exquisite and functional home goods and selling them on Etsy. That's how in 2014, Enjoy The Wood was born. In 2016, Igor had an idea to create a captivating wooden world map for his office wall. 
"I wanted a map for my office, to pin flags of countries with our customers. Finding none on the web, I crafted one myself."
The artful map decorated Igor's office, inviting questions from visitors. Igor sensed a business opportunity and put the maps up for sale online. To his astonishment, within two weeks, orders started pouring in from the USA and Europe.
Now, maps made by Enjoy The Wood set the standard for wall decor around the globe. Many strive to replicate the quality and unparalleled uniqueness of this product, but it is far from possible. Since 2014, Enjoy The Wood's products have reached homes in 90+ countries through Etsy, Amazon, and eBay, promoting coziness, kindness, and adventure. They are meaningful, inspiring and appeal to people of all ages and backgrounds.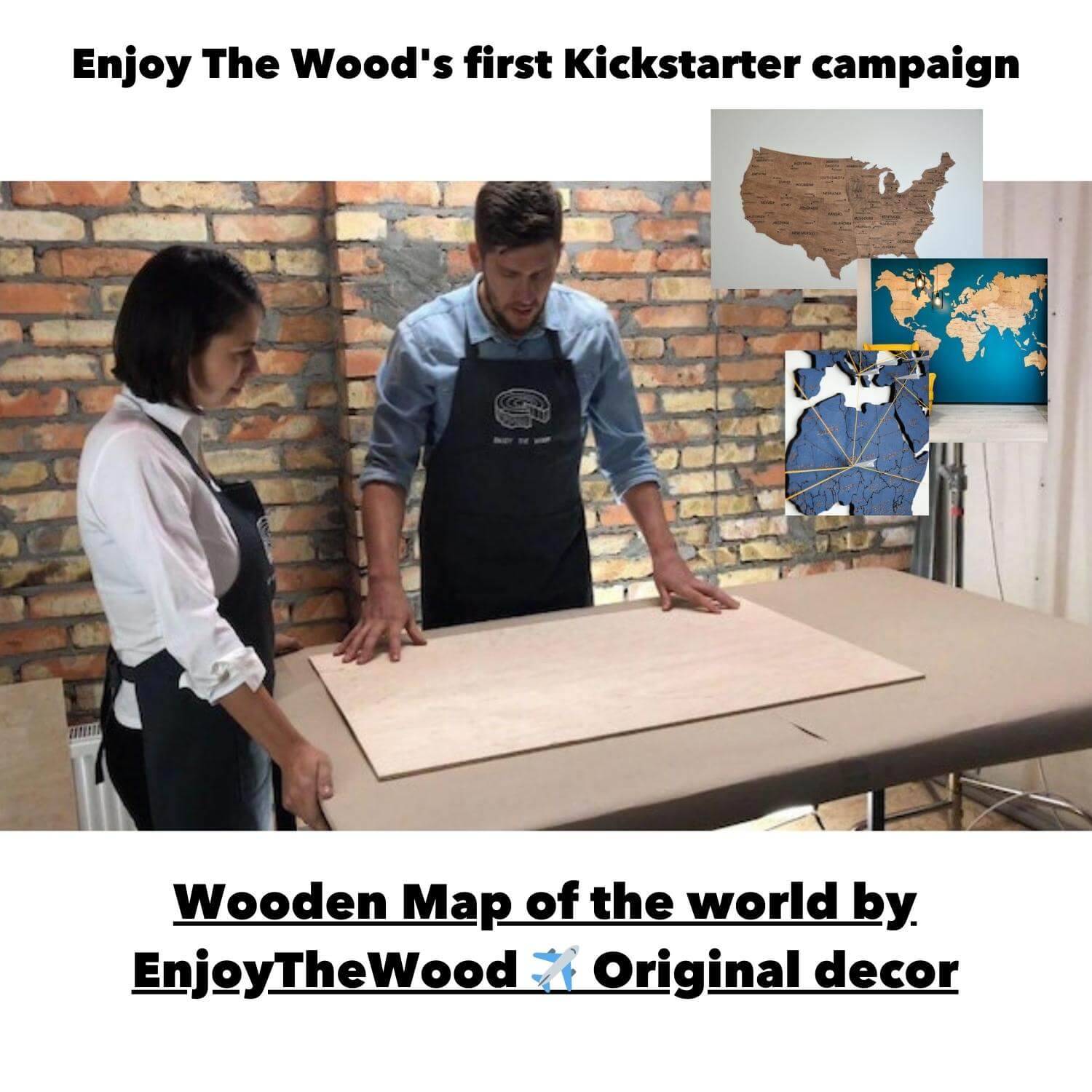 2016
ENJOY THE WOOD
Kickstarter Triumphs
Enjoy The Wood's first Kickstarter campaign was a game-changer, catapulting the company into the spotlight and introducing it to a larger audience. Originally aiming to raise $15,000 for PR purposes, they surpassed expectations, securing over $100,000 in funding.
This achievement showcased strong market demand, exceptional craftsmanship, and unique offerings. Backers' overwhelming support reinforced the value of Enjoy The Wood's woodworking creations.
The campaign's success provided not only a financial boost but also spurred innovation. Increased funds allowed investment in equipment, technology, and resources, refining production and product quality.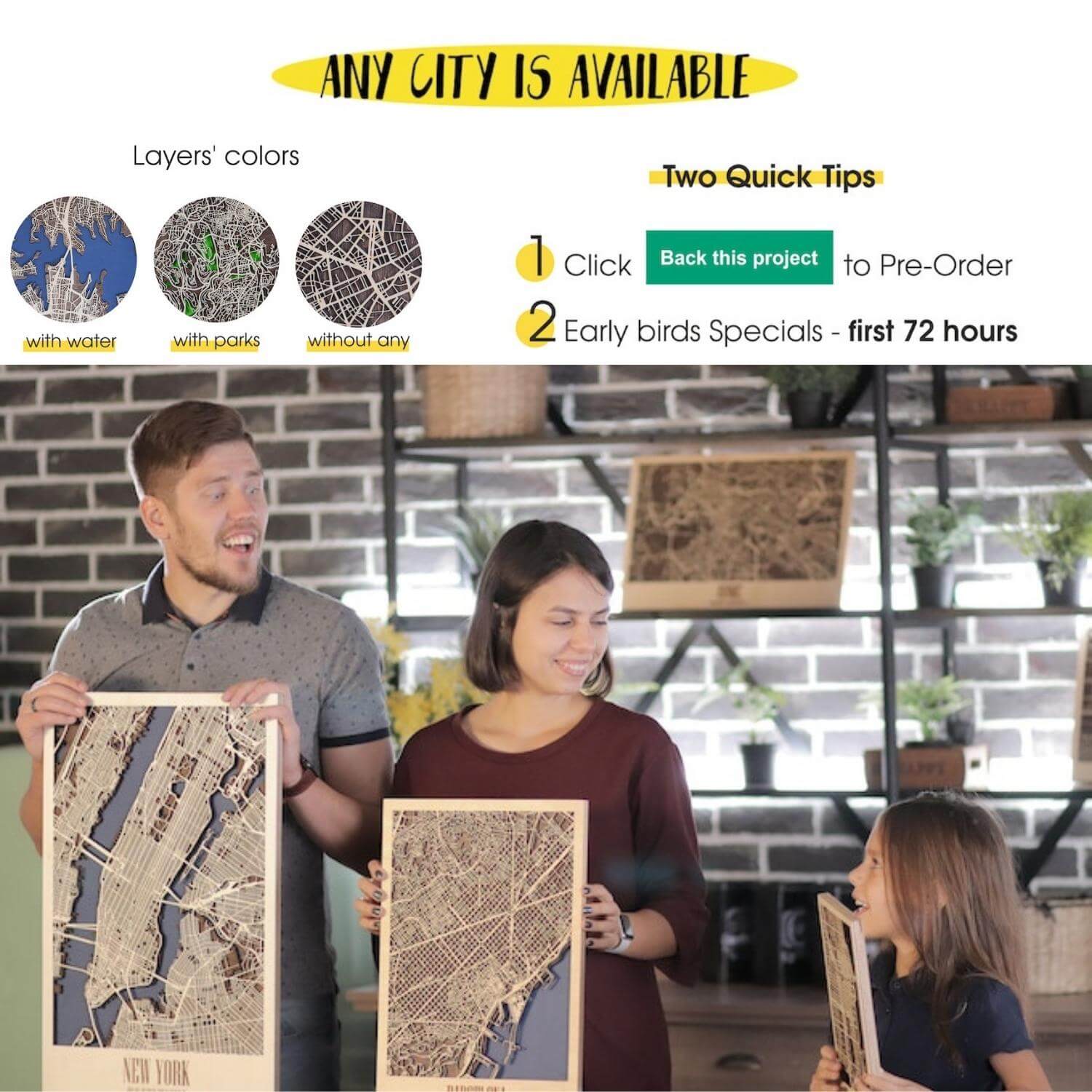 2019
ENJOY THE WOOD
2019:
Enjoy The Wood had a vision to create something truly extraordinary — a 3D wooden city map that would become a lasting memory for anyone who owned it. 
With a goal of $15,000, the 3D wooden city map campaign raised $56,558, validating their product's appeal and enabling larger-scale production.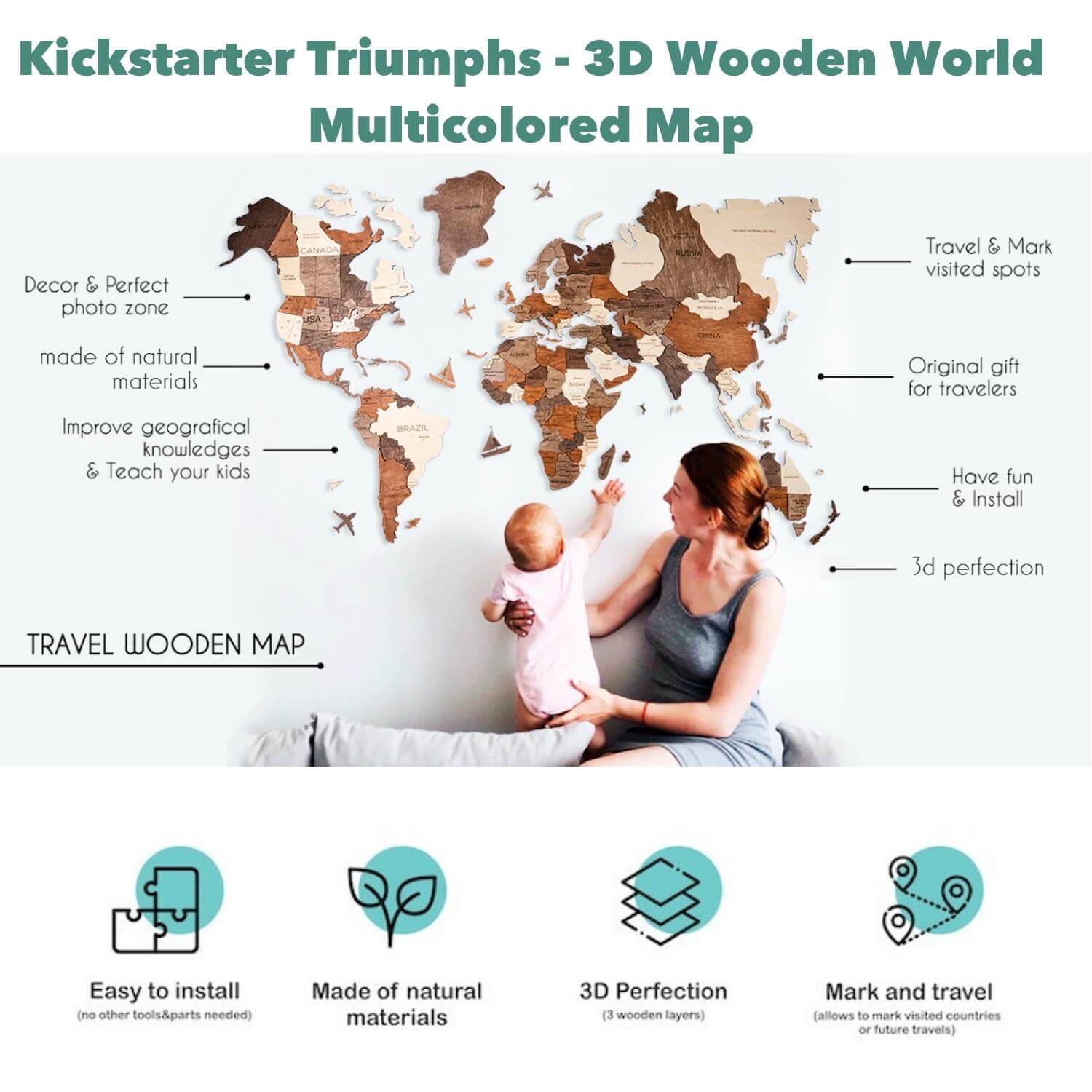 2019 (2nd Campaign):
ENJOY THE WOOD
2019 (2nd Campaign):
An astounding $533,000 raised on Kickstarter and pledged by 1,851 backers, solidified Enjoy The Wood's position as an innovative brand, exceeding their initial goal by over 100 times.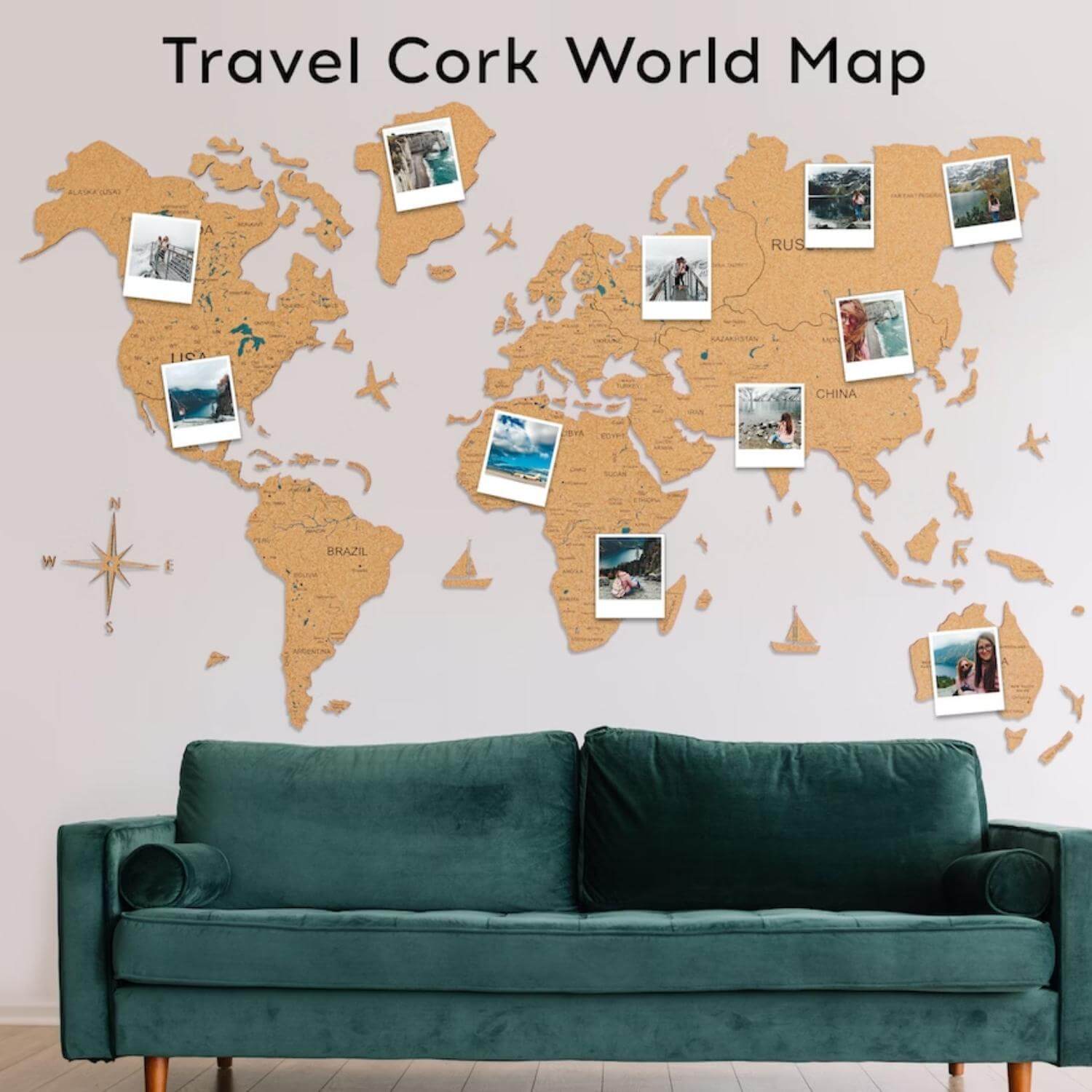 2020
ENJOY THE WOOD
2020:
A sustainable Cork World Map project gained support, showcasing their commitment to eco-friendly creations.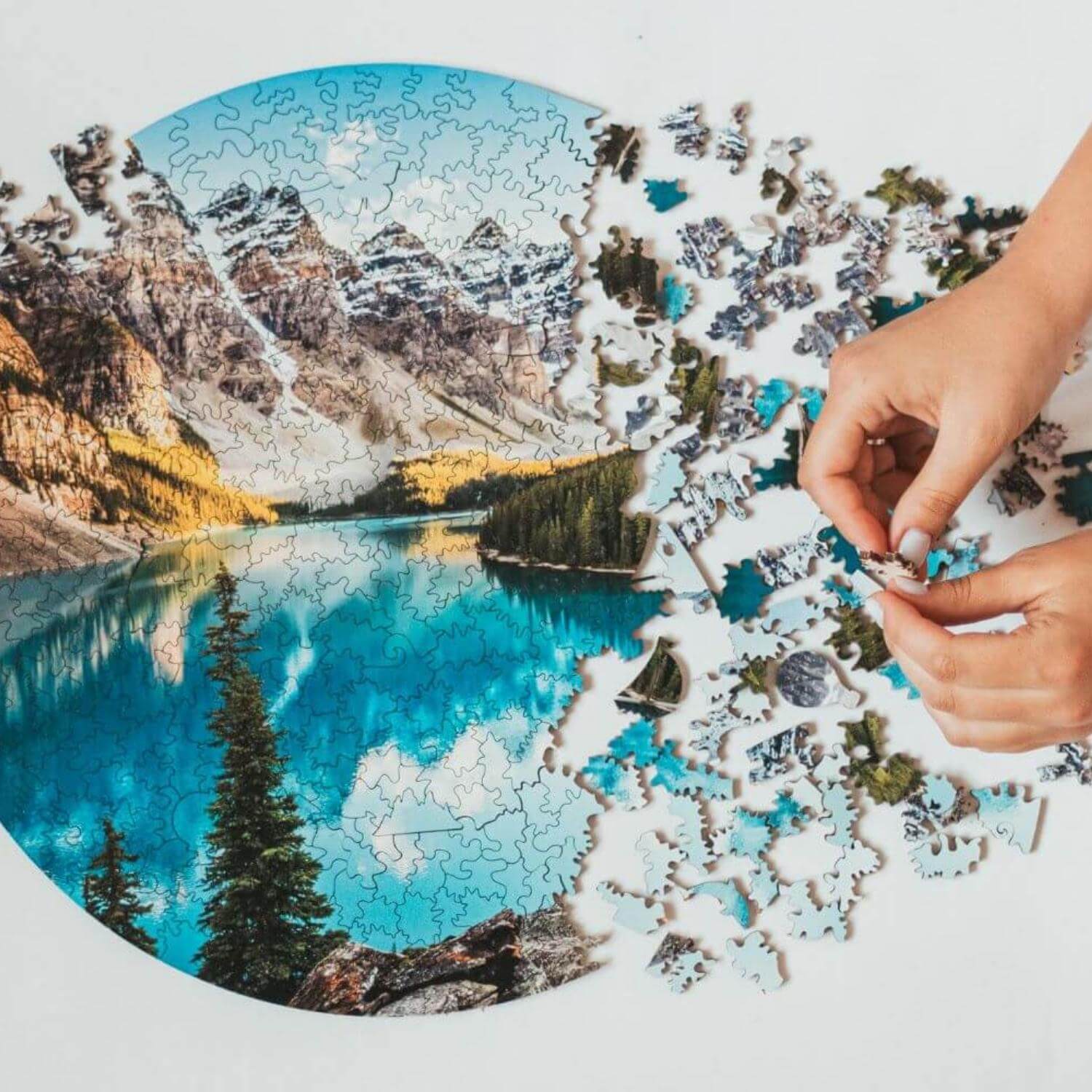 2020 (Puzzle Up):
ENJOY THE WOOD
2020 (Puzzle Up):
Enjoy The Wood reimagined puzzles with the Puzzle Up project, raising an impressive $146,778 due to its unique blend of craftsmanship and creativity.
2021
ENJOY THE WOOD
2021:
Their 3D Luminous Colored Wooden World Map project surpassed its goal, raising $816,894, highlighting their ability to merge craftsmanship, creativity, and technology. Backers were presented with a meticulously crafted piece of art that not only displayed the intricacies of global geography but also incorporated mesmerizing luminescent elements.
2022
ENJOY THE WOOD
2022:
Despite the war, Enjoy The Wood launched "the Map on board" project, raising over $160,000, exceeding their $5,000 goal. Their numerous supporters promoted the project on social media, ensuring its success and the company's longevity. It was a moving experience for both the team and the backers. The Map comes in two captivating options: the Triptych and the Single Panel. Designed as a poster, it is elegantly enclosed within a sleek black frame.
2022 (Quatro CITY):
ENJOY THE WOOD
2022 (Quatro CITY):
Later in the year, they introduced "Quatro CITY" by Puzzle Up, raising over $200,000 through Kickstarter, appealing to tabletop gaming enthusiasts. In this extraordinary product, they merged the timeless enjoyment of jigsaw puzzles with the immersive elements of a thrilling quest and a captivating detective story.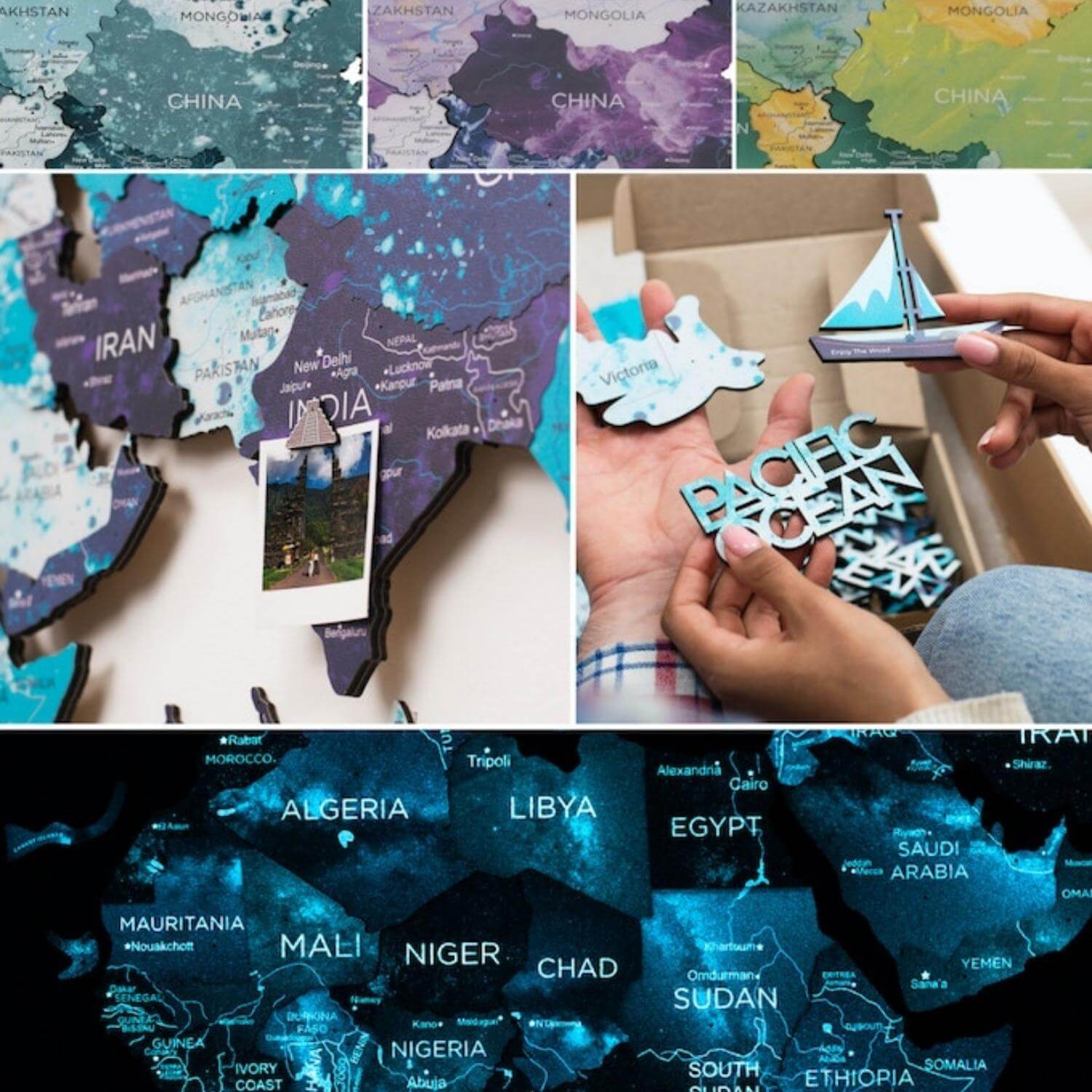 2023
ENJOY THE WOOD
2023:
The newest project, the magnificent 3D Wooden World Map with upgraded updates, has raised close to $200,000. It features an Art color collection, Star luminescence effect, magnetic feature and new LED backlight that is really cool! The color of light adjusts to the color of your surroundings and to the beat of music. The Map becomes a genuine piece of art that matches any space, mood and individual preferences.
Heading
Use this text to share information about your brand with your customers. Describe a product, share announcements, or welcome customers to your store.
ETW team
At Enjoy The Wood, passion and talent drive every project. Explore the team's history, meet leaders, and hear their stories.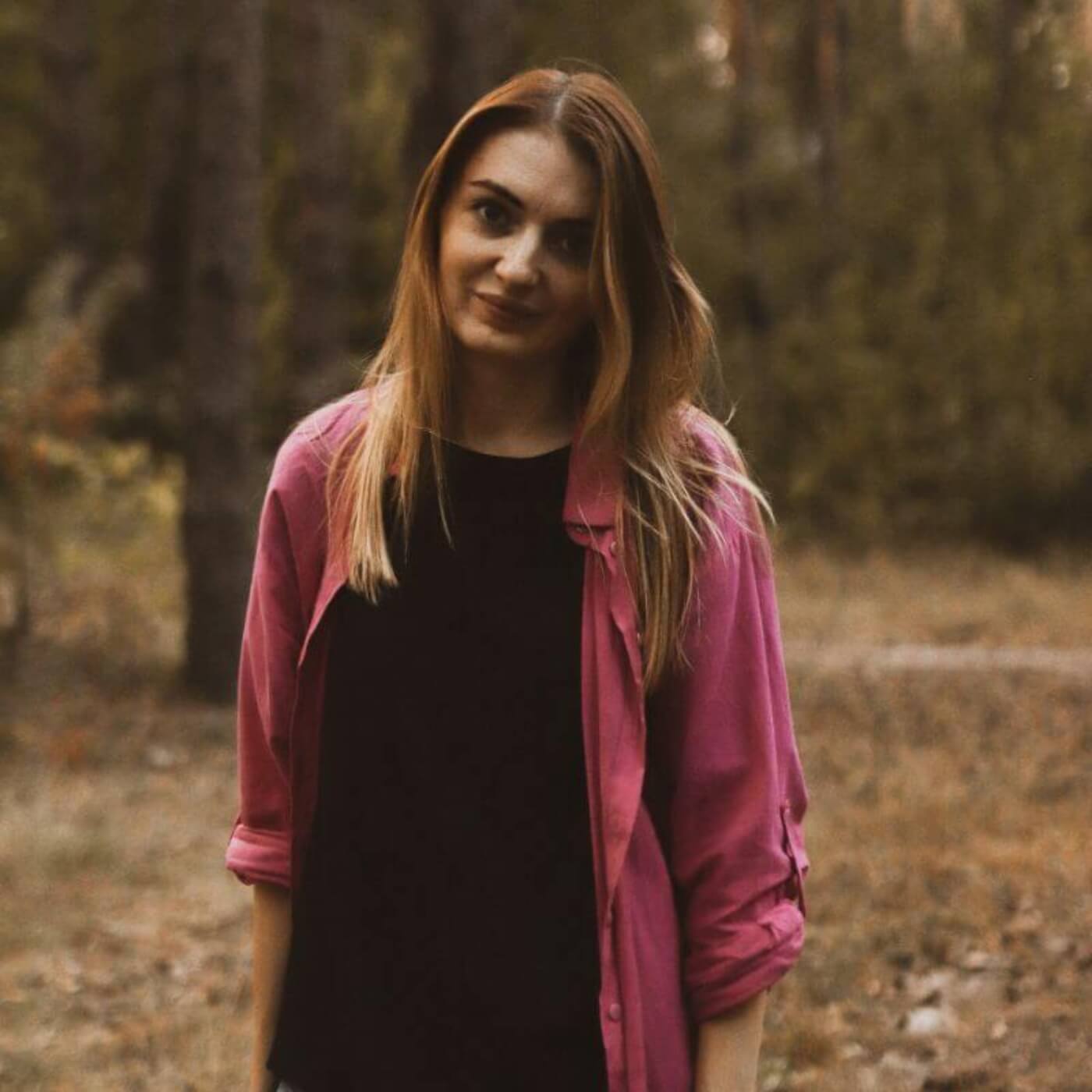 Svetlana Zub
Svetlana Zub, a dedicated leader at ETW Brand Office, started 7 years ago, launching projects on Amazon, Shopify, and creating successful Facebook campaigns. She managed the Etsy team and collaborated on procurement with Anatoly Pavlovich, Maryna's father. With an MBA from Kyiv-Mohyla Business School, Svetlana inspires her team to move forward and achieve great results.
ETW's Brand Office has 8 projects in development. The team's passion, creativity and energy results in amazing products and happy customers.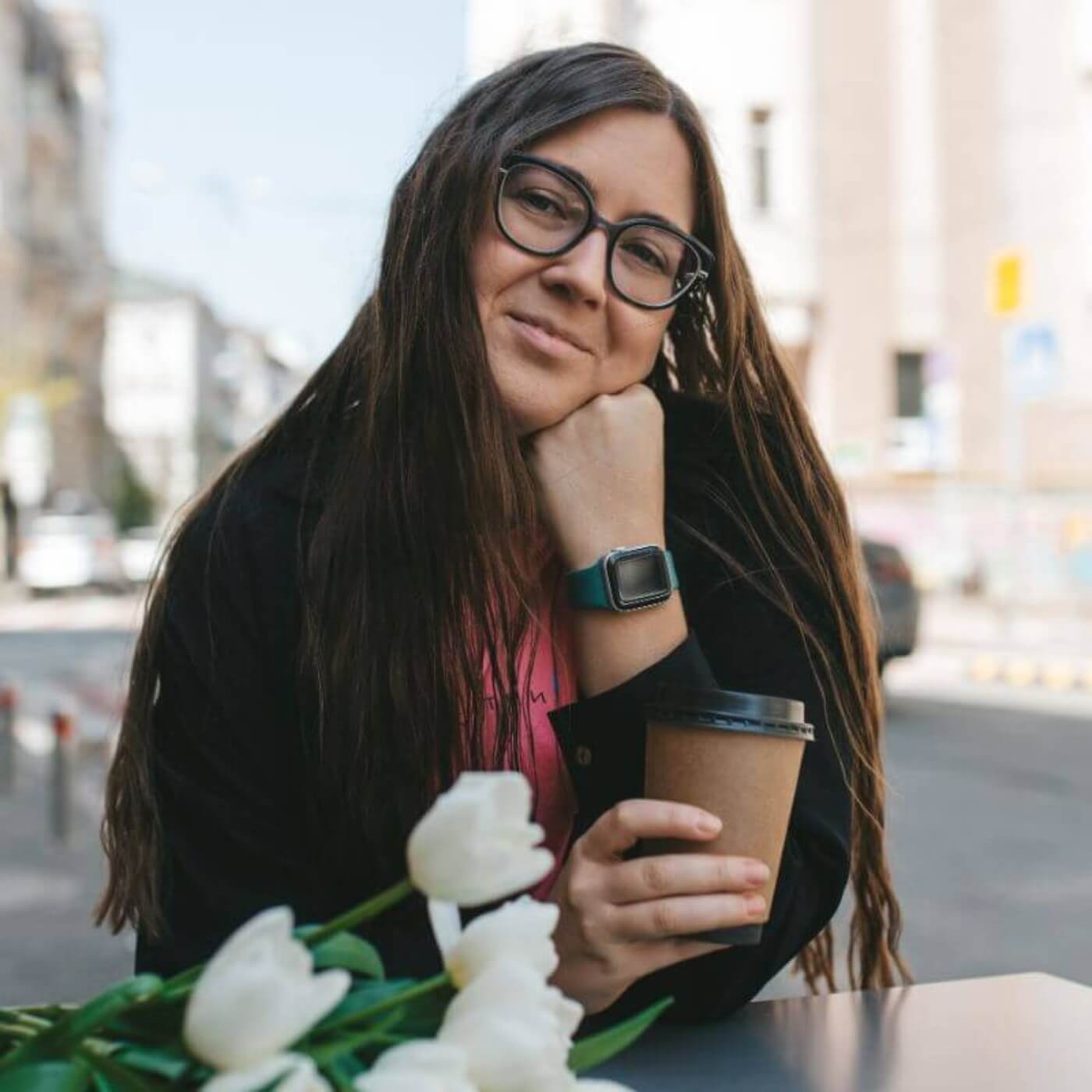 Maria Ruzhinskaya
Head of Sales, joined ETW 8 years ago. She found a major wholesale client interested in purchasing combs, and started the BeardedOnly project. She bolstered brand visibility through social media and led Amazon and overseas sales. 
Once, a Kickstarter project faced the threat of closure due to its resemblance to a previous venture. Maria and her team introduced new color palettes, additional accessories, and unique map elements, effectively highlighting the project's distinctiveness. Ultimately, the project garnered a remarkable $500,000 in funding. Maria's agile thinking, quick decision-making and ability to adapt to shifting circumstances have played a critical role in driving the company's success.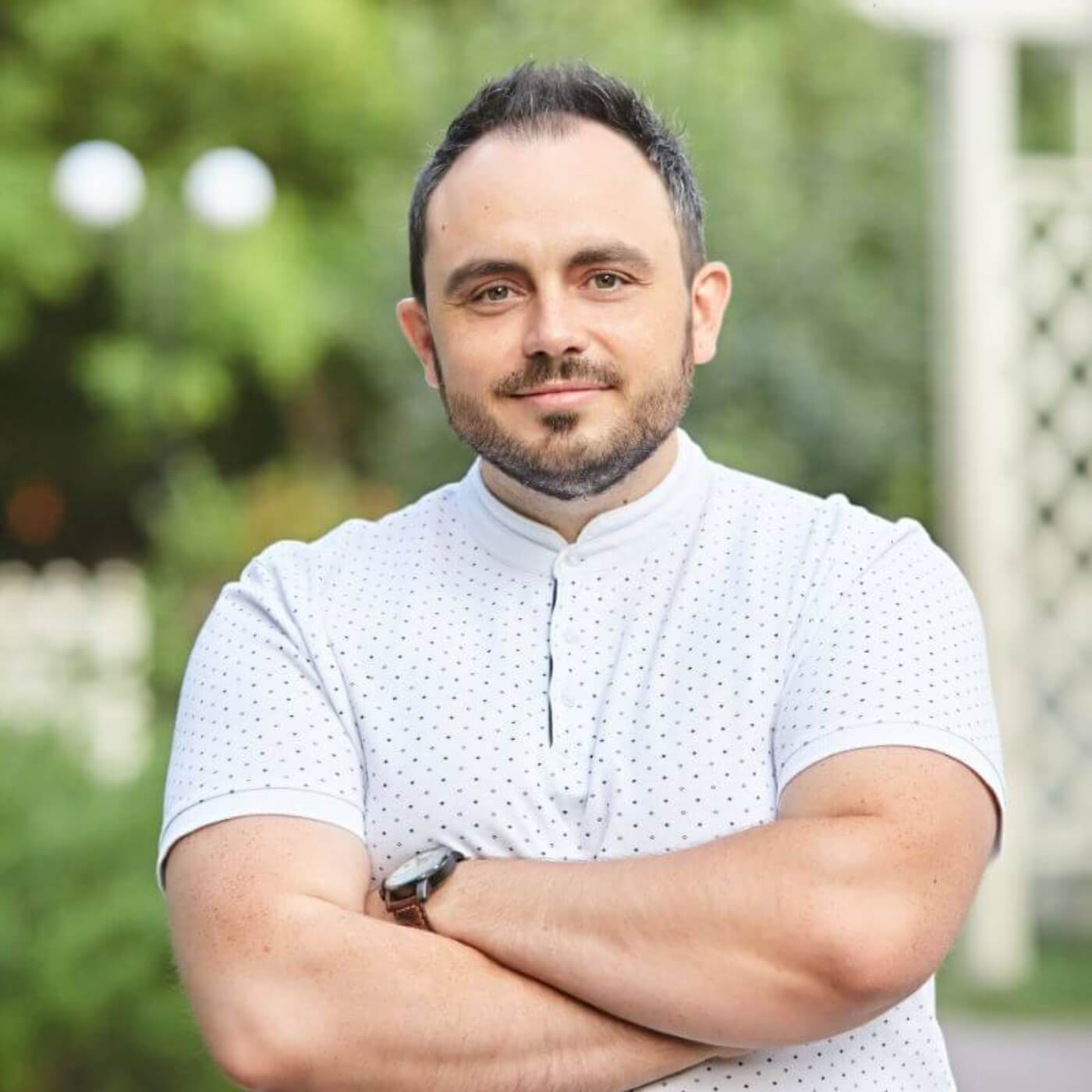 Roman Bandura
Roman's journey at the company began as a laser operator, progressing to Operations Manager, and eventually, Product Development Manager. Since October 2019, he has diligently tracked market trends, showcasing creativity, motivation, and a thirst for learning. Roman recognizes that the team is instrumental to the success of every project. They inspire and support each other every step of the way.
Despite obstacles posed by resource shortages and production difficulties due to war, its team spread around the world, Enjoy The Wood's Kickstarter Project 2022 triumphed. Roman considers himself fortunate to contribute to such a dedicated and innovative company.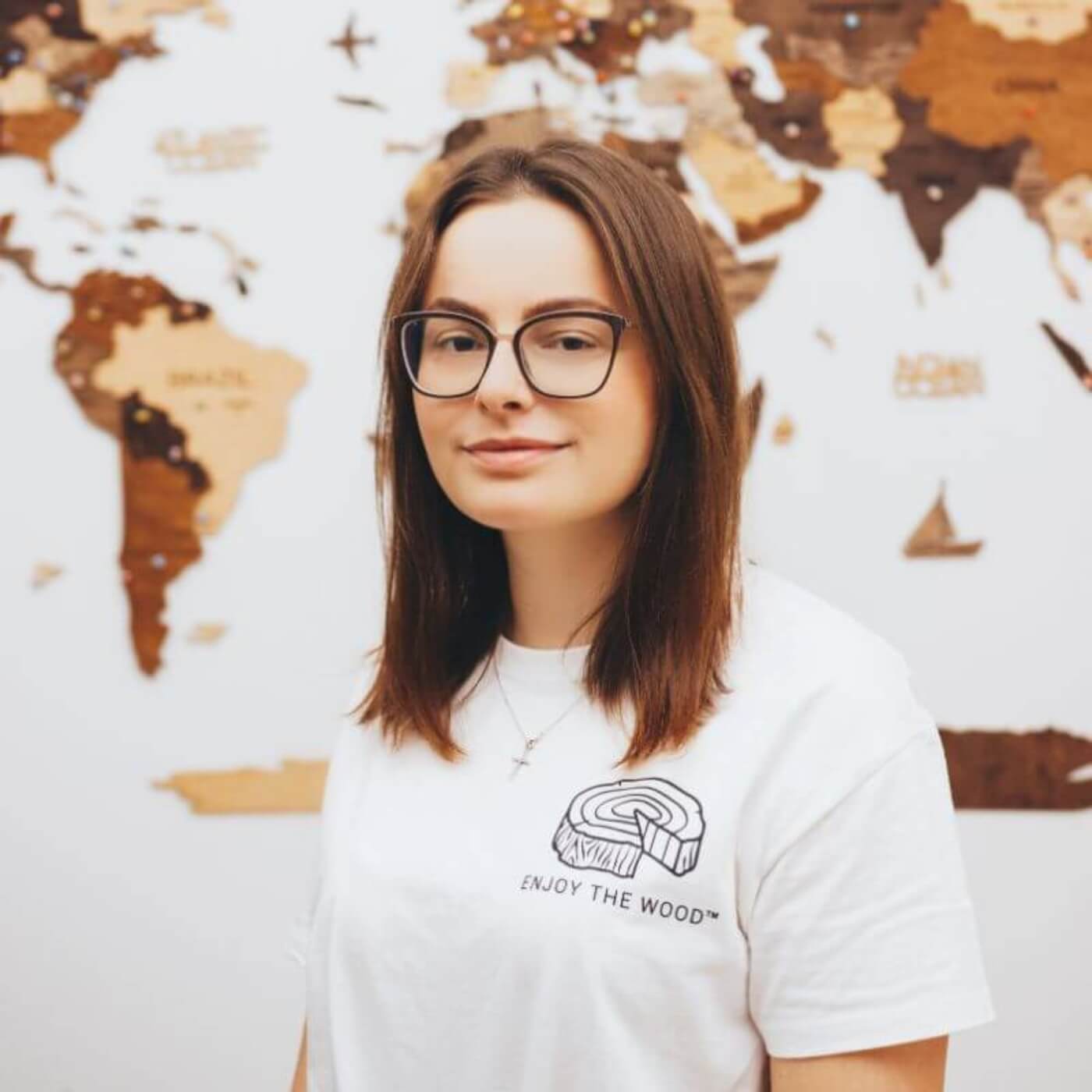 Olga Maslo
Olga spent 4 years at Enjoy The Wood, starting as a Marketing Manager and advancing to Digital Group Head. Proud of her diverse and talented team, she enjoys collaborating on new ideas, embracing daily challenges and learning opportunities, never encountering boredom. Olga firmly believes in ETW products' unrivaled quality on the market, and she has every reason to do so!

These are just glimpses of the incredible minds propelling Enjoy The Wood's journey forward. In today's competitive and turbulent world, Enjoy The Wood stands out not just as a business, but as an embodiment of human spirit. With each product they create, they infuse a piece of their journey, inviting you to join them on this extraordinary odyssey of craftsmanship, perseverance and bravery.