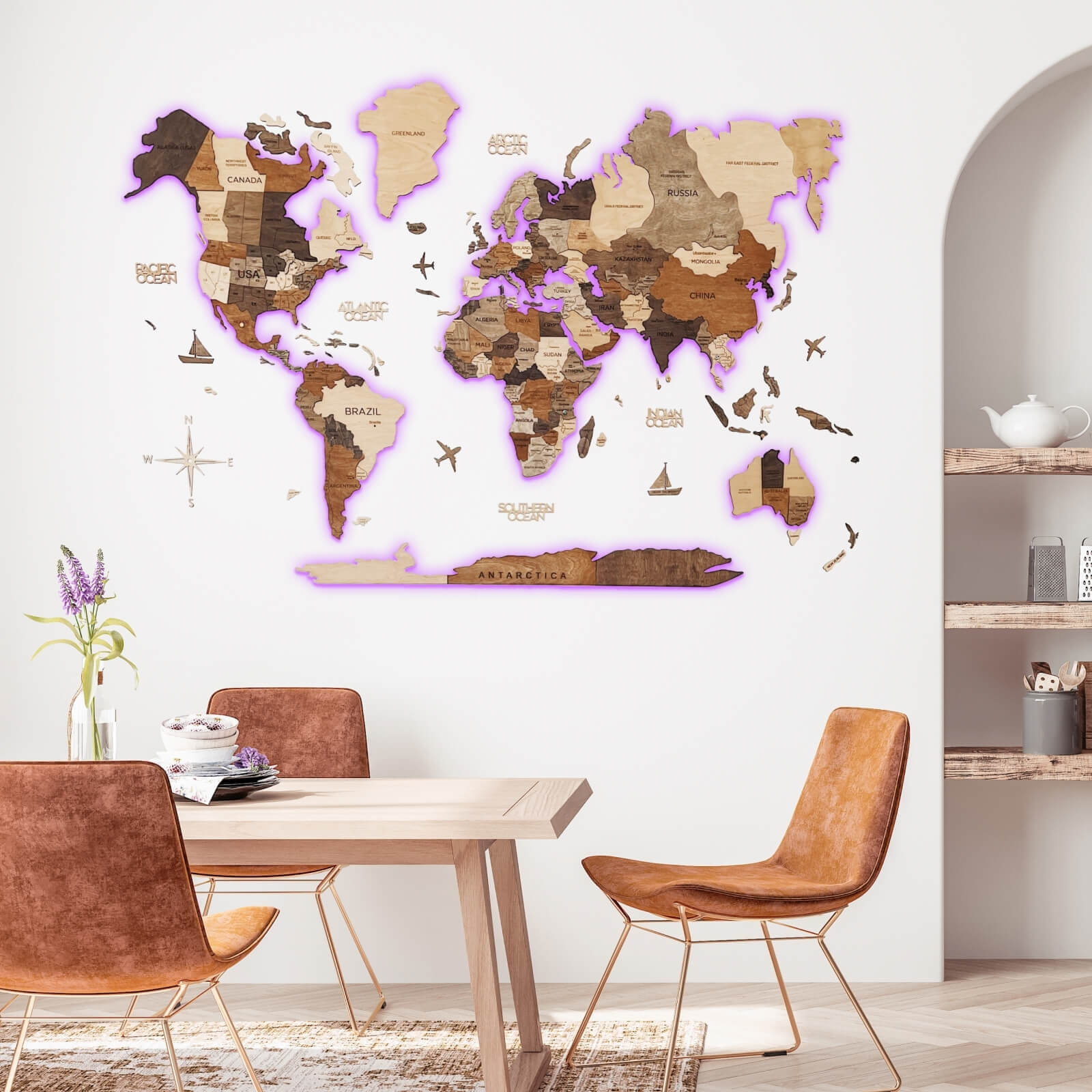 Product description
Introducing - a 3D Wooden World Map with a brand new LED 3.0 backlight that will take your breath away.

The interactive LED backlight responds to voice, and music, and even reflects colors caught by your phone's camera. LED 3.0 is not just a Map, it is a breathtaking combination of aesthetics and innovation.

This Map goes well with our specially designed Accessories. Choose from natural Wooden Photo Frames, Triple Photo Frames, or plenty of other great options.

Crafted with certified sustainable birch plywood and fiber wood, our Map is not just decor but a travel planner and memory board. Installation is a breeze, taking just a couple of hours. It's the perfect ready-to-gift addition that lights up your space, available in various sizes.

In the box, discover Map pieces, Antarctica, ocean names, wooden planes, boats, a compass, double-sided sticky tape, LED connecting elements, corner stencils, and a lifetime warranty.

Enjoy putting it up solo or with your family or friends – everything you need is included. The Wooden World Map with LED features Easy Clip installation. Control the lights from your phone (a third-party app), with options for multiple phones and even a remote control.
Wooden World Map LED 3.0 is not just a map, it is a breathtaking combination of aesthetics and innovation!
CE Certified – all our products meet health, safety & environmental protection requirement
Meet MORE special features:
Easy Clip installation (mounting is easy and fun)

You can control the lights from either the phone or the app (3rd party app) without connecting to your home Wi-Fi. You can also control from multiple phones. Feel free to use a remote control.
Only one color can be used as a backlight at a time.
Backlight adjusts to voice, music & reflects the color caught by your phone's camera.
The power cord is placed in the lower right corner of the map. However, it can be customized upon your request (let us know in advance!). The map size M comes with the cord on the right side ONLY. LED backlight works from electricity. A wall plug is required – no battery mode.
No acrylic base.

PLEASE NOTE: The map is not a geographical one; some smaller countries and islands may be omitted. Each Map is unique, and shades vary because it is made of natural wood.

Specification:
As the first creators of Wooden World Maps, Enjoy The Wood offers you original products backed by a strong patent portfolio, reaffirming our commitment to innovation and protection 🥇. Multicolor 3D led map is crafted from birch plywood known for its durability and quality that together help the item stand the test of time.
Default language
English (can be customized)
CE Certified
Low Voltage Directive LVD 2O14/35/EU
Radio Equipment Directive 2O14/53/EU
EMC Directive 2O14/30/EU
Restriction of Hazardous Substances Directive RoSH 2O11/65/EU
MISSION OXYGEN:
20 trees today - 50.000 trees tomorrow
FREQUENTLY ASKED QUESTIONS
Have a question ? We are here to help.
Will the Map stick to the wall which is not perfectly smooth and even (i.e. roughcast or wallpaper)?

Yes, it will. It depends on the type and height of the wall surface layer though. The smoother, the better.
How long does it actually take to install the Map?

The installation process takes several hours. It's a fun project to do as a group, if you wish.
Are there any tips to help with the installation?

Hold off on opening your box with the Map for 2-3 hours upon bringing it home, to give it some time to adapt to your home temperature. After opening the box, follow the instructions included and watch the video guides. Please note that to separate the islands, one should gently press on each piece, from top to bottom, until it comes out, to avoid chipping.
This product has no reviews yet.
Popular Posts
On This Page: Minimalist Decorating Ideas #1 Wooden 2D Map of the World #2 Wooden 3D World Map Wall Art #3 World Map Concrete – Minimalist Home Décor #4 Glass Vases – Minimalist Decorating #5 Aest...
On This Page: #1 Add Decorative Wall Map Like Travel Wall Decor #2 Use Wooden Lake Maps as Travel Themed Decor #3 Add Wooden Key Holder as Travel Inspired Decor #4 Use Wooden City Map Like Travel...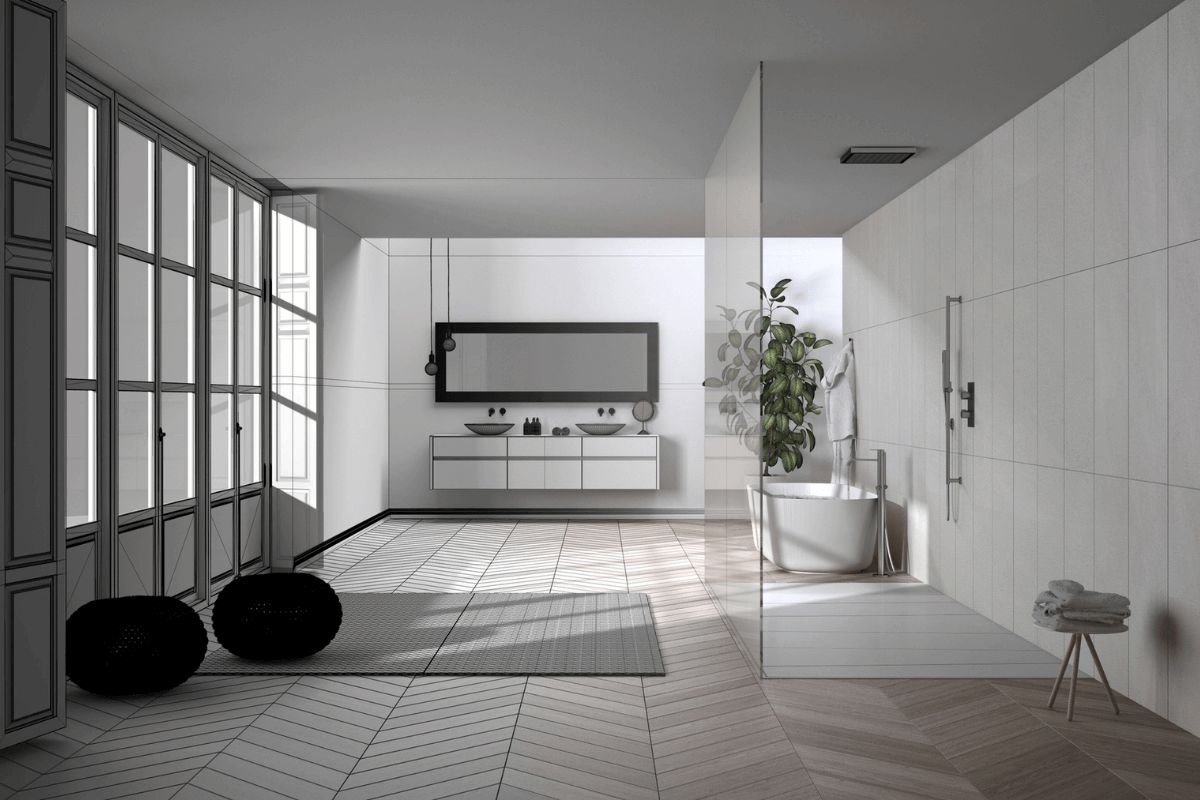 On This Page: Decor Ideas for Beige and Gray Bathroom Black and Grey Bathroom Decor Ideas White and Gray Bathroom Decorating Decorating Ideas for Pink and Grey Bathroom Gray and Gold Bathroom Déco...
WE HAVE BEEN FEATURED