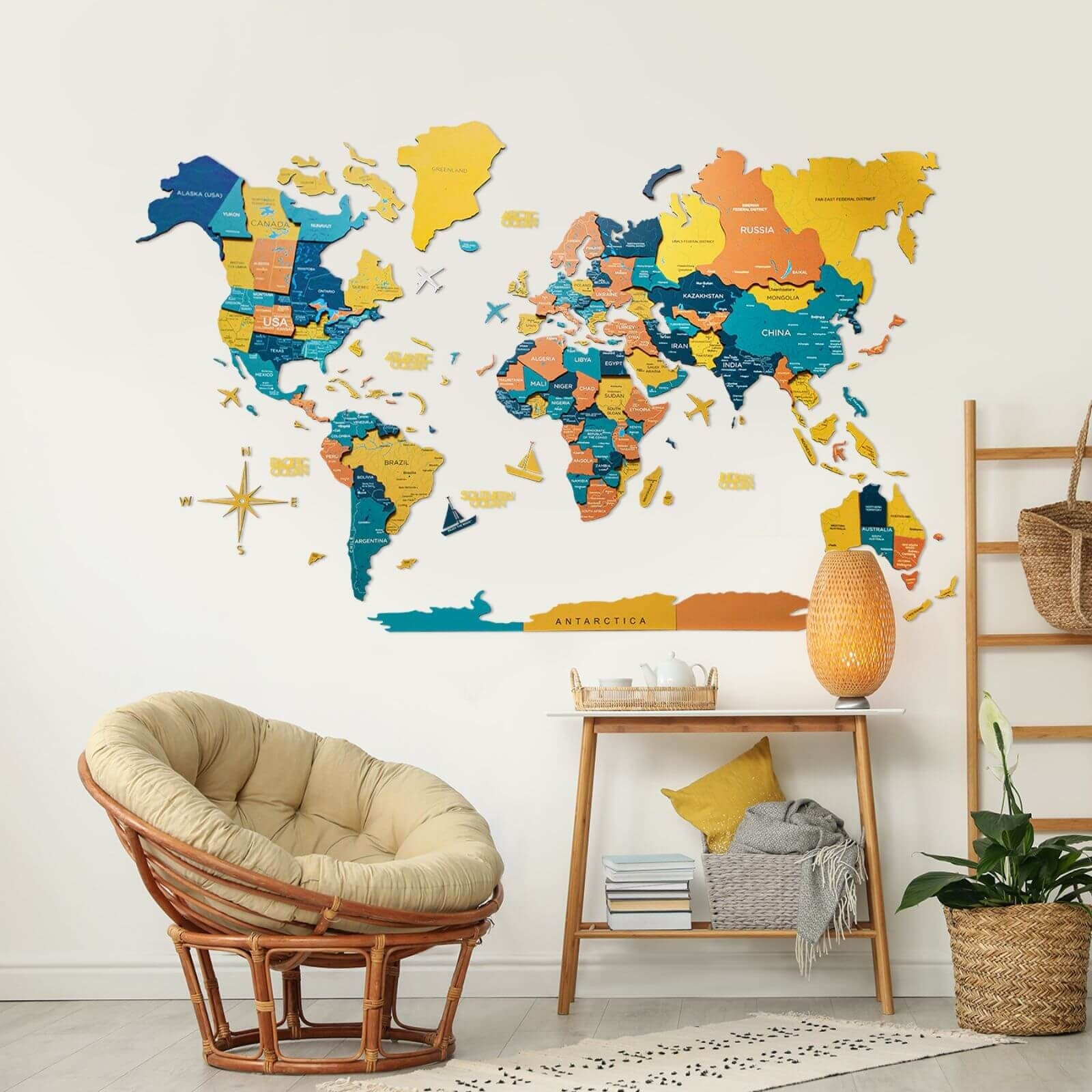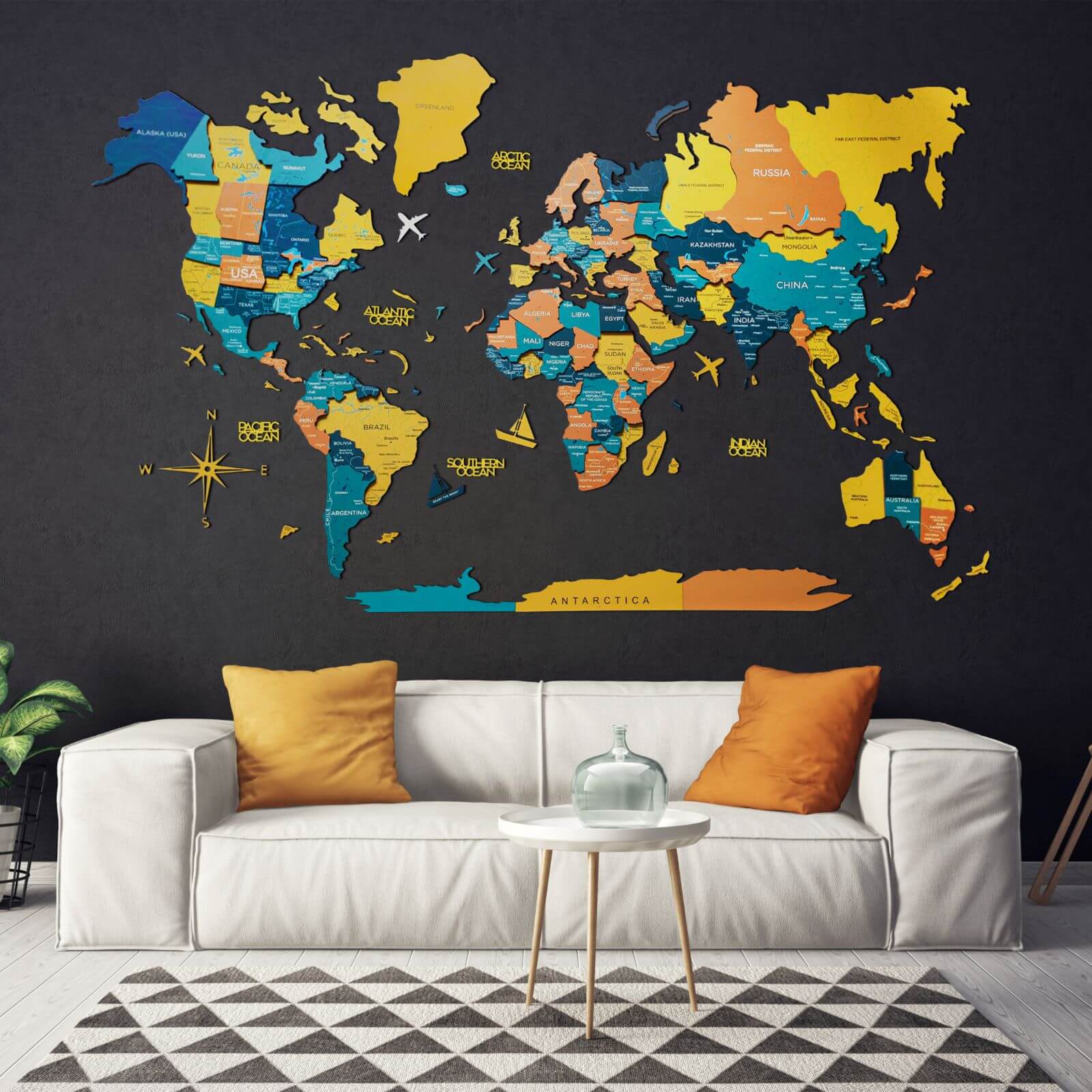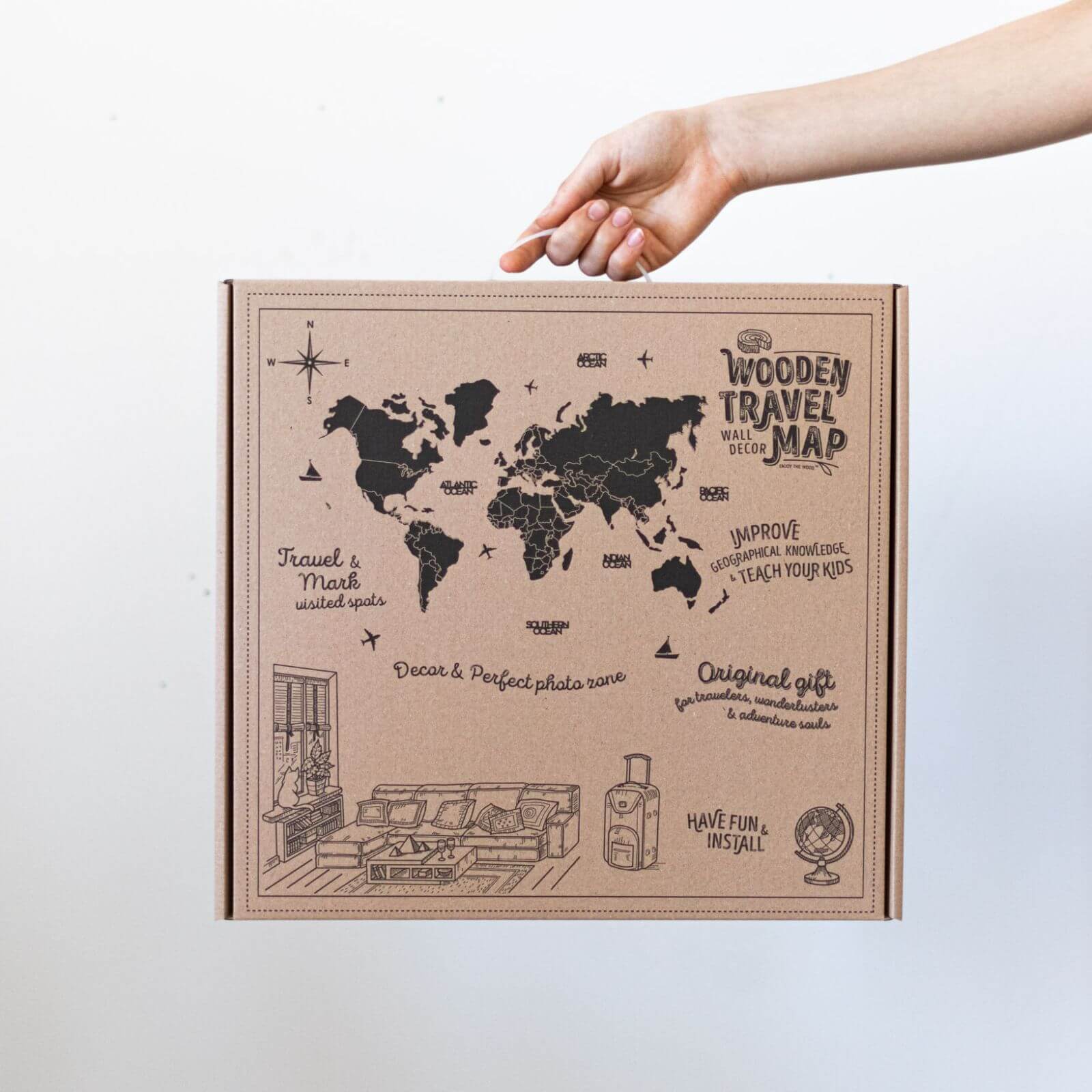 3D Wooden World Map Indie
3D Wooden World Map is more than just a wall decor; it's an invitation to explore the world from the comfort of your home. Transform your living space into an artistic haven with this exceptional map of the world in color Indie.
Only maps left in stock!

BUY NOW!
people bought this product in the last 24 hours
visitor(s) currently looking at this product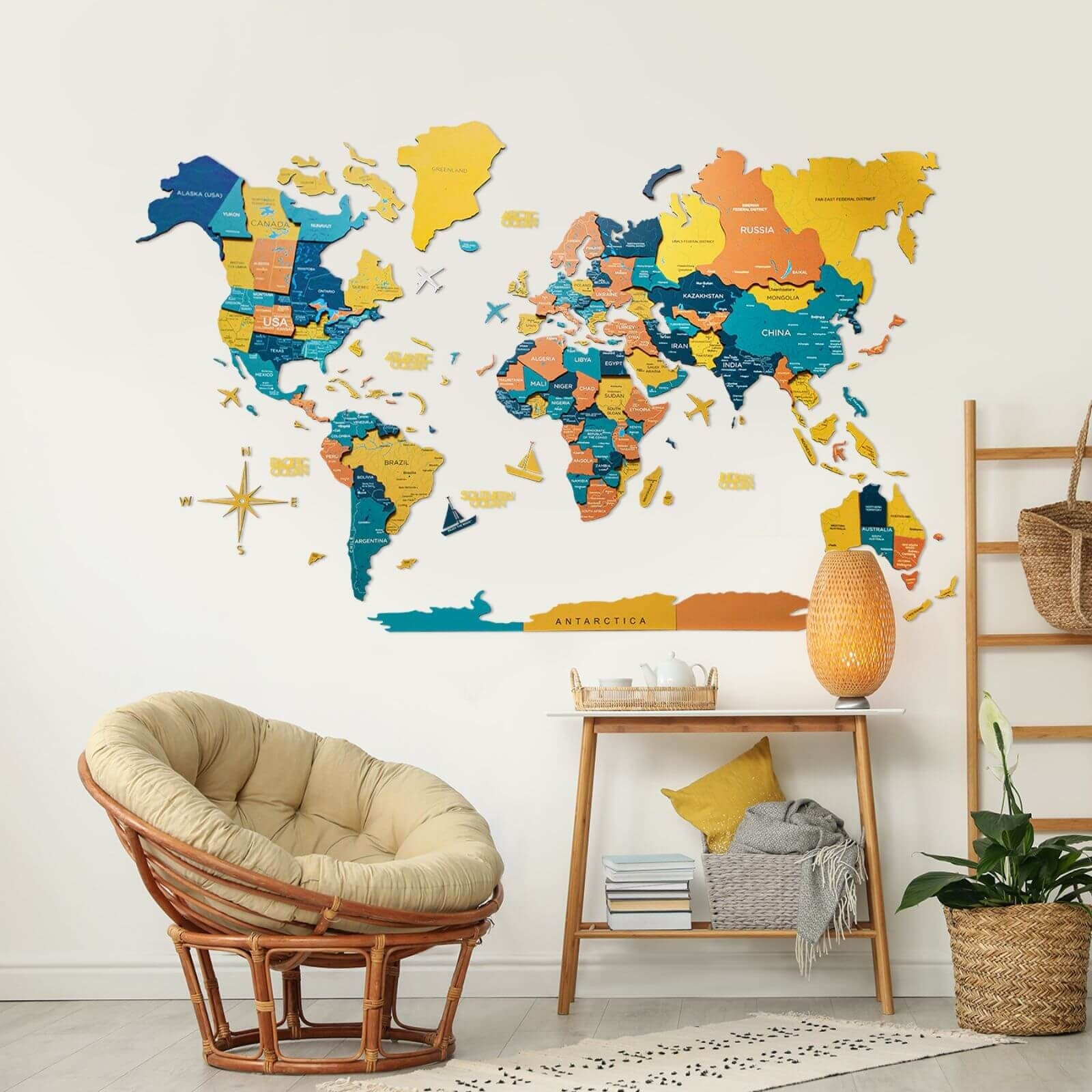 Product description
Introducing our 3D Wooden World Map Indie, an exquisite piece of wall decor that seamlessly combines artistry and functionality. Crafted with precision and designed to captivate, this unique trading offer is perfect for those seeking a statement piece that breathes life into their living spaces.
The 3D map is available in different options:

Blank Map (only Map, names and borders NOT printed);
Prime+ ( Map with names, borders, rivers, lakes +mountains printed);
This vibrant wooden world map intricately showcases a multitude of elements, encompassing everything from country names and borders to capital cities, bustling urban centers, rivers, lakes, and majestic mountain ranges. It's important to emphasize that some minor islands and countries have been intentionally excluded, rendering it inappropriate for educational purposes. To complete your colorful 3d wall art, don't forget to include these national parks pins in your shopping cart. Mounting this map is user-friendly. Within a few hours, you can securely attach it to your wall. Removal is equally straightforward, leaving minimal marks behind. Just enjoy this process with your family and friends!
For more information on map sizes, refer the Size Guide page
Specification:
As the first creators of Wooden World Maps, Enjoy The Wood offers you original products backed by a strong patent portfolio, reaffirming our commitment to innovation and protection 🥇. Skillfully crafted from robust fiberwood, the 3D Wooden World Map Indie wholeheartedly embraces eco-consciousness, devoid of any harmful finishes. Every single piece is meticulously handcrafted, guaranteeing long-lasting quality and its ability to endure the test of time.
Default language
English (can be customized)
MISSION OXYGEN:
20 trees today - 50.000 trees tomorrow
Brand Name
ETW
Patented Design
Gift-Wrapping
High-Quality Materials
Easy To Attach,
Easy To Remove
Lifetime Warranty
Durable And
Stain-Resistant
Eco-Friendly
And Sustainable
Worldwide Delivery
Investors Of The
Wooden World Maps
Stringent Quality
Control On Every Stage
Over 20.000
Positive Feedback
FREQUENTLY ASKED QUESTIONS
Have a question ? We are here to help.
Will the Map stick to the wall which is not perfectly smooth and even (i.e. roughcast or wallpaper)?

Yes, it will. It depends on the type and height of the wall surface layer though. The smoother, the better.
How long does it actually take to install the Map?

The installation process takes several hours. It's a fun project to do as a group, if you wish.
Are there any tips to help with the installation?

Hold off on opening your box with the Map for 2-3 hours upon bringing it home, to give it some time to adapt to your home temperature. After opening the box, follow the instructions included and watch the video guides. Please note that to separate the islands, one should gently press on each piece, from top to bottom, until it comes out, to avoid chipping.
This product has no reviews yet.
Popular Posts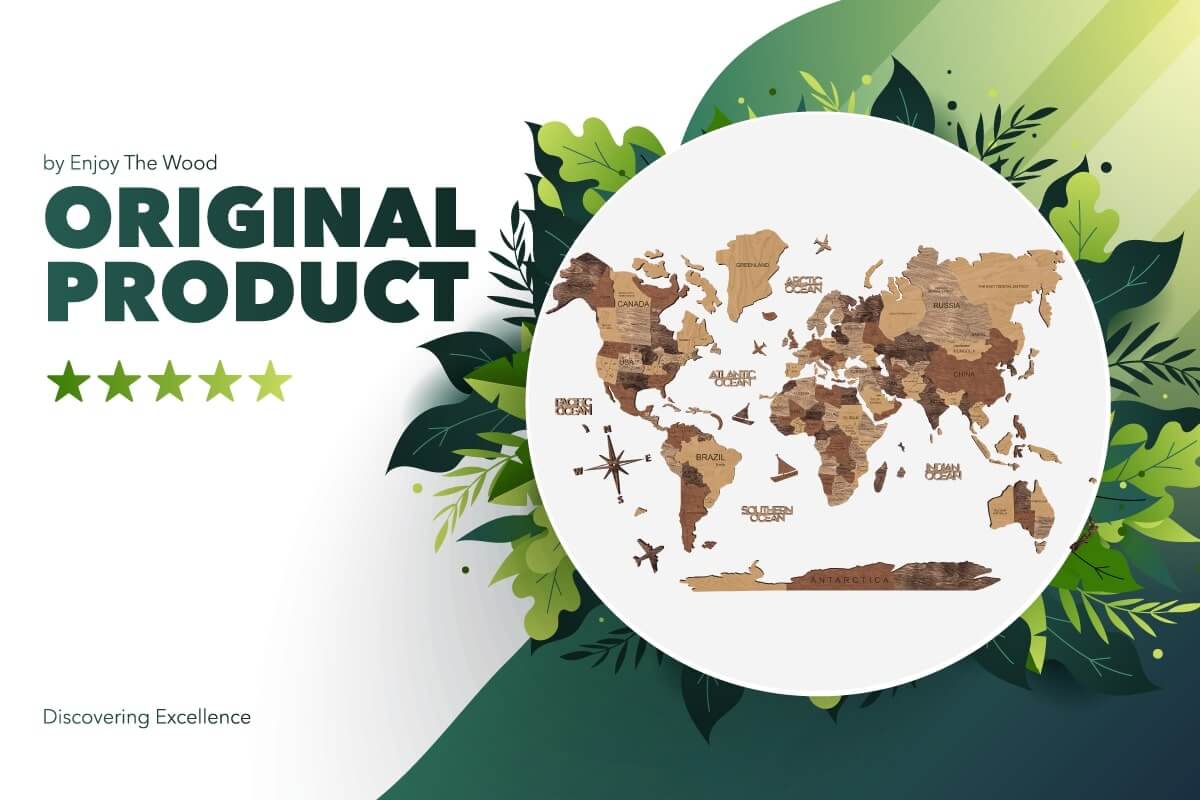 On This Page: The Essence of an Original Product Enjoy The Wood's Originality and Legal Confirmation The Day the World Saw the First Enjoy The Wood Map How to Identify Scammers Opting for Enjoy Th...
On This Page: Enjoy The Wood at TOP 100 USA Awards Enjoy The Wood: The Fostenko Family Goes Above and Beyond at TOP USA Awards The TOP USA Awards 2023 was successfully held, celebrating the amaz...
When it comes to Enjoy The Wood manufacturing, it's not just about in-house production. It's about crafting a memorable customer experience that embodies comfort, elegance, and a chill vibe. We're ...
WE HAVE BEEN FEATURED