Product description
splitstart gridstart
PERKS
material: top quality fiberboard
default language: English
thickness: 6 - 12 mm (0.23''- 0.47'')
splitend
splitstart midle
IN THE BOX
Map pieces including ocean names, wooden planes, boats & compass, double-sided sticky tape, instruction, corner stencils, lifetime warranty.
splitend
splitstart
GOOD TO KNOW
handcrafted with love
international patent
lifetime warranty
guaranteed shipping
the Map is not a geographical one, it's a decoration item: some small countries and islands may be omitted due to the scale issue. Still, we collect all the comments and recommendations to make our Maps more precise and relevant for you! It just takes some time.
splitend gridend
Specification:
As the first creators of Wooden World Maps, Enjoy The Wood offers you original products backed by a strong patent portfolio, reaffirming our commitment to innovation and protection 🥇.
CE Certified
Low Voltage Directive LVD 2O14/35/EU
Radio Equipment Directive 2O14/53/EU
EMC Directive 2O14/30/EU
Restriction of Hazardous Substances Directive RoSH 2O11/65/EU
MISSION OXYGEN:
20 trees today - 50.000 trees tomorrow
This product has no reviews yet.
Popular Posts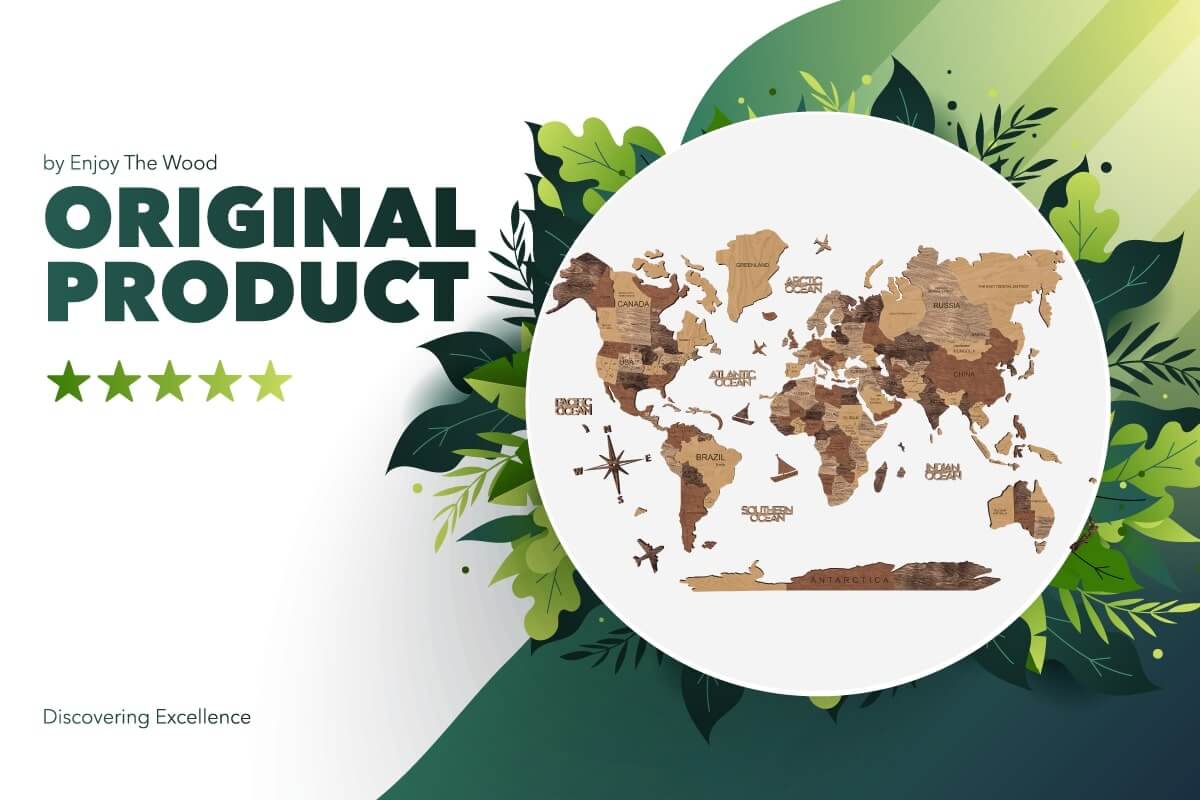 On This Page: The Essence of an Original Product Enjoy The Wood's Originality and Legal Confirmation The Day the World Saw the First Enjoy The Wood Map How to Identify Scammers Opting for Enjoy Th...
On This Page: Enjoy The Wood at TOP 100 USA Awards Enjoy The Wood: The Fostenko Family Goes Above and Beyond at TOP USA Awards The TOP USA Awards 2023 was successfully held, celebrating the amaz...
When it comes to Enjoy The Wood manufacturing, it's not just about in-house production. It's about crafting a memorable customer experience that embodies comfort, elegance, and a chill vibe. We're ...
WE HAVE BEEN FEATURED