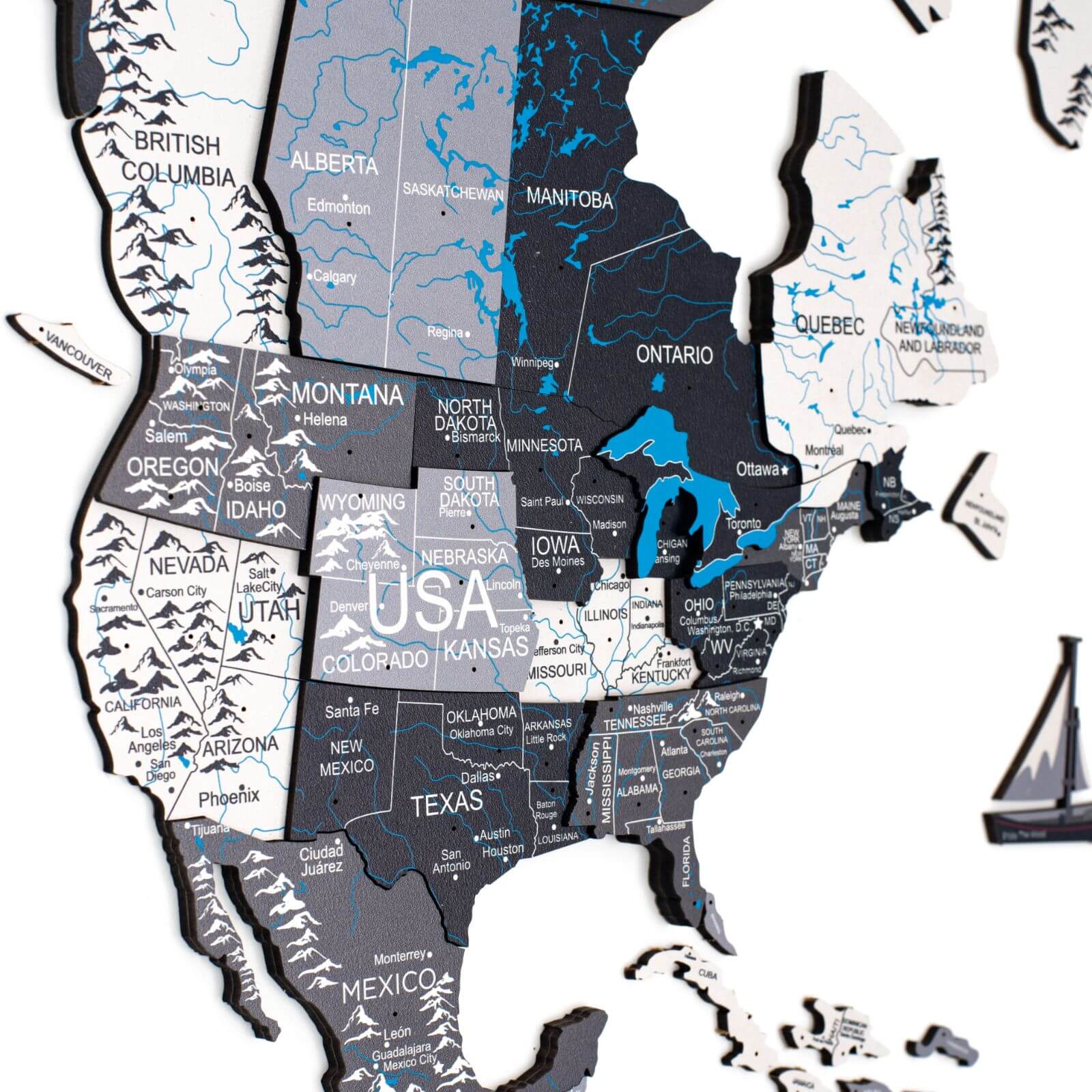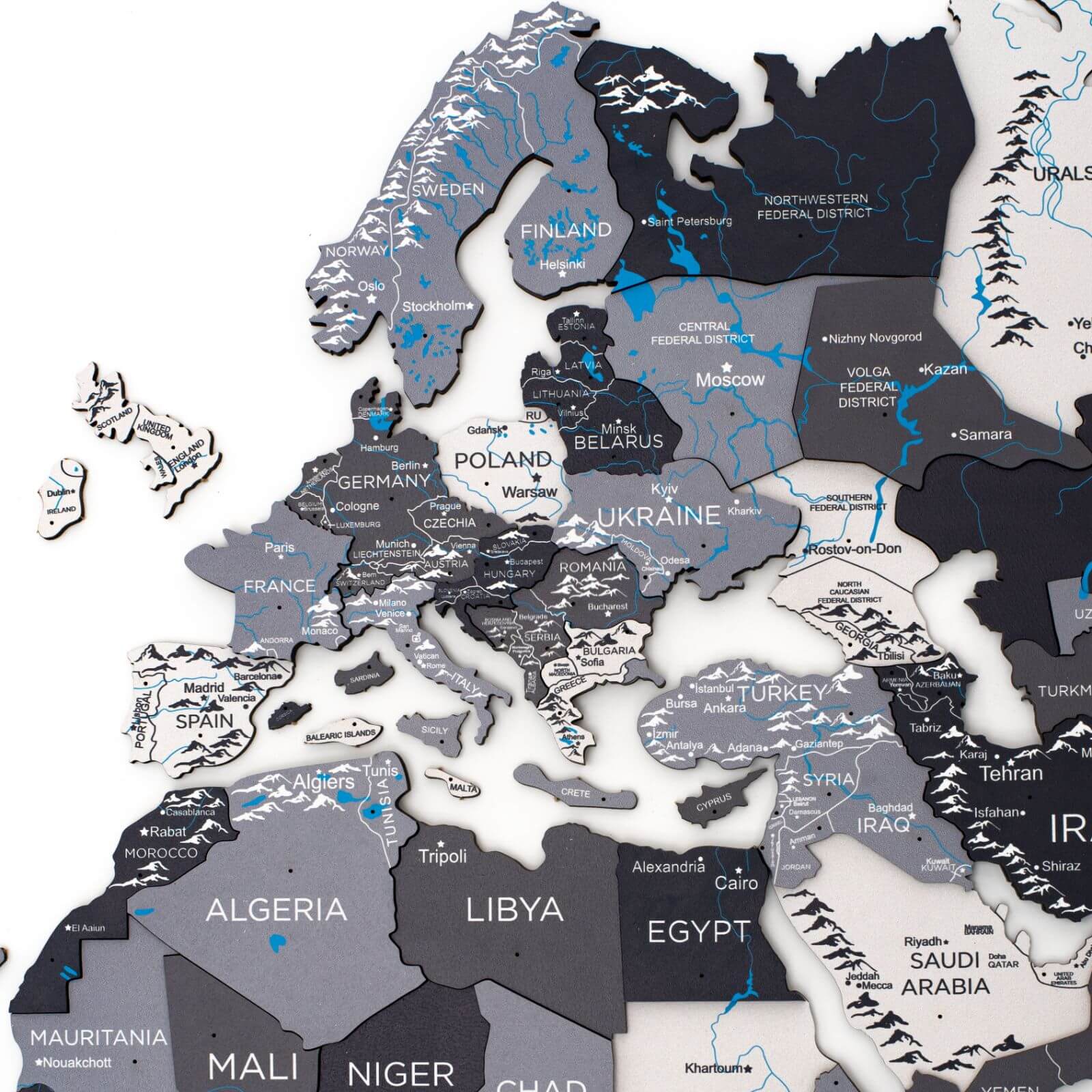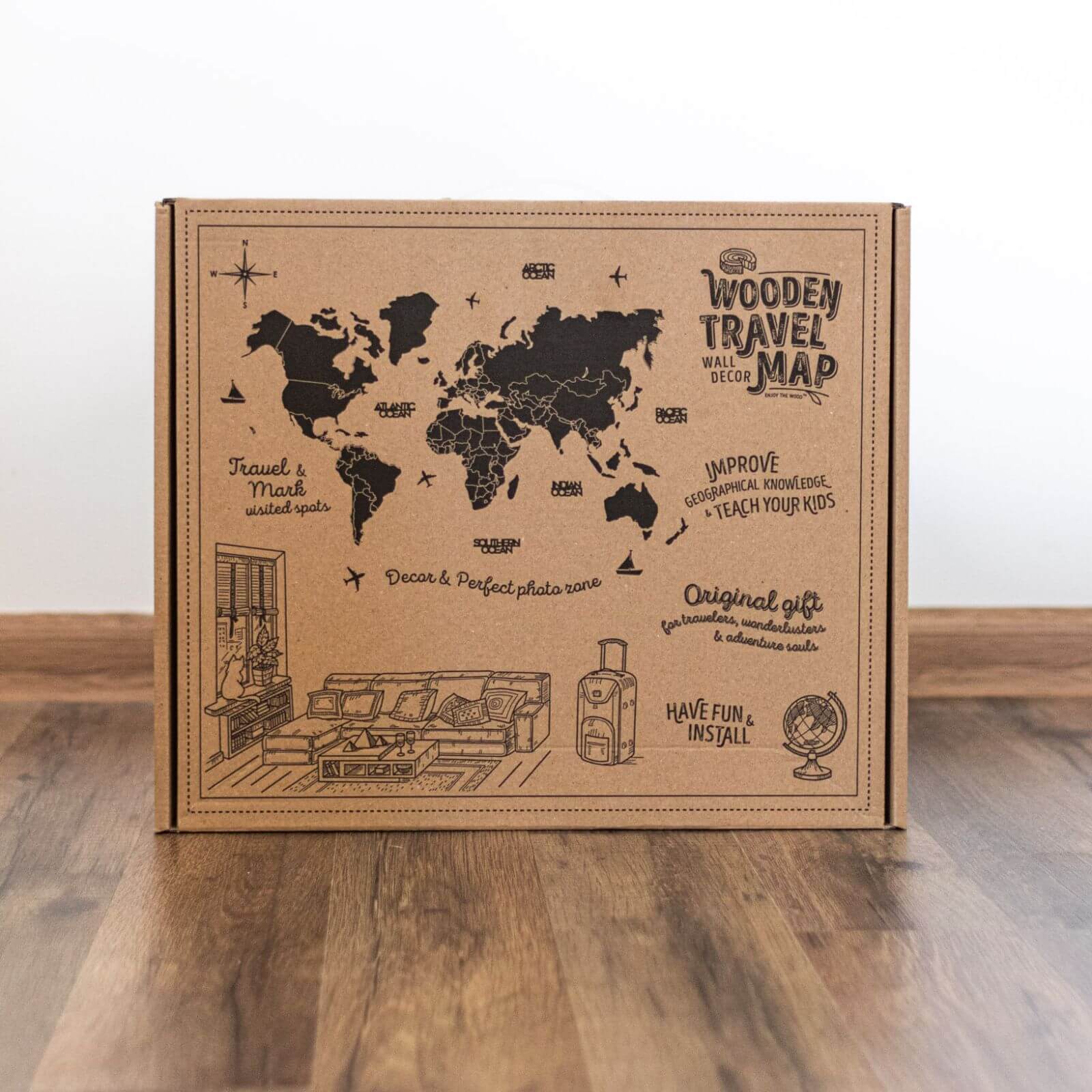 3D Wooden World Map Nordik
Art and décor go hand-in-hand! This 3D wooden world map from the Nordik line is a perfect combination of both. Add a real touch of charm and elegance to your room with a mix of black, blue, white, and grey!
Only maps left in stock!

BUY NOW!
people bought this product in the last 24 hours
visitor(s) currently looking at this product
Product description
Looking for a fresh alternative to a framed photo or painting? A colorful map of world on wood makes a great one!
Cold at first glance, the Nordik palette successfully brings any room to life. Feel free to get a 3D colored world map for a bedroom, living room, kid's room, hall, study room, or a lifeless office that you'd like to add a bit of life to the surroundings and create an ambiance that is fun and colorful.
The 3D map is available in different options:

Blank Map (only Map, names and borders NOT printed);
Prime+ ( Map with names, borders, rivers, lakes +mountains printed);
The world map is just the right thing to gift to someone passionate about traveling! Or, perhaps, you seek a special something for anyone who just moved into a new apartment? A new place is worth celebrating, and handcrafted decor will be the icing on the cake.
The piece of décor gives a trendy and homey look to any interior – from modern and classic to rustic or beach style. The cool colors of the Nordik map lend a sense of tranquility and relaxation to the mood of your space while being 100% eye-friendly. Since some smaller countries and islands may be omitted, the map can't be used as a geography tool.
Assemble it by using sticky tape and the instructions provided in a set. The process is fast and easy (no extra help required!).
For more information on map sizes, refer the Size Guide page
Specification:
As the first creators of Wooden World Maps, Enjoy The Wood offers you original products backed by a strong patent portfolio, reaffirming our commitment to innovation and protection 🥇. Crafted from durable fiberwood, the 3D map from the Nordik collection is time-resistant. It's eco-friendly and contains no toxic finishes. The map includes' counties names and borders, capitals, the largest cities, rivers and lakes. At the same time, some small islands and cities can be omitted.
Default language
English (can be customized)
MISSION OXYGEN:
20 trees today - 50.000 trees tomorrow
Brand Name
ETW
Patented Design
Gift-Wrapping
High-Quality Materials
Easy To Attach,
Easy To Remove
Lifetime Warranty
Durable And
Stain-Resistant
Eco-Friendly
And Sustainable
Worldwide Delivery
Investors Of The
Wooden World Maps
Stringent Quality
Control On Every Stage
Over 20.000
Positive Feedback
FREQUENTLY ASKED QUESTIONS
Have a question ? We are here to help.
Will the Map stick to the wall which is not perfectly smooth and even (i.e. roughcast or wallpaper)?

Yes, it will. It depends on the type and height of the wall surface layer though. The smoother, the better.
How long does it actually take to install the Map?

The installation process takes several hours. It's a fun project to do as a group, if you wish.
Are there any tips to help with the installation?

Hold off on opening your box with the Map for 2-3 hours upon bringing it home, to give it some time to adapt to your home temperature. After opening the box, follow the instructions included and watch the video guides. Please note that to separate the islands, one should gently press on each piece, from top to bottom, until it comes out, to avoid chipping.
This product has no reviews yet.
Popular Posts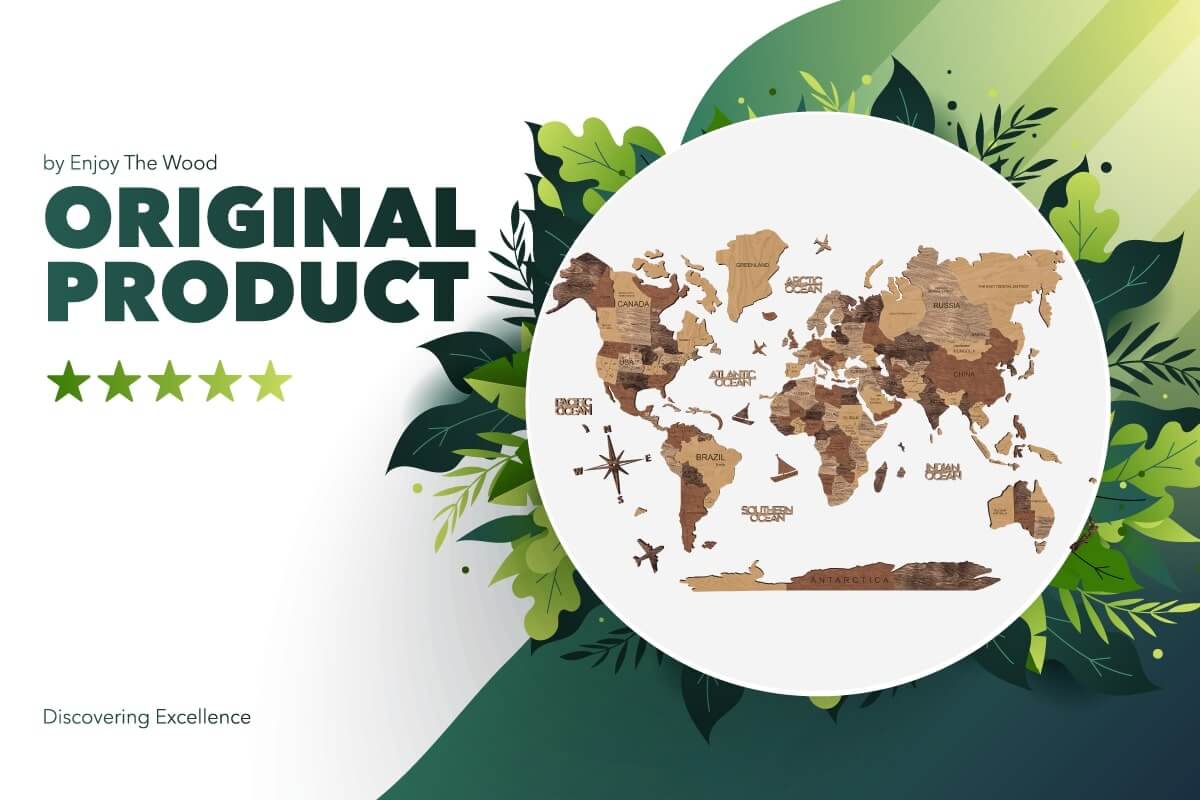 On This Page: The Essence of an Original Product Enjoy The Wood's Originality and Legal Confirmation The Day the World Saw the First Enjoy The Wood Map How to Identify Scammers Opting for Enjoy Th...
On This Page: Enjoy The Wood at TOP 100 USA Awards Enjoy The Wood: The Fostenko Family Goes Above and Beyond at TOP USA Awards The TOP USA Awards 2023 was successfully held, celebrating the amaz...
When it comes to Enjoy The Wood manufacturing, it's not just about in-house production. It's about crafting a memorable customer experience that embodies comfort, elegance, and a chill vibe. We're ...
WE HAVE BEEN FEATURED