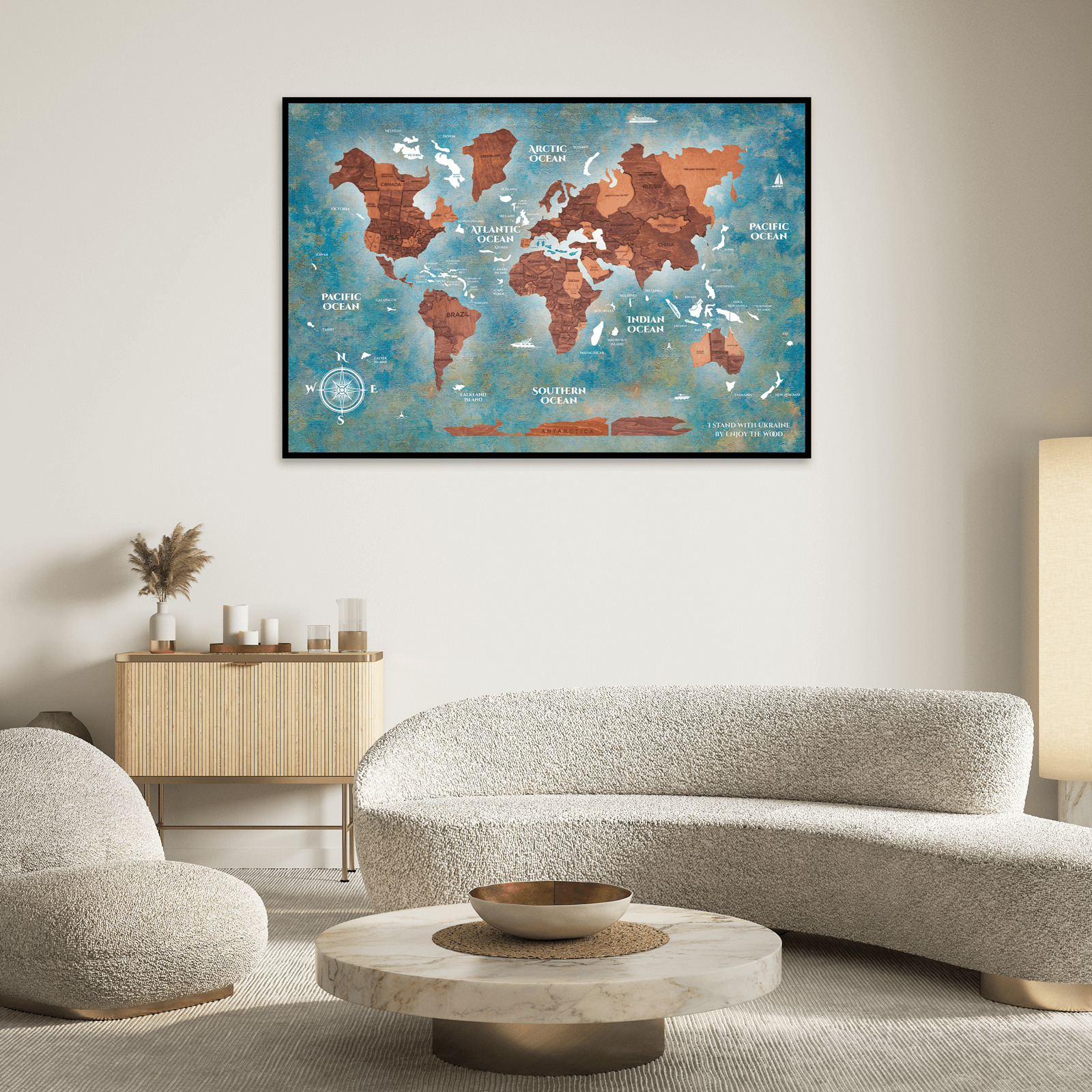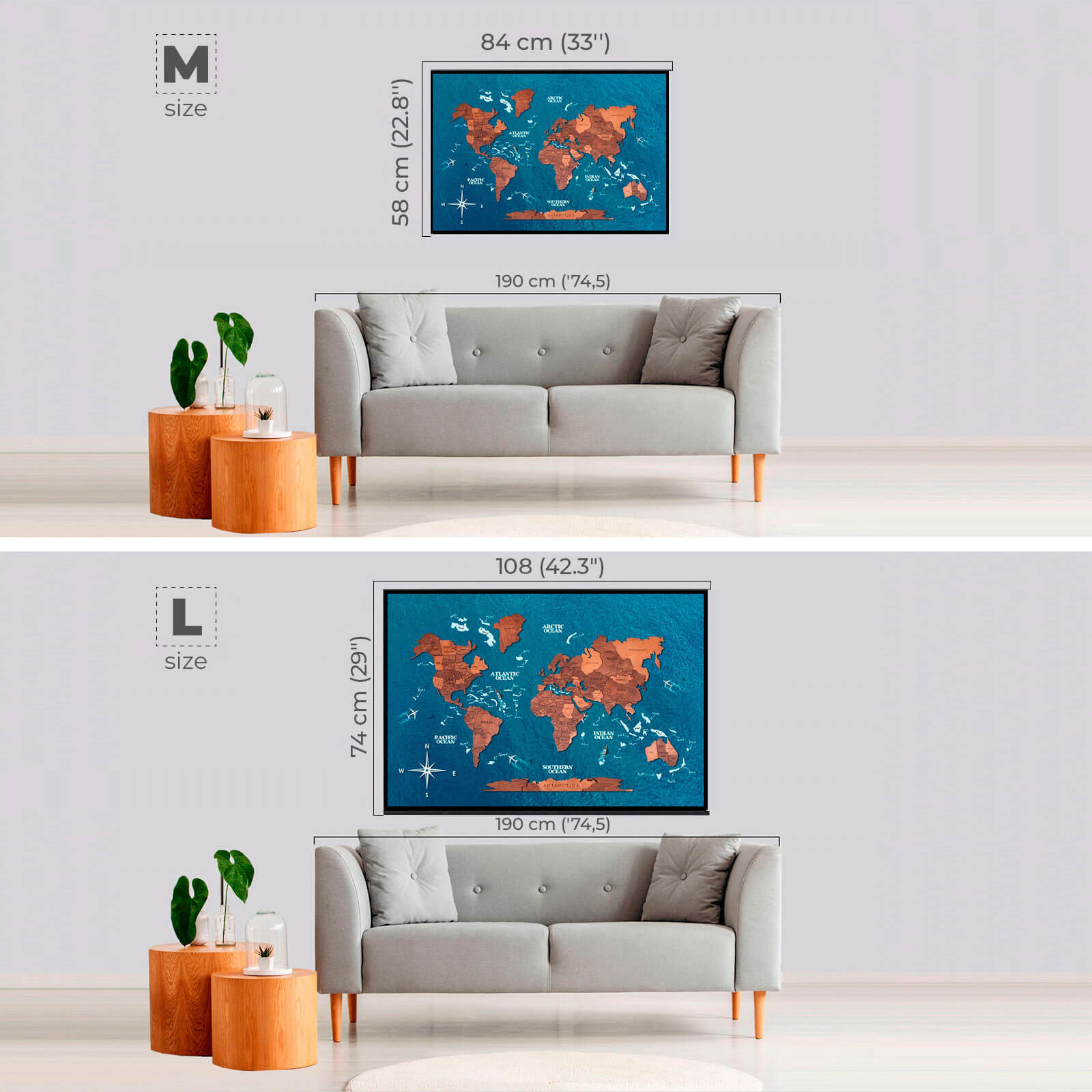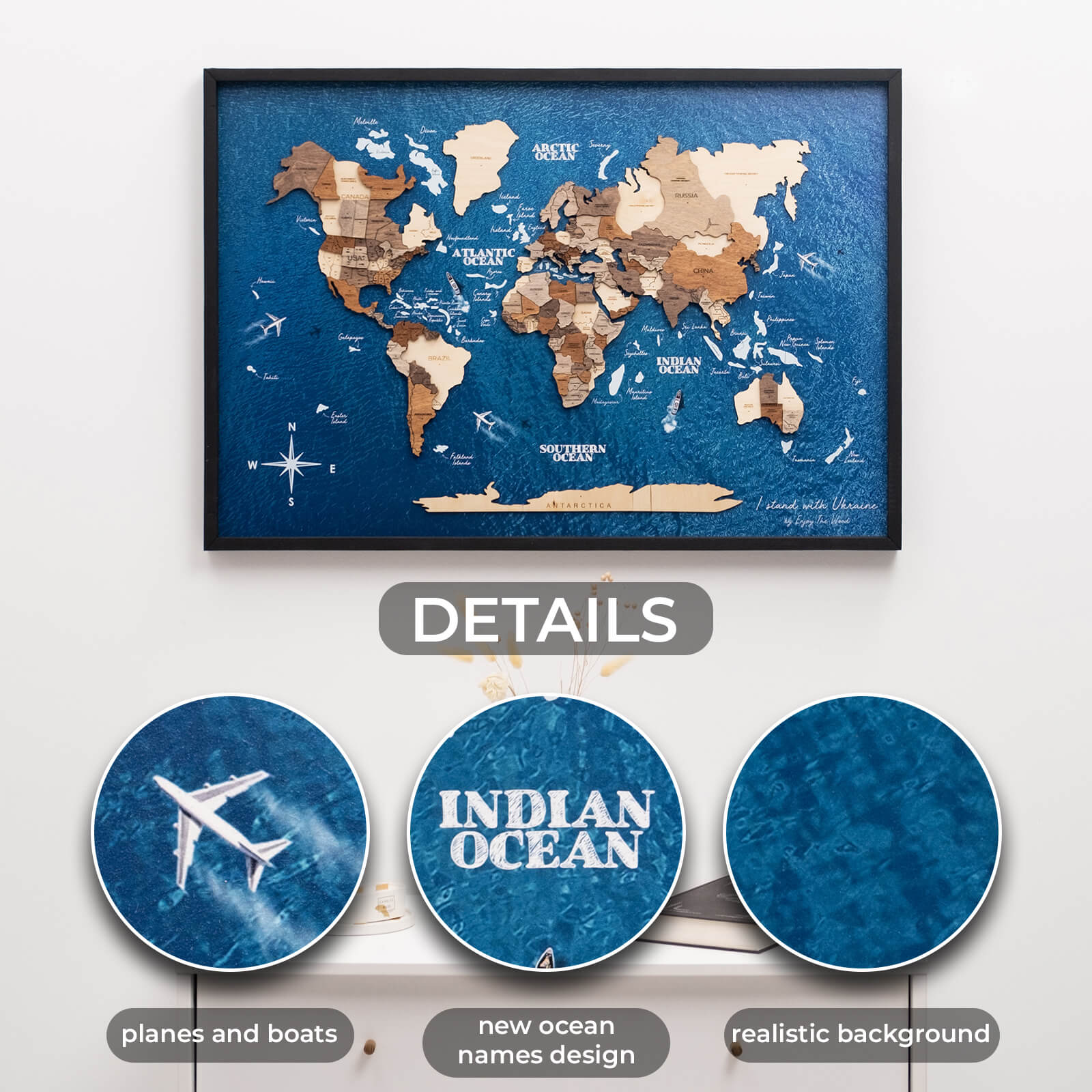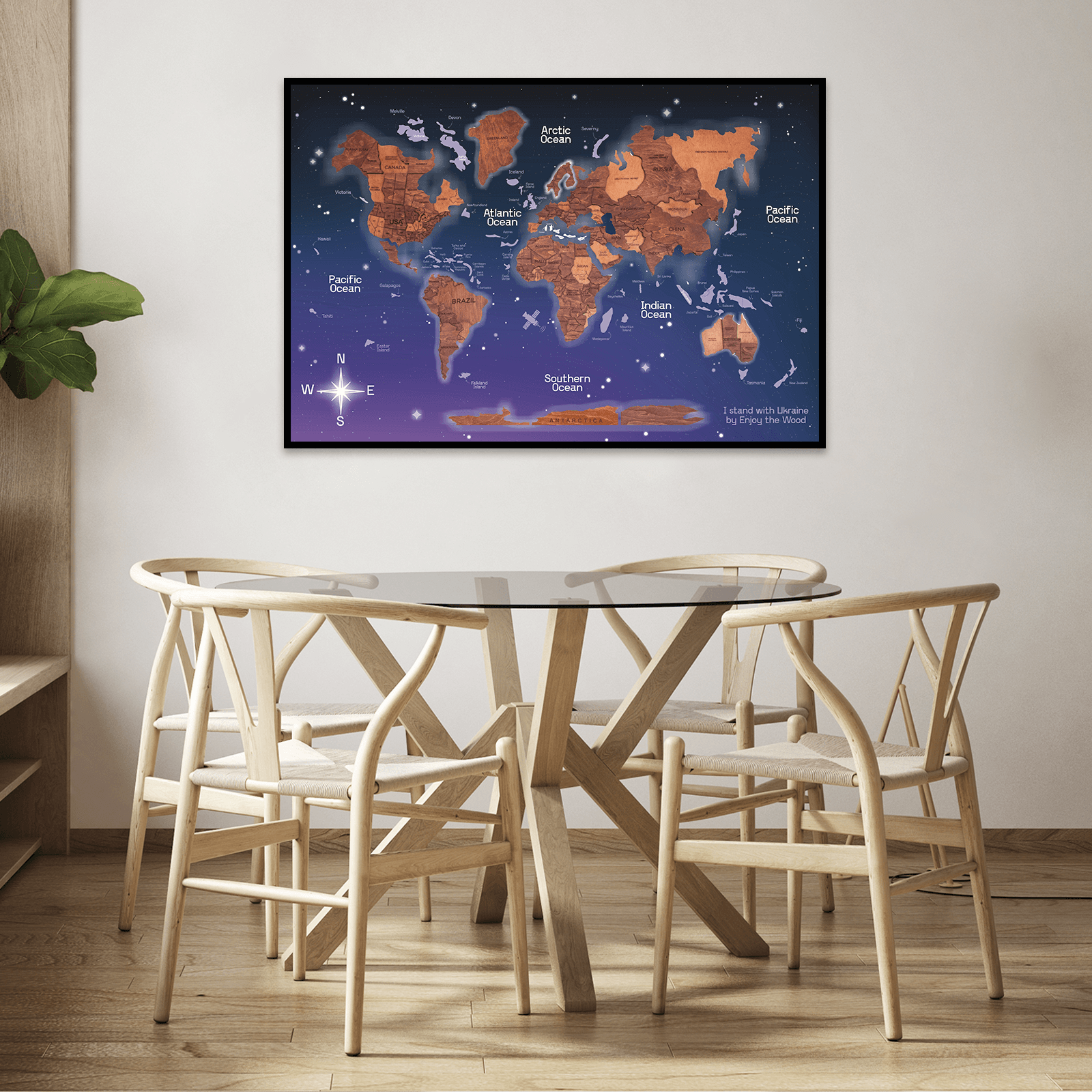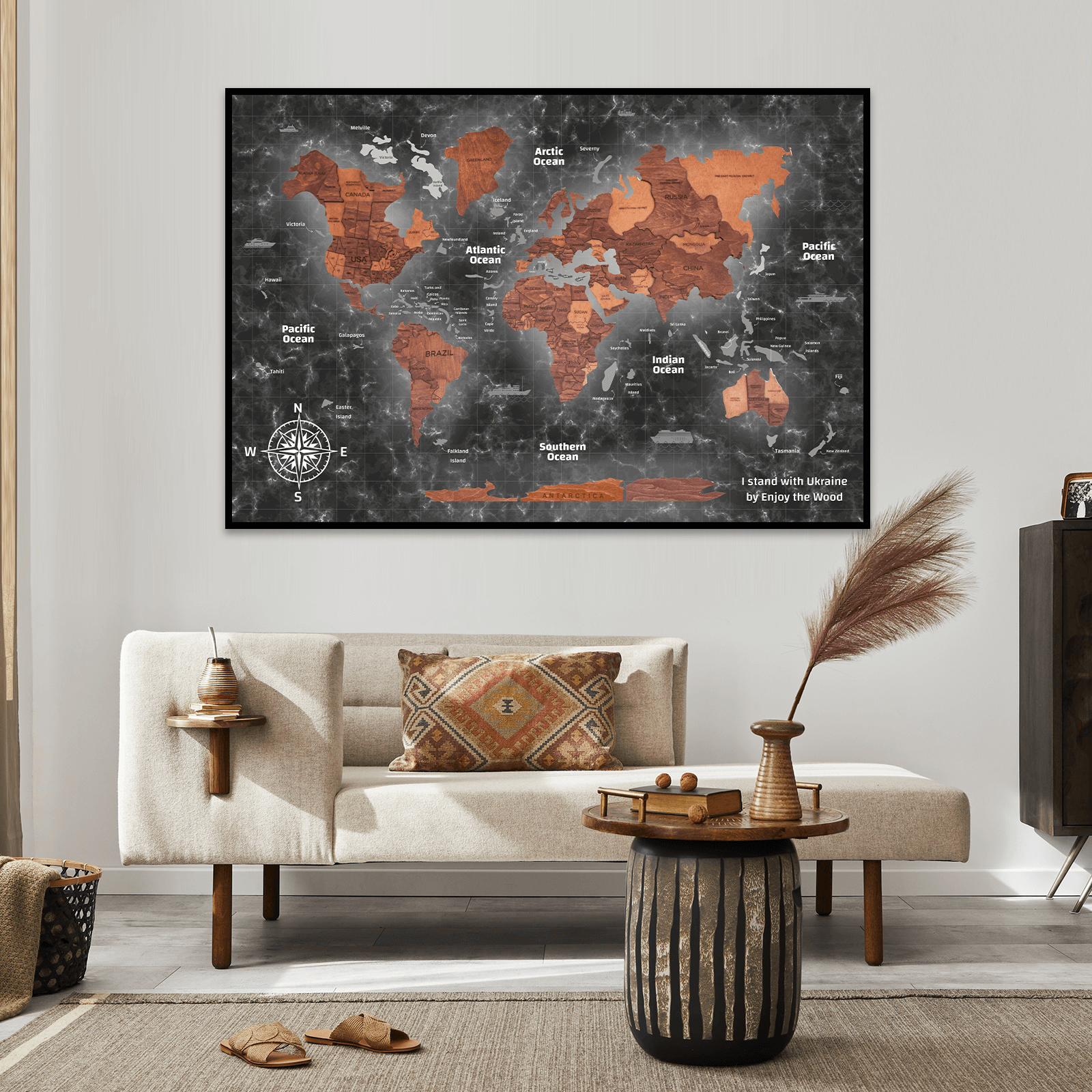 3D Wooden Panel World Map Oak
For those of you that are passionate about traveling, decorating with maps is a stunning way to incorporate your passion into your interior. Colorful, personal, and meaningful world maps will become a perfect addition to some of your treasured travel photos.
people bought this product in the last 24 hours

Product description
Looking for ways to add a touch of charm and elegance to the whole room? Available with five aesthetically pleasing backgrounds – Vintage, Dark, Ocean, Concrete, Space, and Oil Painting – this framed world map pinboard makes a great alternative to standard art or a framed picture of a photo. The bright colors of the world map board and precisely engraved details bring room to life.
The single panel map doesn't lose color saturation and does not form cracks – it stands the test of time!
The color palette of the décor piece gives you an opportunity to enhance the existing ambiance of any interior. Whether it's a minimalistic, classy, contemporary, industrial, or any other style, this map will play well with the visual characteristics of any room.
Looking for ways to create a hooking focal point in a living room, bedroom, dining room (or even office!)? Our single panel map mounted on a wall will call your name.
You will have no problem with the process of assembling the single panel world map. Since the product comes with instructions, assembling will take little time and effort.

There are 2 sizes available for you: M 58 x 84 cm (23″ x 33') and L 108 x 74 cm (29″x 42")
PLEASE NOTE: The map is not a geographical one, some smaller countries and islands may be omitted. Each Map is unique and shades vary because it's made of natural wood.
Specification:
Crafted from birch plywood, the Oak map is a sustainable and harmonious piece of décor that makes you connect directly with nature. Being environmentally friendly, the map is also safe for its owners. All the geographical names are engraved in English. The language can be customized based on the customer's requests.
Default language
English (can be customized)
Other details
the map is pre-installed on board
MISSION OXYGEN:
20 trees today - 50.000 trees tomorrow
FREQUENTLY ASKED QUESTIONS
Have a question ? We are here to help.
Will the Map stick to the wall which is not perfectly smooth and even (i.e. roughcast or wallpaper)?

Yes, it will. It depends on the type and height of the wall surface layer though. The smoother, the better.
How long does it actually take to install the Map?

The installation process takes several hours. It's a fun project to do as a group, if you wish.
Are there any tips to help with the installation?

Hold off on opening your box with the Map for 2-3 hours upon bringing it home, to give it some time to adapt to your home temperature. After opening the box, follow the instructions included and watch the video guides.
This product has no reviews yet.
Popular Posts
On This Page: Minimalist Decorating Ideas #1 Wooden 2D Map of the World #2 Wooden 3D World Map Wall Art #3 World Map Concrete – Minimalist Home Décor #4 Glass Vases – Minimalist Decorating #5 Aest...
On This Page: #1 Add Decorative Wall Map Like Travel Wall Decor #2 Use Wooden Lake Maps as Travel Themed Decor #3 Add Wooden Key Holder as Travel Inspired Decor #4 Use Wooden City Map Like Travel...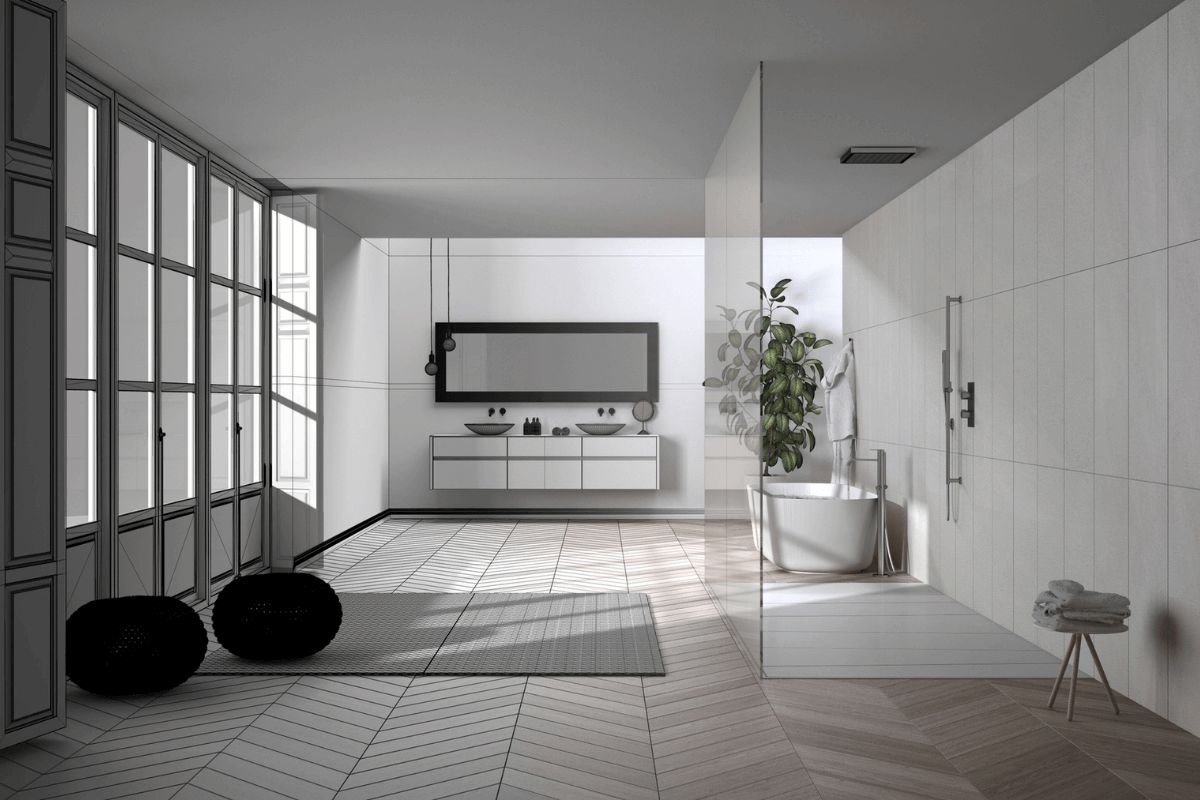 On This Page: Decor Ideas for Beige and Gray Bathroom Black and Grey Bathroom Decor Ideas White and Gray Bathroom Decorating Decorating Ideas for Pink and Grey Bathroom Gray and Gold Bathroom Déco...
WE HAVE BEEN FEATURED