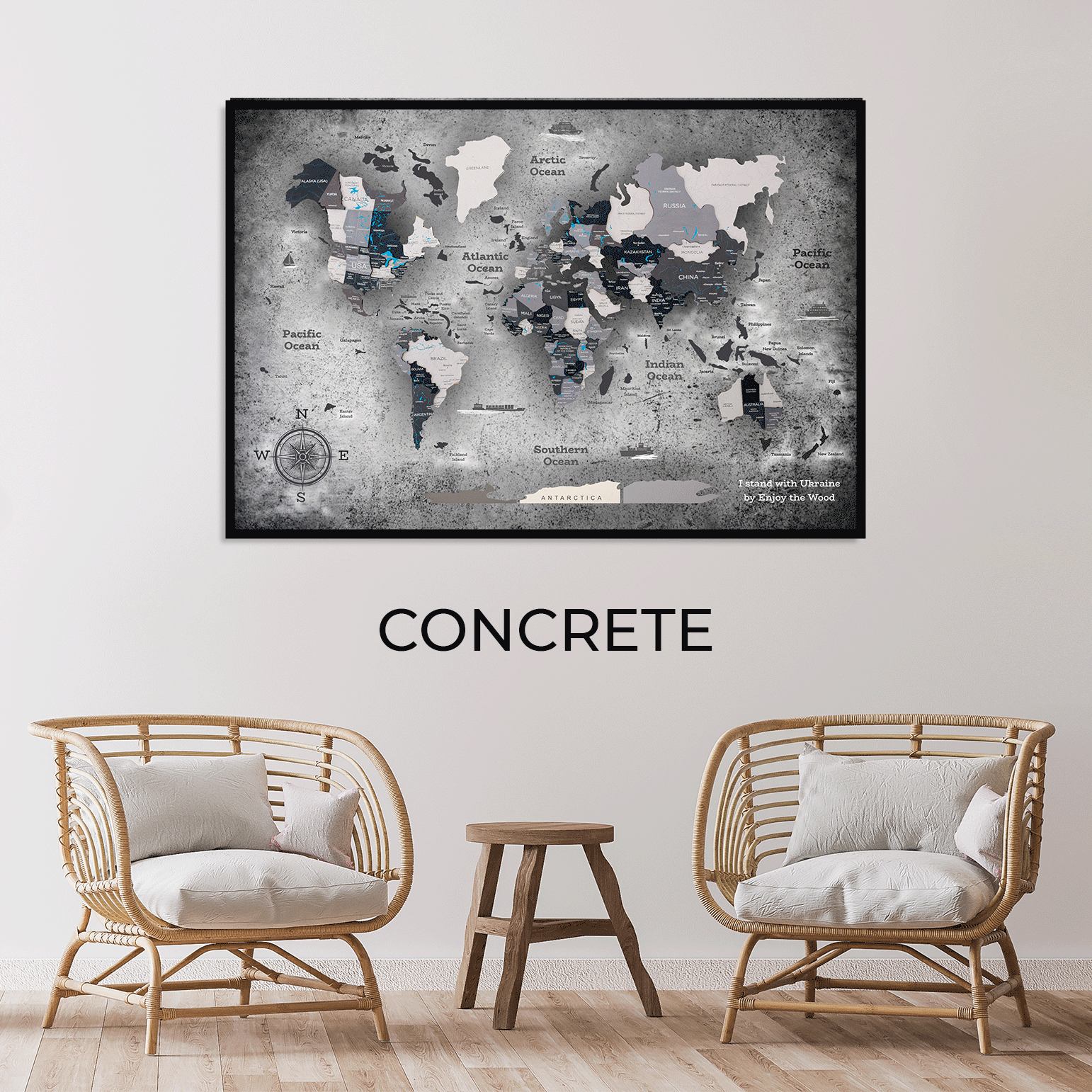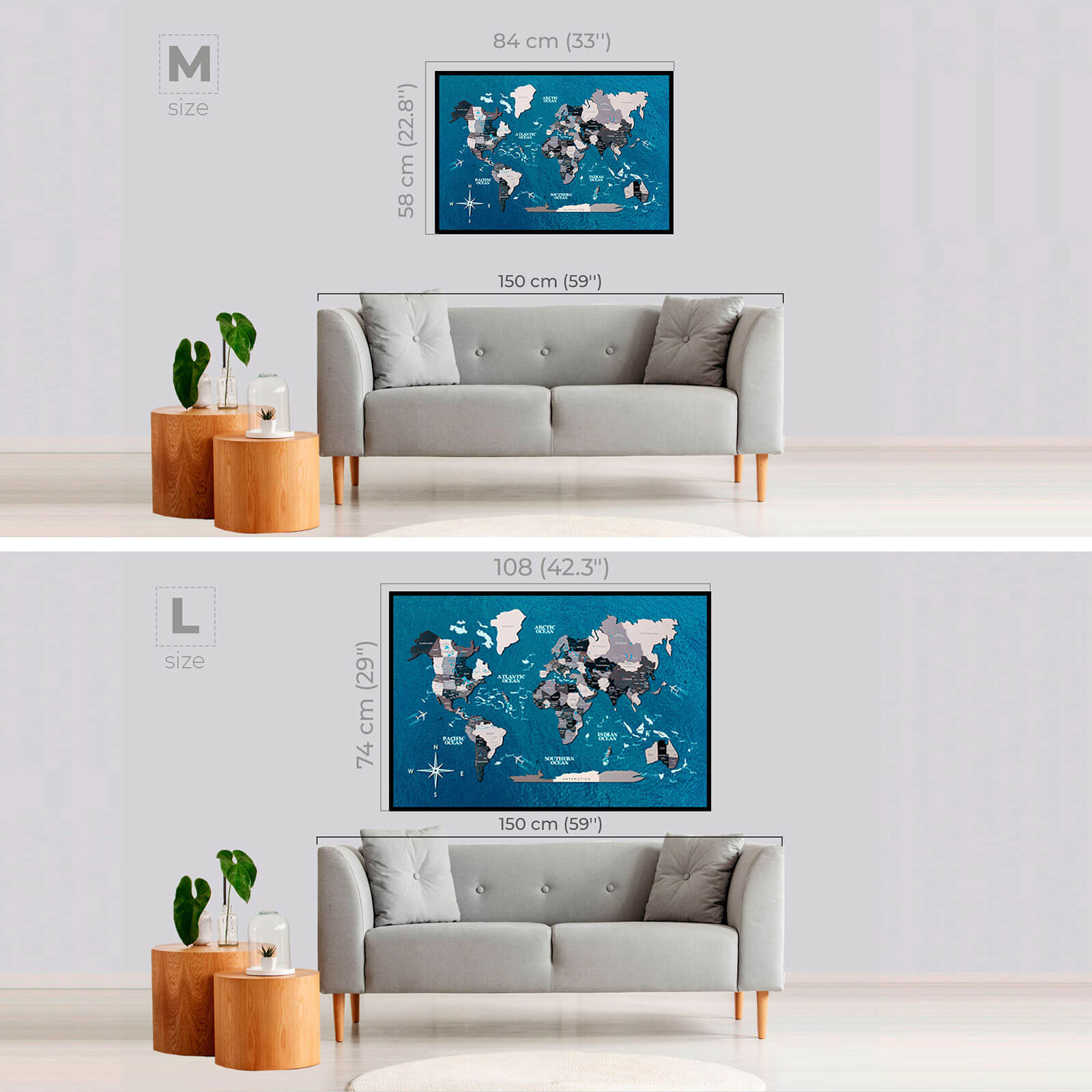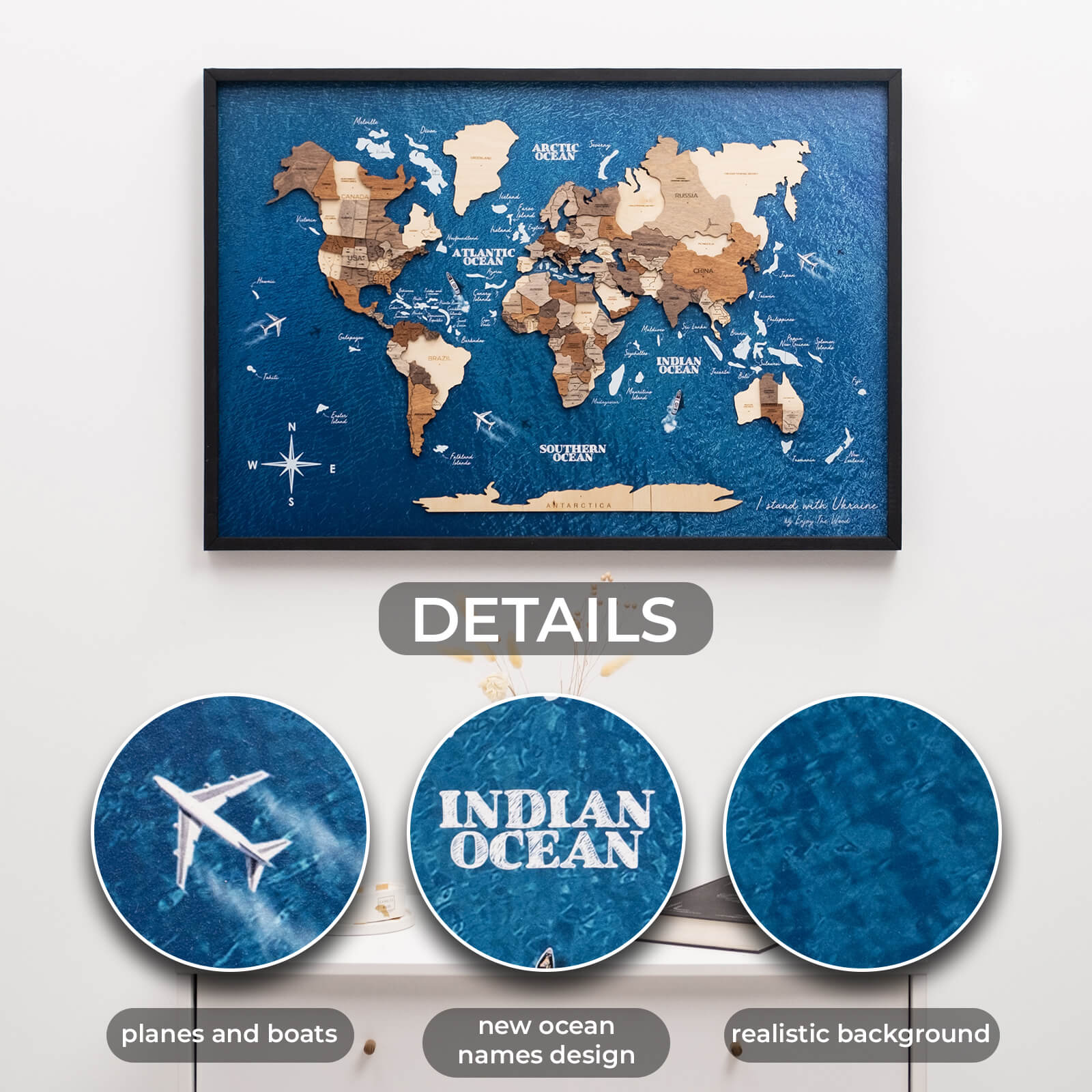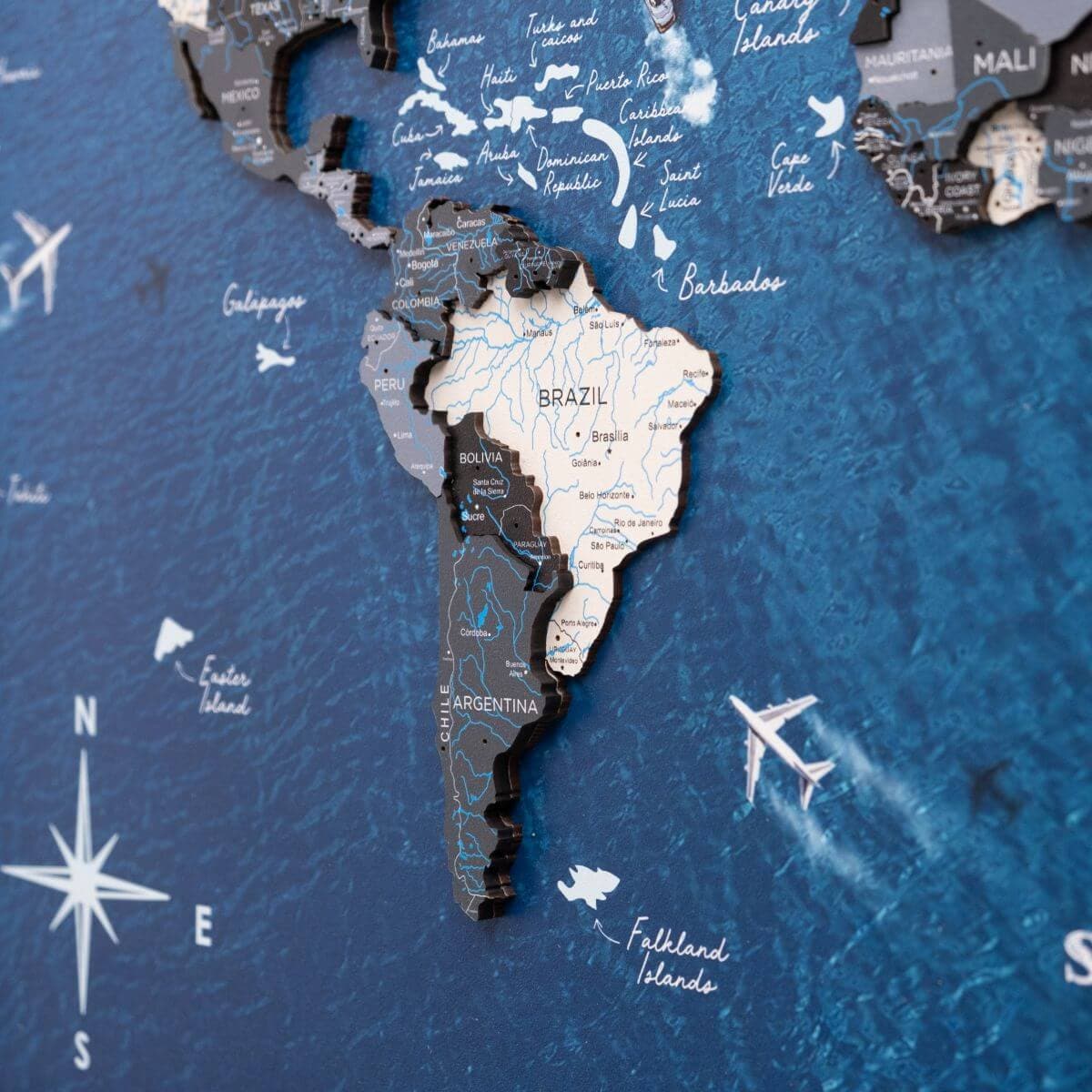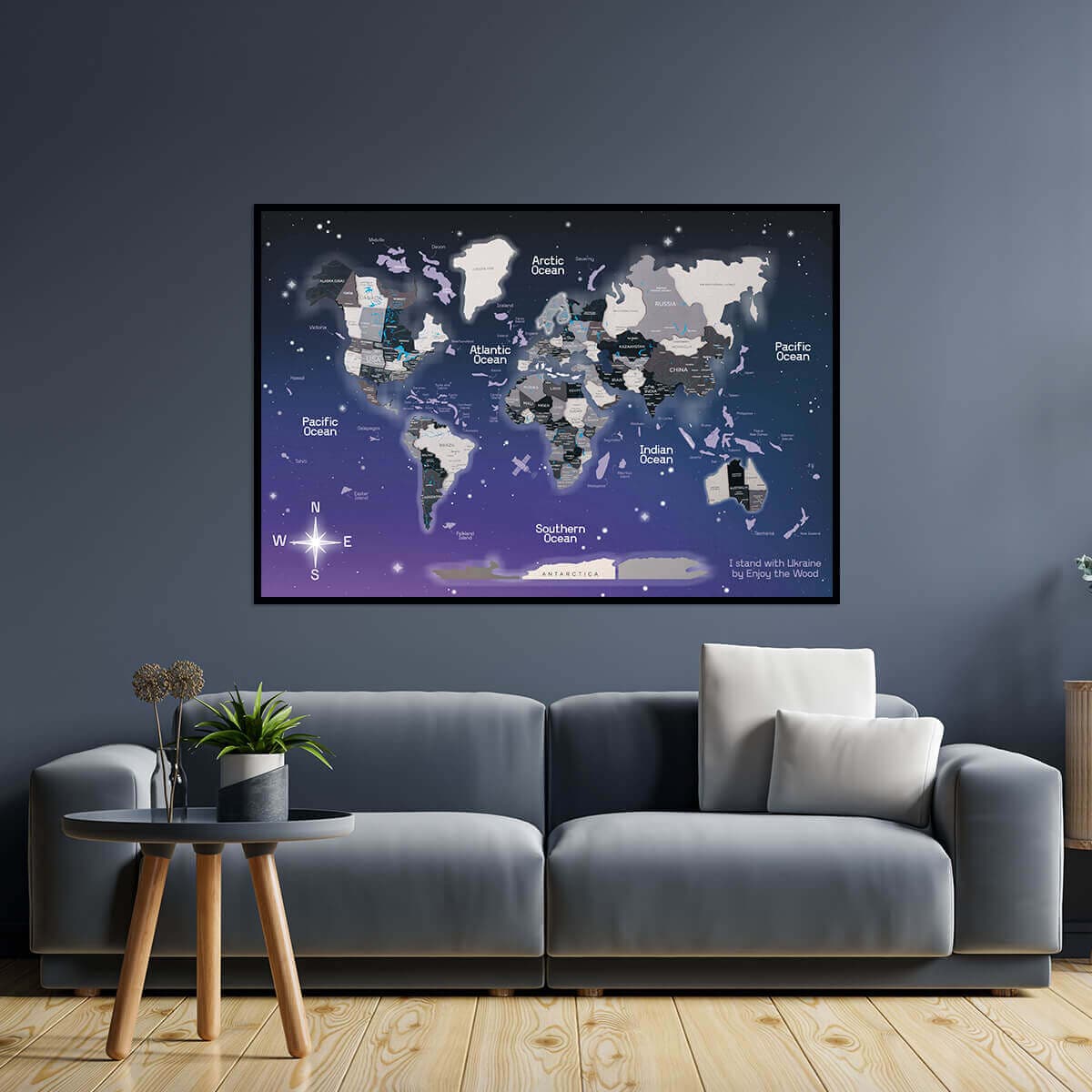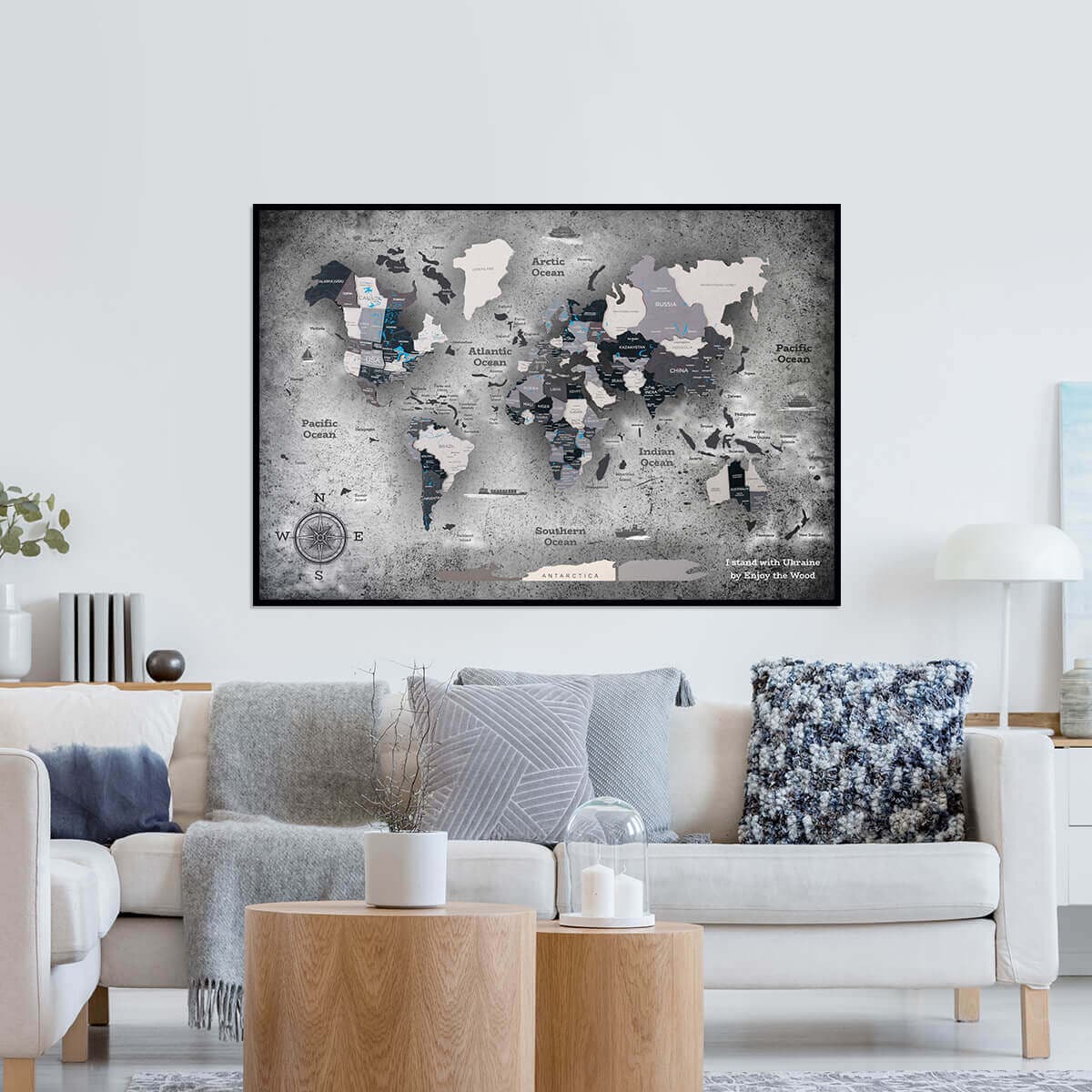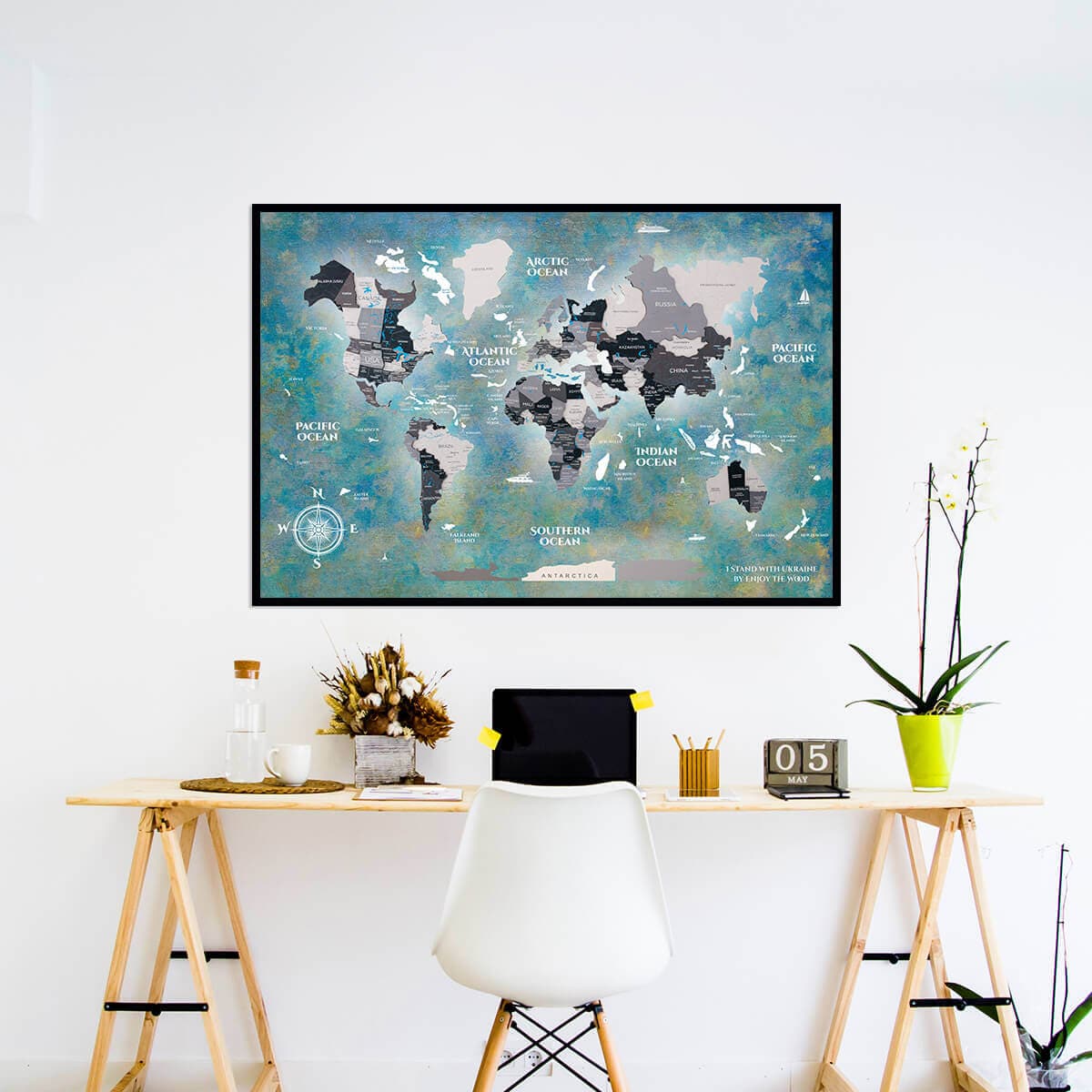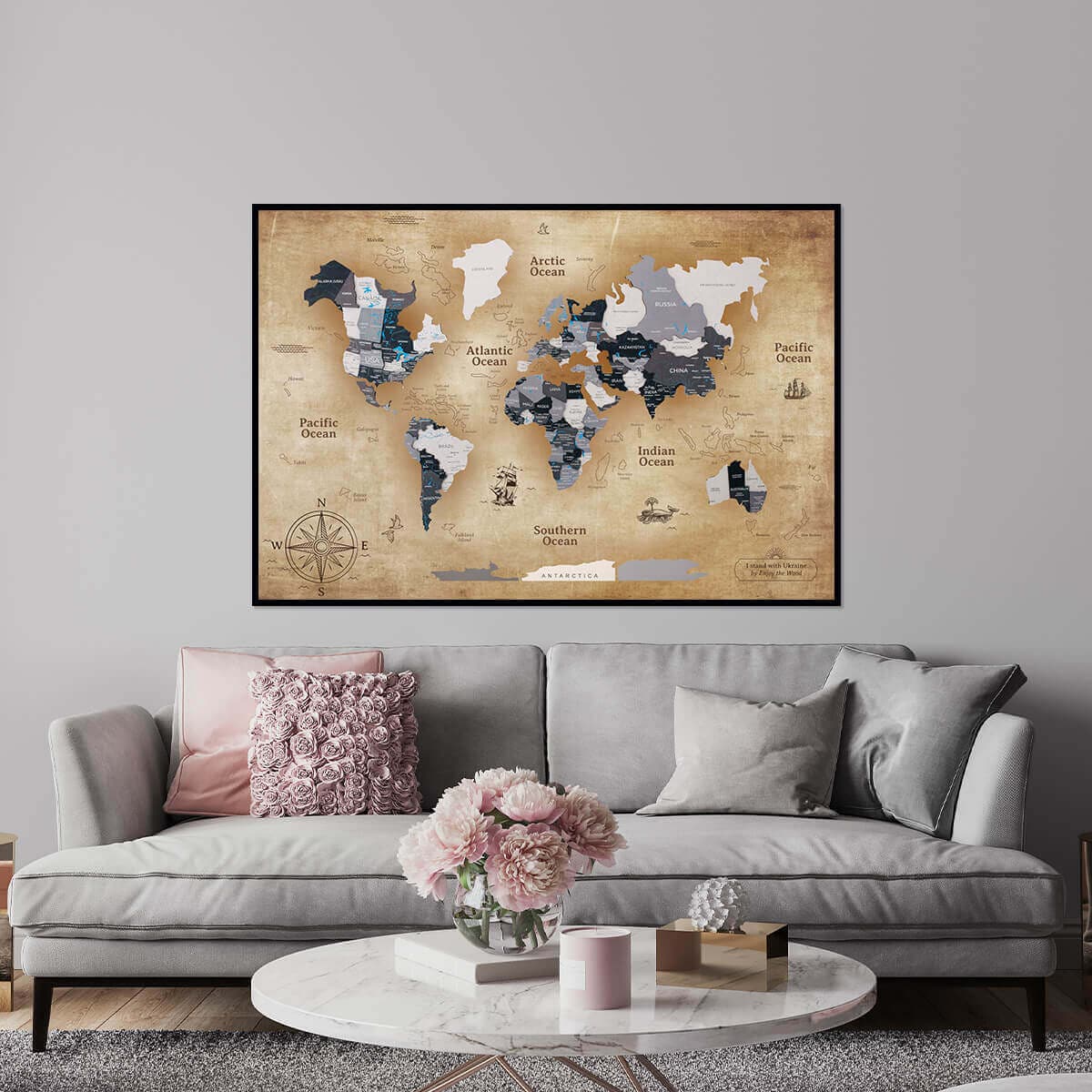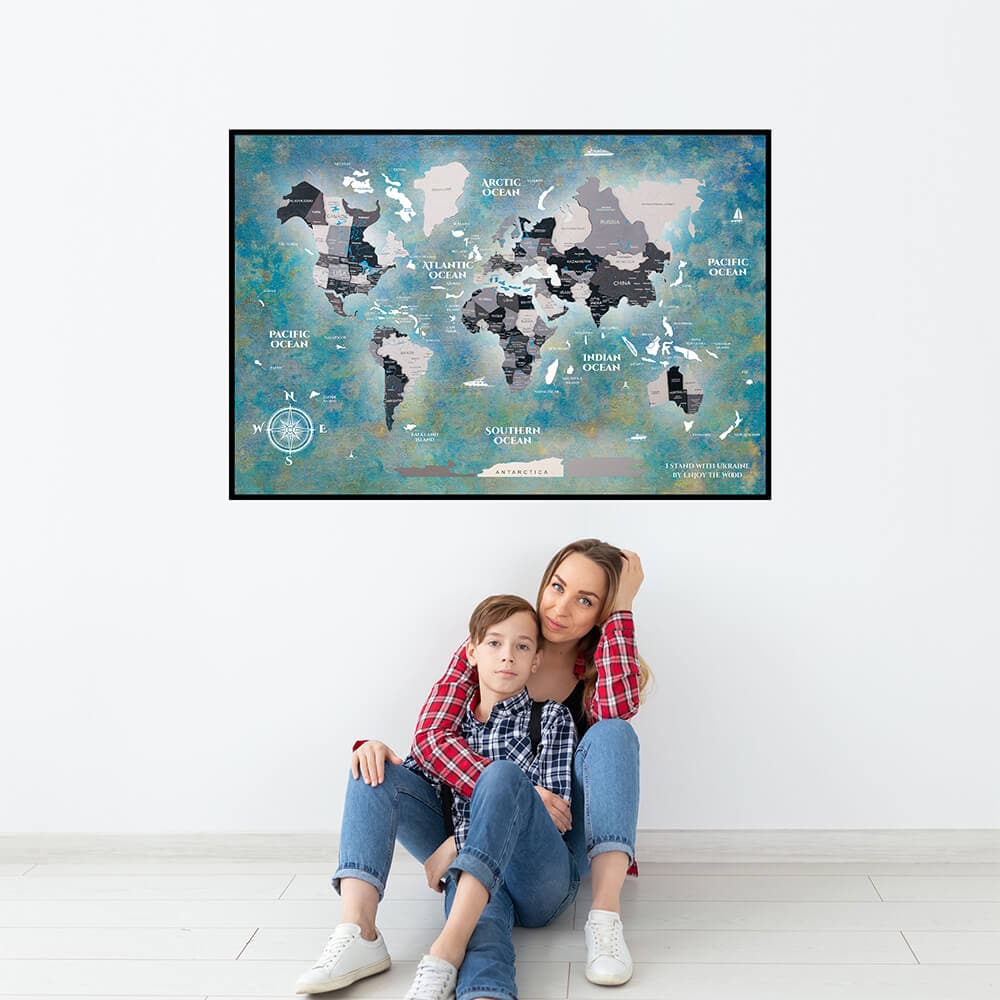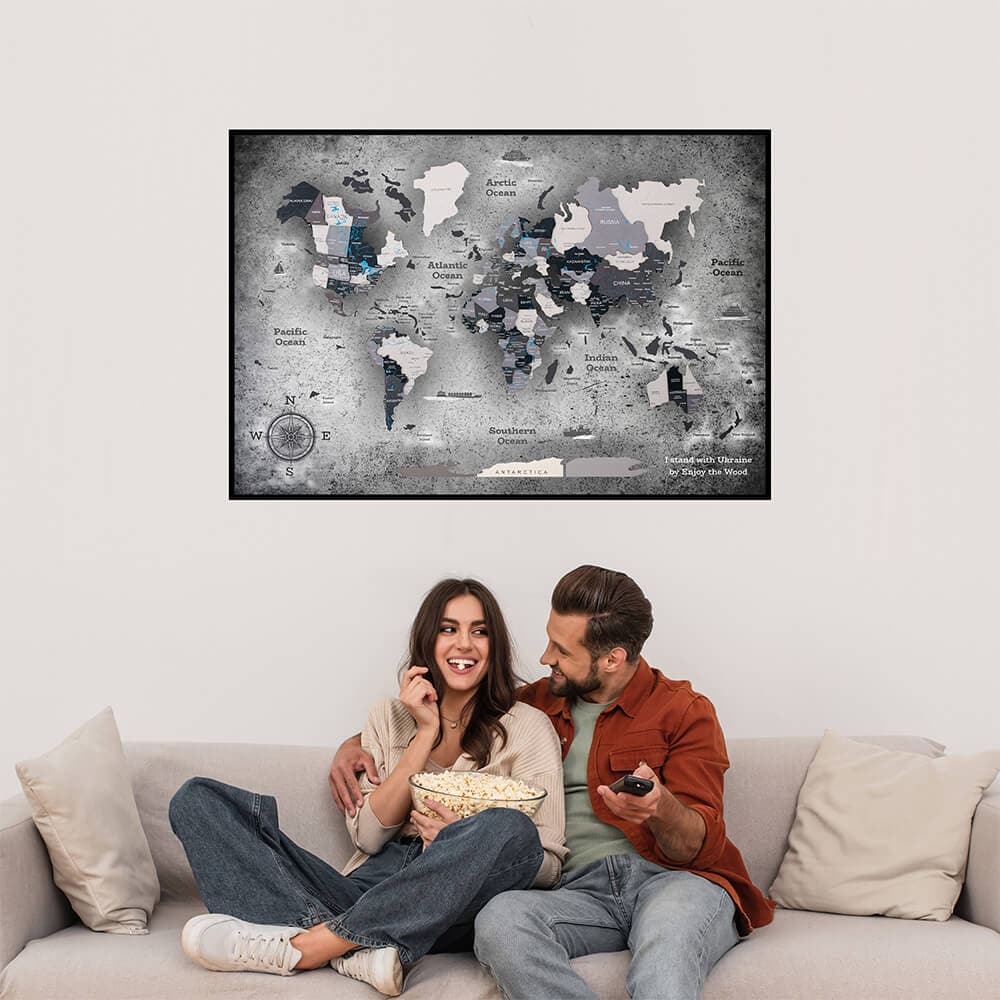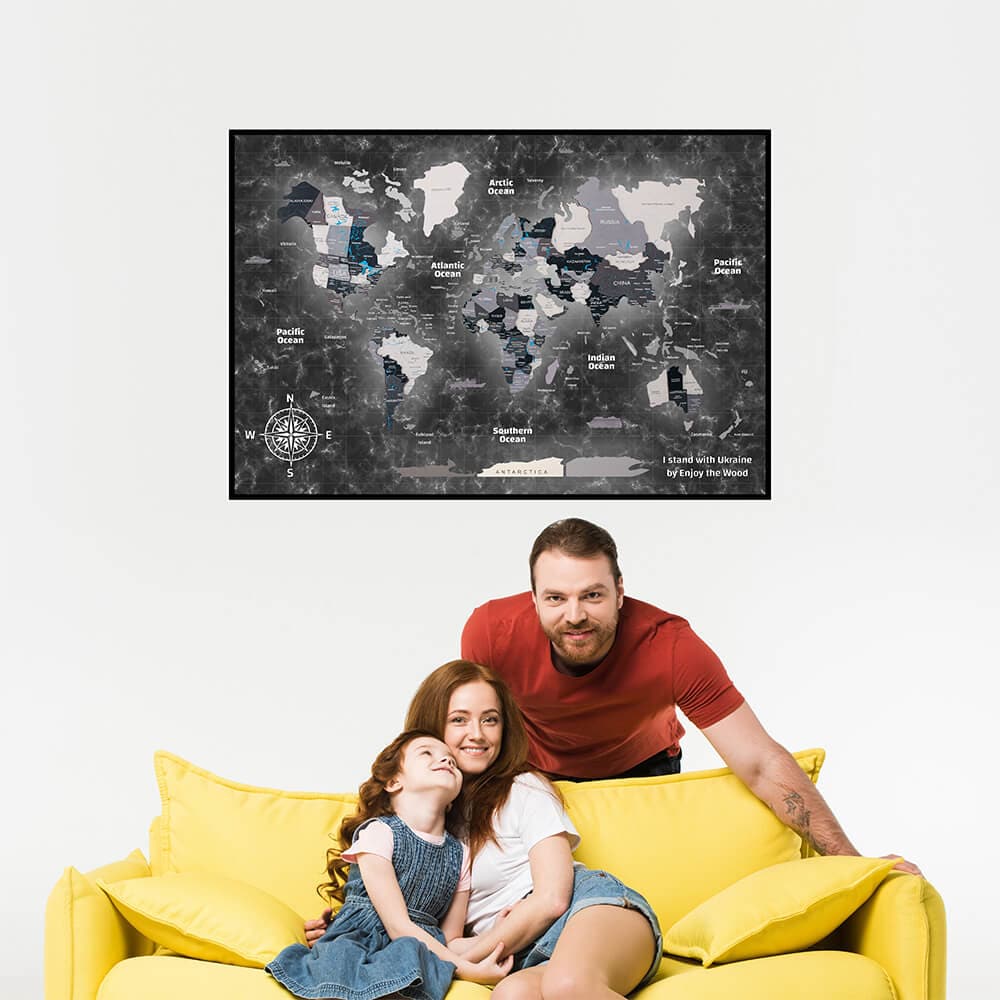 3D Wooden Panel World Map Nordik
Looking for a décor that stands above the rest and doesn't break the bank? Our single panel world maps will make a stunning first impression, spruce up the dullest walls, and introduce your wanderlust soul to everyone around.
people bought this product in the last 24 hours

Product description
If you wonder how to play up your room's strengths, add a unique feature, and make it appealing to anyone, check out our panel world map from the Nordik series!
Made of quality wood and available with a range of hooking backgrounds – Vintage, Dark, Ocean, Concrete, Space, and Oil Painting – the décor will 100% freshen up the room. Feel free to bring the idea of map decor to the rustic, industrial, contemporary, transitional, or any other interior. You could make it an aesthetically pleasing focal point. A well-designed space that allows you to enjoy a peaceful time with people you love and can be yourself with.
Looking for ways to bring your passion for traveling to your surroundings? A pin board world map will do the job making it homely and cozy.
The world map on the wood panel makes a perfect gift for a Christmas, Thanksgiving, Wedding Anniversary, Baby Shower, or any other occasion.
You will easily install it yourself! Every other purchase is provided with instructions containing a step-by-step "how-to" guide.

There are 2 sizes available for you: M 58 x 84 cm (23 x 33') and L 108 x 74 cm (29 x 42")
PLEASE NOTE: The map is not a geographical one, some smaller countries and islands may be omitted. Each Map is unique and shades vary because it's made of natural wood.
Specification:
The birch plywood our single panel maps are crafted from is both aesthetically pleasing and elegant enough to completely transform the atmosphere of a room. The décor is durable and eco-friendly. The names of geographical places are engraved in the English language, which can be customized up to your request.
Default language
English (can be customized)
Other details
the map is pre-installed on board
MISSION OXYGEN:
20 trees today - 50.000 trees tomorrow
FREQUENTLY ASKED QUESTIONS
Have a question ? We are here to help.
Will the Map stick to the wall which is not perfectly smooth and even (i.e. roughcast or wallpaper)?

Yes, it will. It depends on the type and height of the wall surface layer though. The smoother, the better.
How long does it actually take to install the Map?

The installation process takes several hours. It's a fun project to do as a group, if you wish.
Are there any tips to help with the installation?

Hold off on opening your box with the Map for 2-3 hours upon bringing it home, to give it some time to adapt to your home temperature. After opening the box, follow the instructions included and watch the video guides.
This product has no reviews yet.
Popular Posts
On This Page: Minimalist Decorating Ideas #1 Wooden 2D Map of the World #2 Wooden 3D World Map Wall Art #3 World Map Concrete – Minimalist Home Décor #4 Glass Vases – Minimalist Decorating #5 Aest...
On This Page: #1 Add Decorative Wall Map Like Travel Wall Decor #2 Use Wooden Lake Maps as Travel Themed Decor #3 Add Wooden Key Holder as Travel Inspired Decor #4 Use Wooden City Map Like Travel...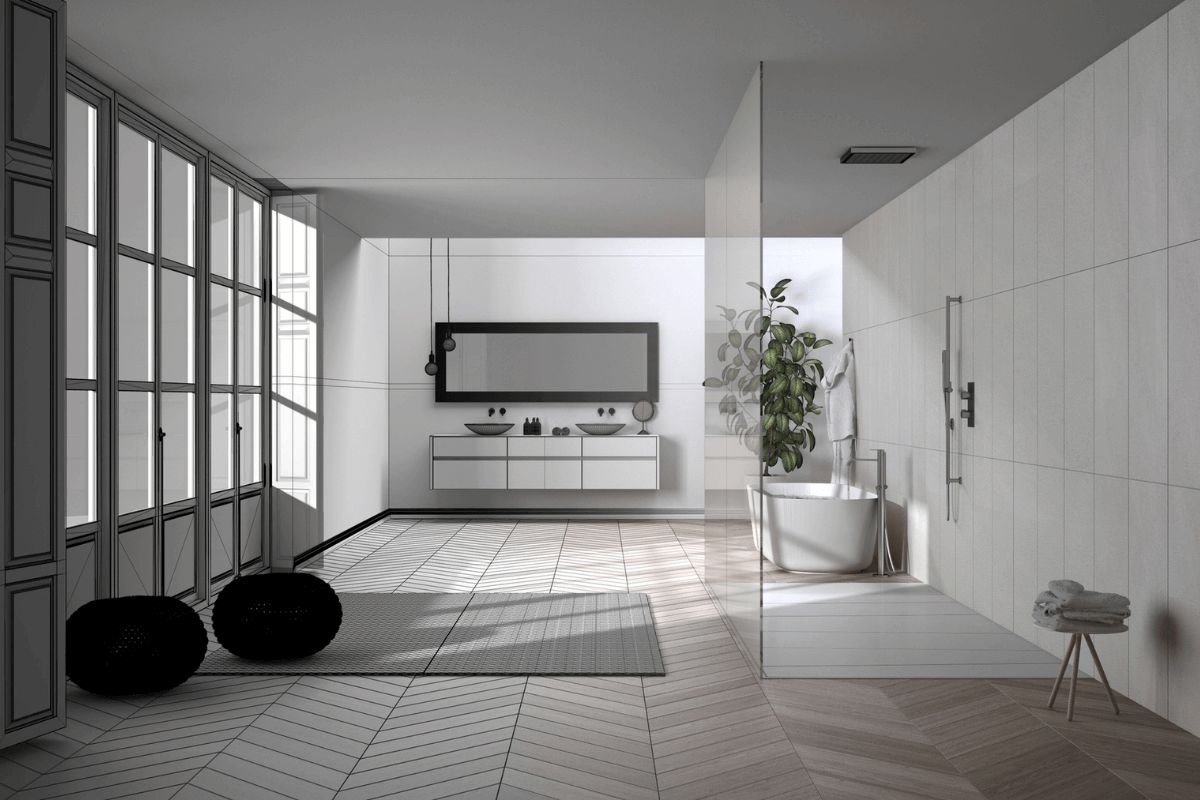 On This Page: Decor Ideas for Beige and Gray Bathroom Black and Grey Bathroom Decor Ideas White and Gray Bathroom Decorating Decorating Ideas for Pink and Grey Bathroom Gray and Gold Bathroom Déco...
WE HAVE BEEN FEATURED