Product description
Incorporating a triptych world map into a home interior will give you a room that is perfect for lively gatherings or a quiet conversation. Since triptychs come in threes, the cork world map has a great visual appeal – deep and meaningful – with ongoing color transitions.

Place a modern or vintage world map triptych above your sofa in a living room, a cozy armchair in a home library, or a desk in an office to give the eyes a spot to rest. Crafted from three panels that fit together seamlessly, the cork map of the world is a great Birthday, Christmas, Housewarming, or any other occasion gift.

The soft black color of the cork world map with pins makes it more elegant and sophisticated in ways you'd never achieve with lighter shades.

Ideal for entertaining or unwinding solo, the map is made of earth-friendly materials that stand the test of time. A sweet spot to remind that there's so much more to see!

There are 2 sizes available for you:
M 71x112 cm (28x44")     L 93,5x160 сm (37x63")
Frame width 3.5 cm, material wooden profile
PLEASE NOTE: The map is not a geographical one, some smaller countries and islands may be omitted. Each Map is unique and shades vary because it's made of natural wood.
Specification:
Made of cork, the triptych wall map is available in two sizes: medium & large. All the geographical locations are engraved in English; however, the language can be changed up to your requests.
Default language
English (can be customized)
Other details
the map is pre-installed on board
MISSION OXYGEN:
20 trees today - 50.000 trees tomorrow
FREQUENTLY ASKED QUESTIONS
Have a question ? We are here to help.
Will the Map stick to the wall which is not perfectly smooth and even (i.e. roughcast or wallpaper)?

Yes, it will. It depends on the type and height of the wall surface layer though. The smoother, the better.
How long does it actually take to install the Map?

The installation process takes several hours. It's a fun project to do as a group, if you wish.
Are there any tips to help with the installation?

Hold off on opening your box with the Map for 2-3 hours upon bringing it home, to give it some time to adapt to your home temperature. After opening the box, follow the instructions included and watch the video guides.
Popular Posts
On This Page: Minimalist Decorating Ideas #1 Wooden 2D Map of the World #2 Wooden 3D World Map Wall Art #3 World Map Concrete – Minimalist Home Décor #4 Glass Vases – Minimalist Decorating #5 Aest...
On This Page: #1 Add Decorative Wall Map Like Travel Wall Decor #2 Use Wooden Lake Maps as Travel Themed Decor #3 Add Wooden Key Holder as Travel Inspired Decor #4 Use Wooden City Map Like Travel...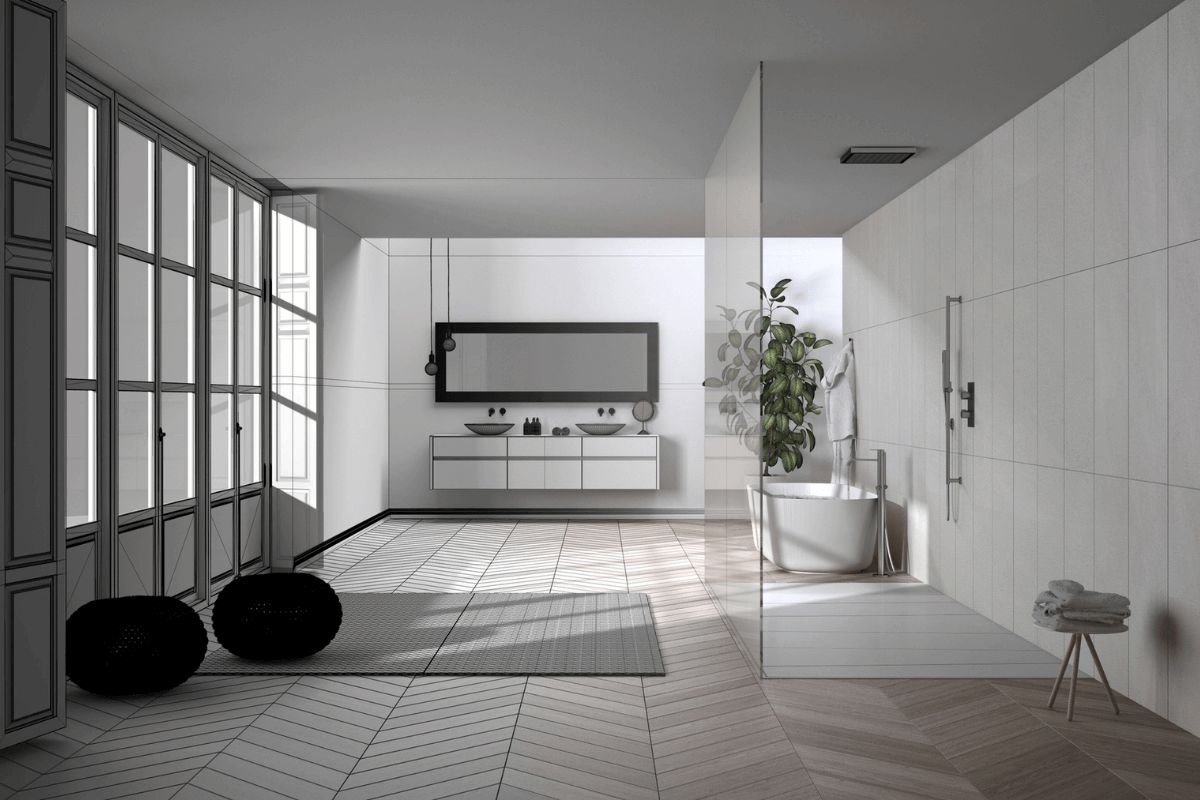 On This Page: Decor Ideas for Beige and Gray Bathroom Black and Grey Bathroom Decor Ideas White and Gray Bathroom Decorating Decorating Ideas for Pink and Grey Bathroom Gray and Gold Bathroom Déco...
WE HAVE BEEN FEATURED