Product description
PERKS
 material: fiberboard
 they stick to any Wooden Map due to the double-sided sticky tape
IN THE BOX
 The set includes 35 pins for most of the prominent sightseeing's all over Ukraine. Get to know the beauty and history of Ukraine. 
The set includes: Uzhhorod Castle, Solomiya Krushelnytska Lviv State Academic Theatre of Opera and Ballet, Arcacathedral St. George Cathedral in Lviv, Church of Sts. Olha and Elizabeth, Holy Resurrection Cathedral, Lubart's Castle, Ternopil Castle, Ivano-Frankivsk Ratusha, Holy Resurrection Cathedral (Chernivtsi),The Bohdan Kmelnytskyi Monument (Khmelnitskyi), Zhytomyr Regional Philarmonic, Vinnytsia Water Tower, Saint Sophia Cathedral, Motherland Monument, St. Andrew's Church, Golden Gate (Kyiv), Shcherbyna House (Cherkasy), Odesa Opera and Ballet Theatre, Mother of God Kasperskyi Icon Cathedral (Mykolaiv), Monument "Guardian Angel of Ukraine"(Kropyvnytsyi), Chernihiv -Piatnytska Church, Transfiguration Cathedral, Borys ad Glib Cathedral, White Gazebo (Poltava), Holy Cross Exaltation Monastery (Poltava), Sumy Gazebo, Holy Resurrection Cathedral (Sumy), St. Catherine's Cathedral (Kherson), House of Organ and Chamber Music (Dnipro), Khortytsia (Zaporizhzhia), Annunciation Cathedral (Kharkiv), Tsar Cannon (Donetsk), St. Volodymyr's Cathedral (Luhansk), Scythian Neapolis (Simferopol), Swallow's Nest (Crimea)
 handcrafted with love
 totally safe: no sharp pins along with potential danger or harm

Specification:
MISSION OXYGEN:
20 trees today - 50.000 trees tomorrow
This product has no reviews yet.
Popular Posts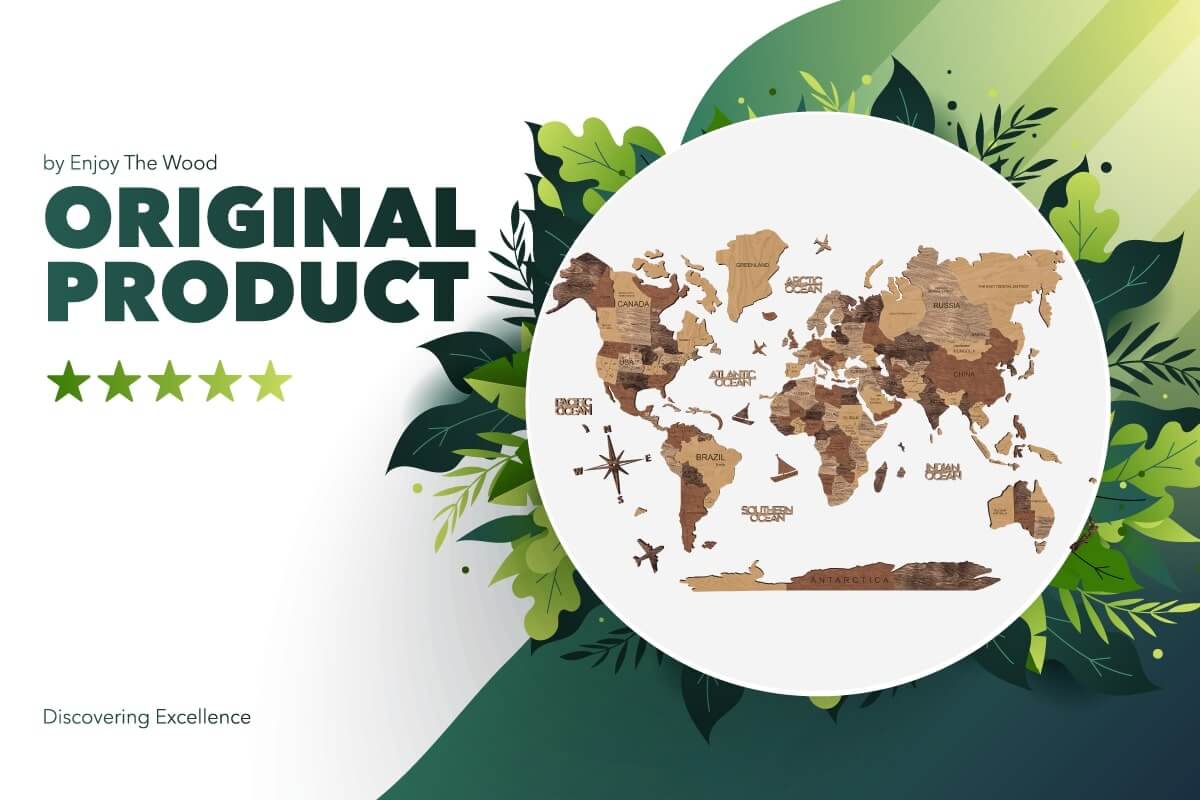 On This Page: The Essence of an Original Product Enjoy The Wood's Originality and Legal Confirmation The Day the World Saw the First Enjoy The Wood Map How to Identify Scammers Opting for Enjoy Th...
On This Page: Enjoy The Wood at TOP 100 USA Awards Enjoy The Wood: The Fostenko Family Goes Above and Beyond at TOP USA Awards The TOP USA Awards 2023 was successfully held, celebrating the amaz...
When it comes to Enjoy The Wood manufacturing, it's not just about in-house production. It's about crafting a memorable customer experience that embodies comfort, elegance, and a chill vibe. We're ...
WE HAVE BEEN FEATURED