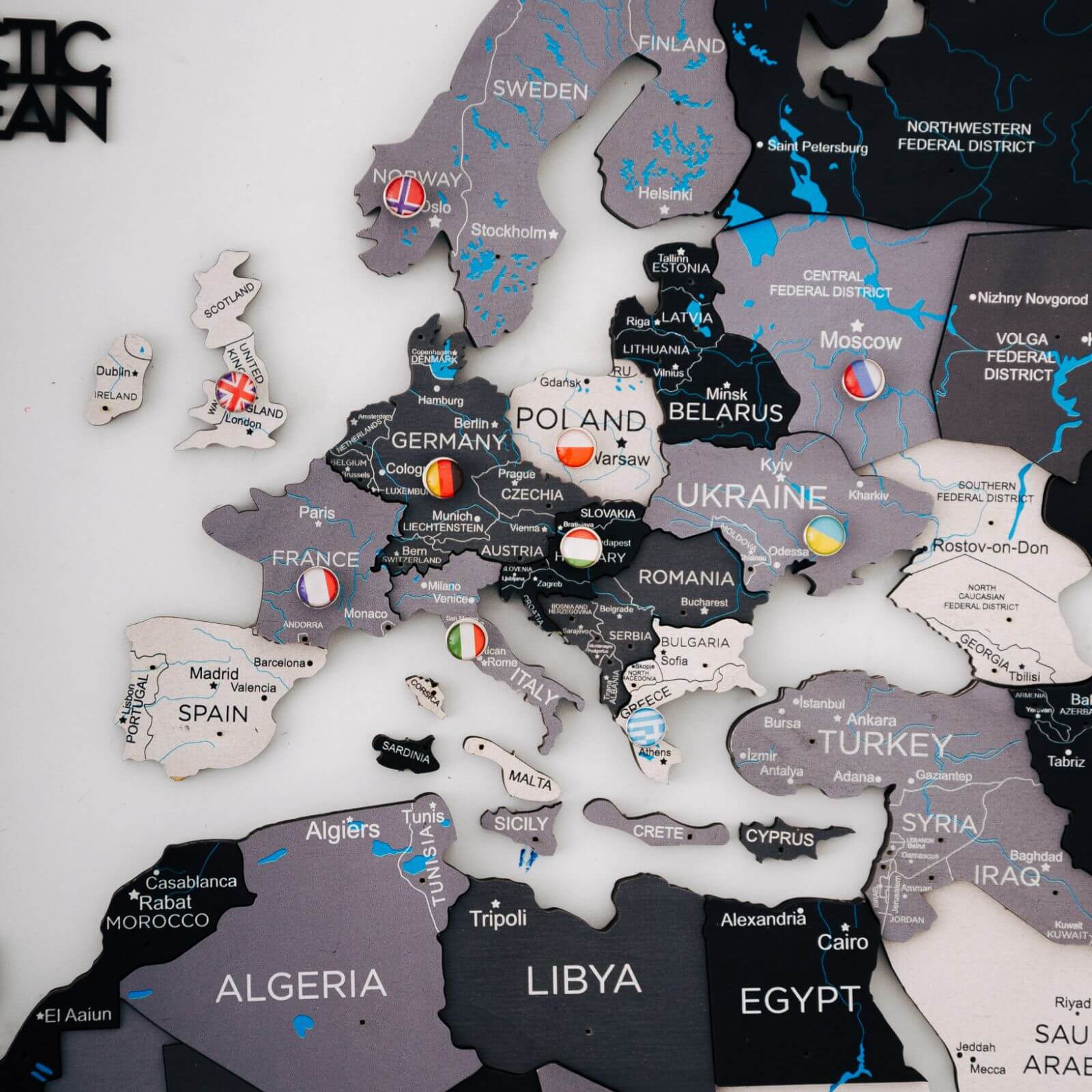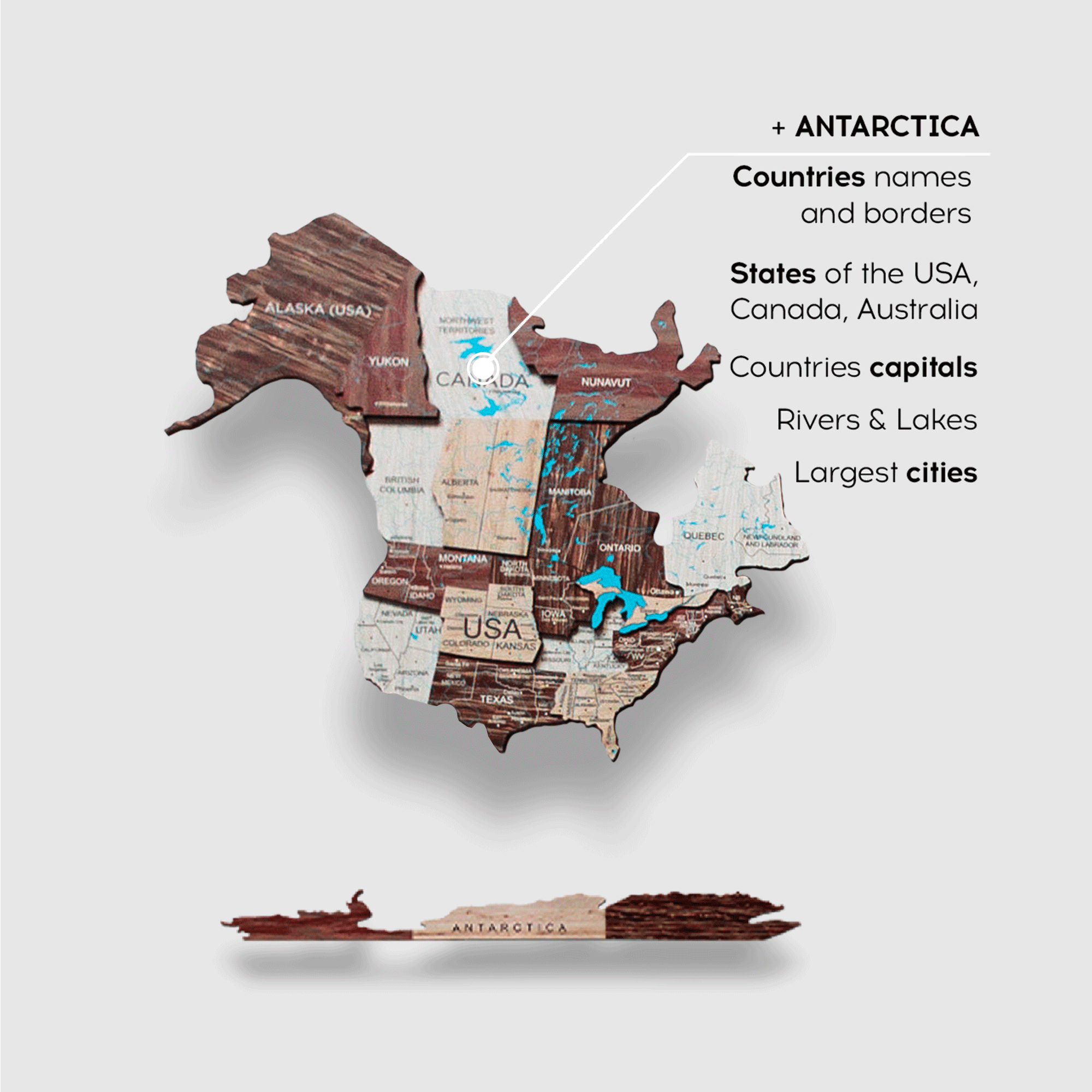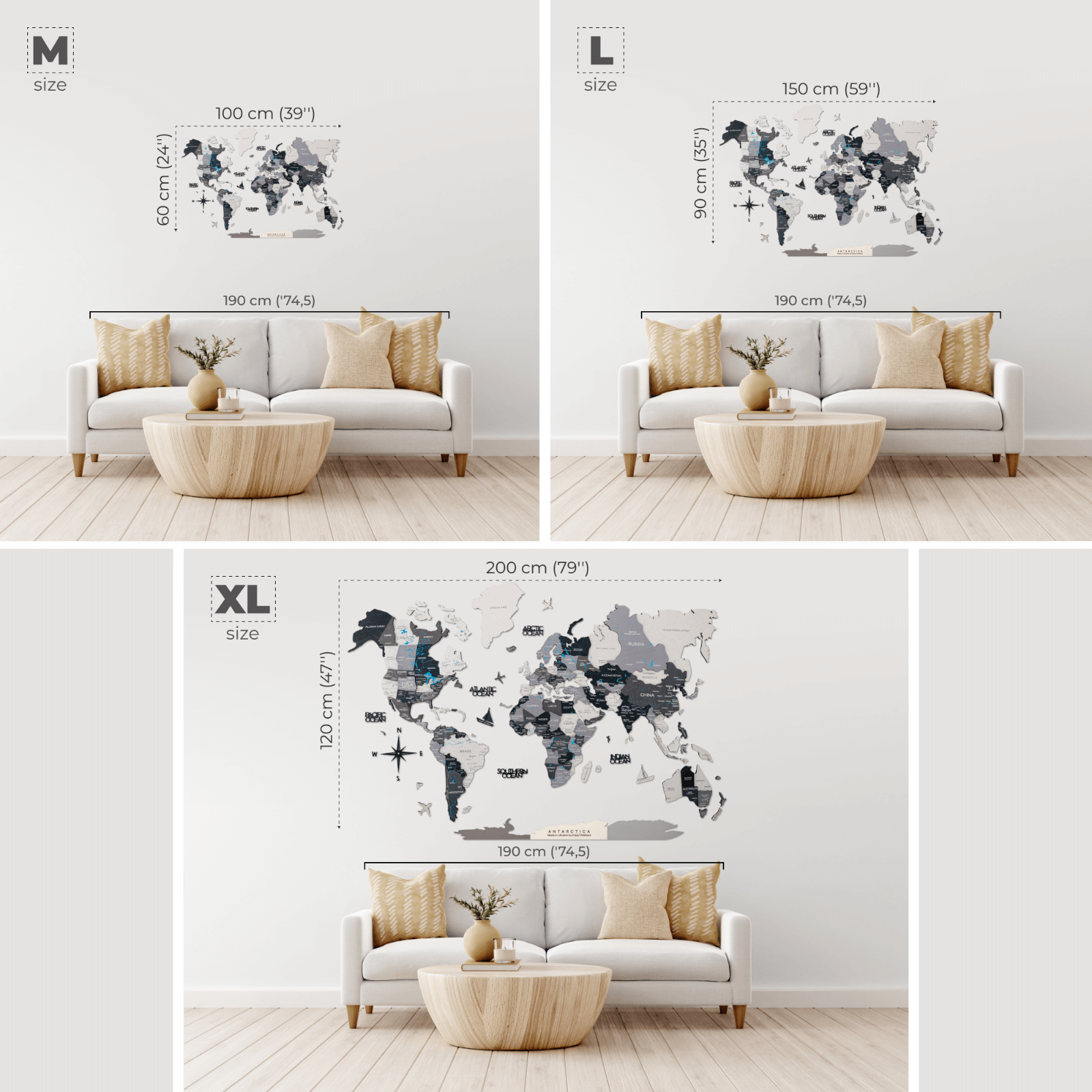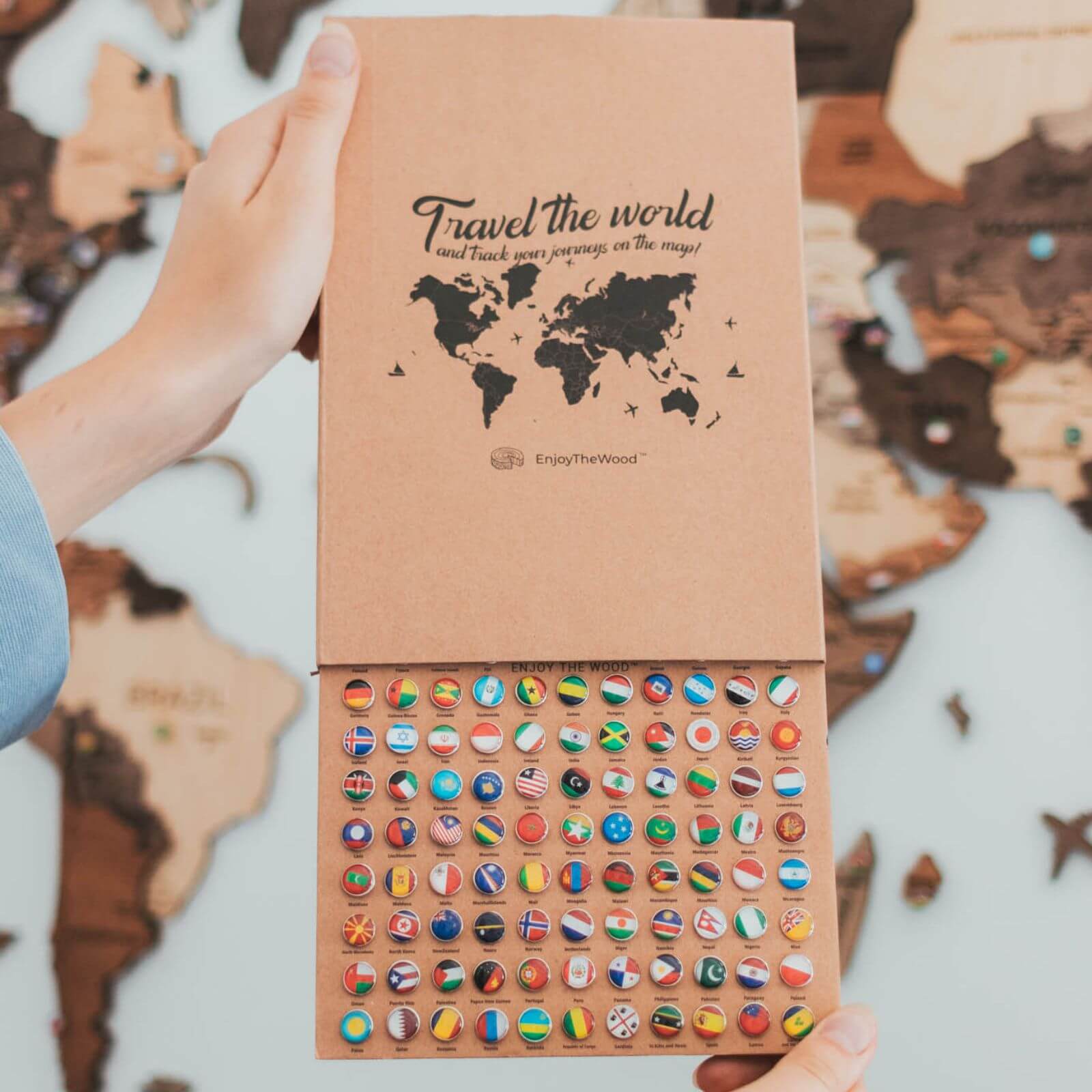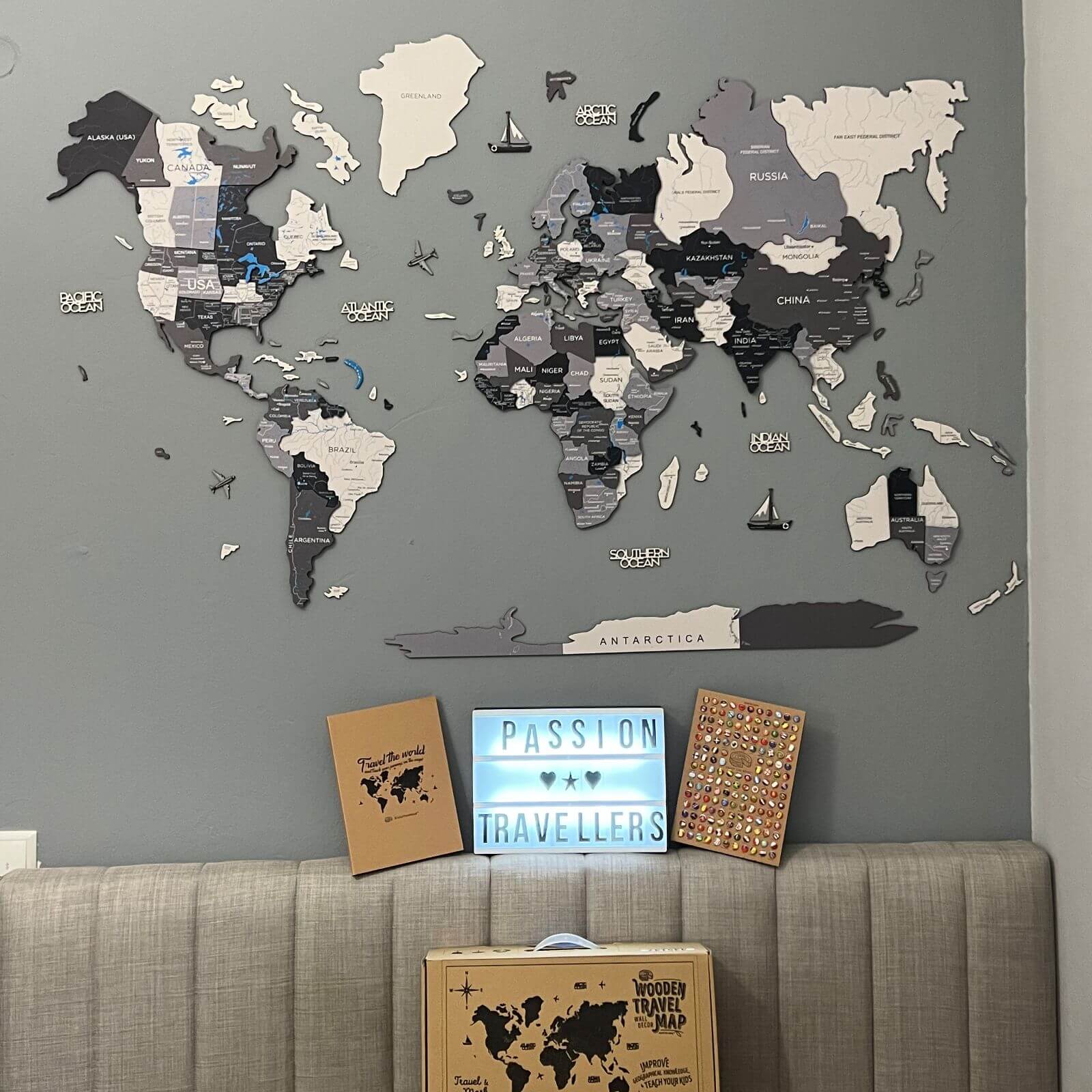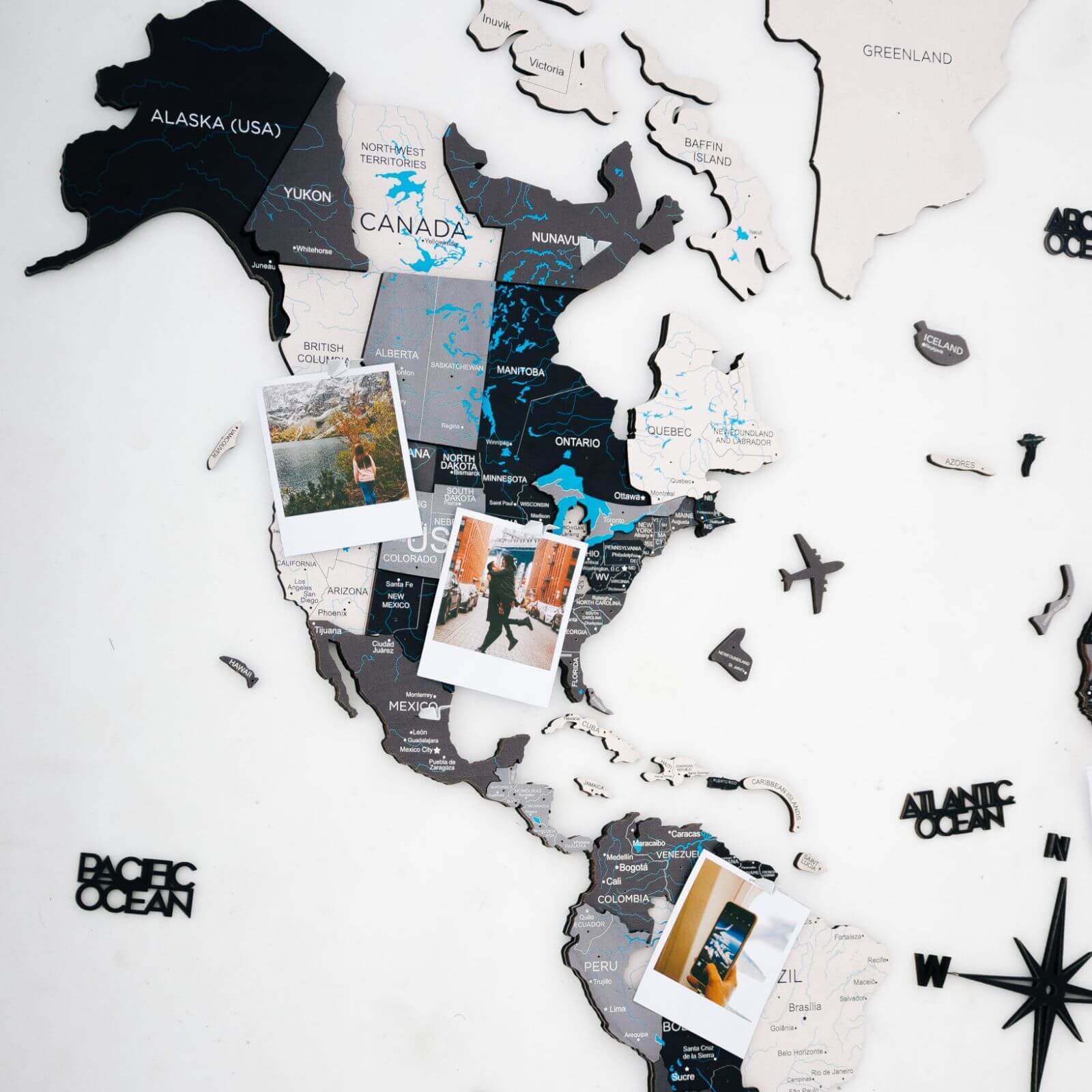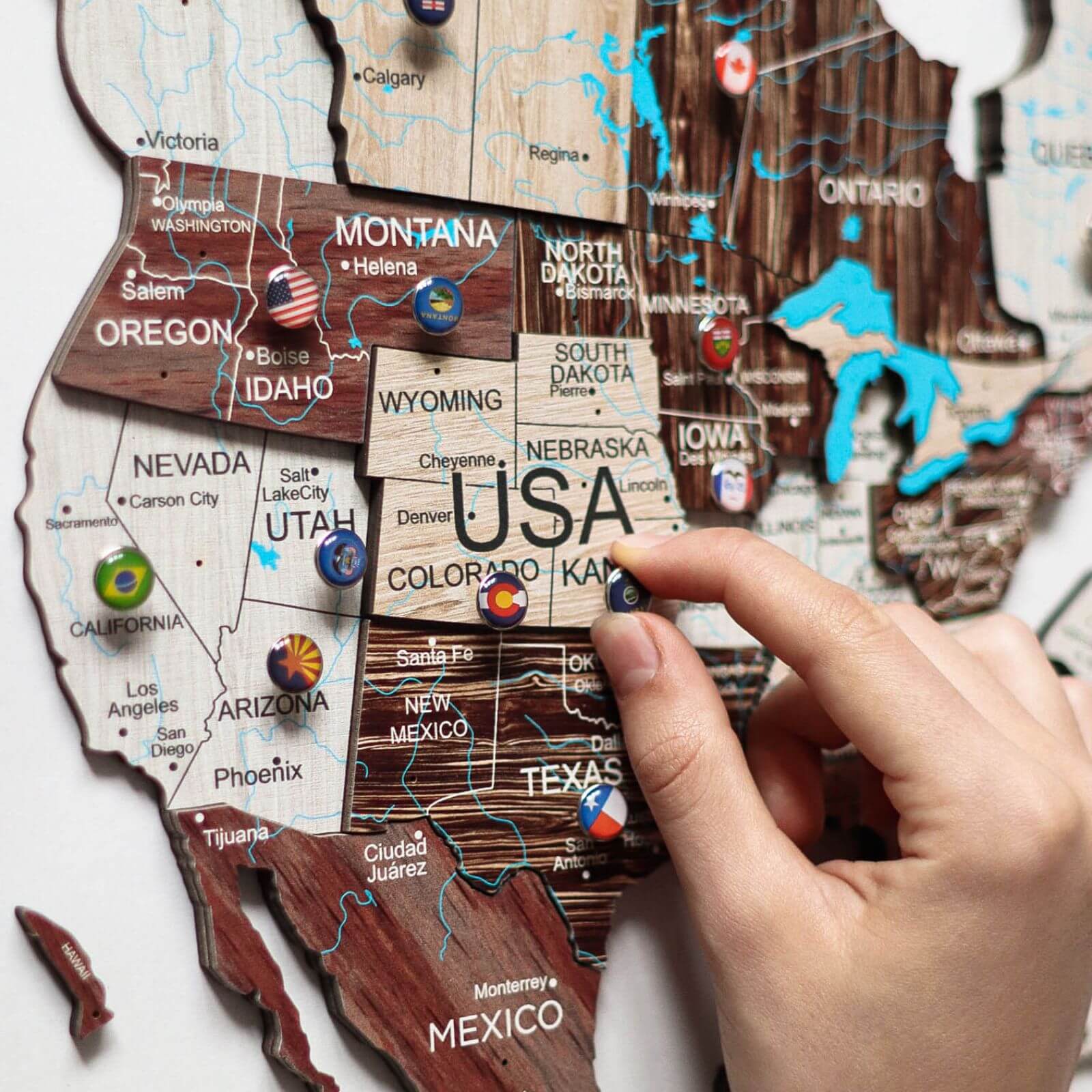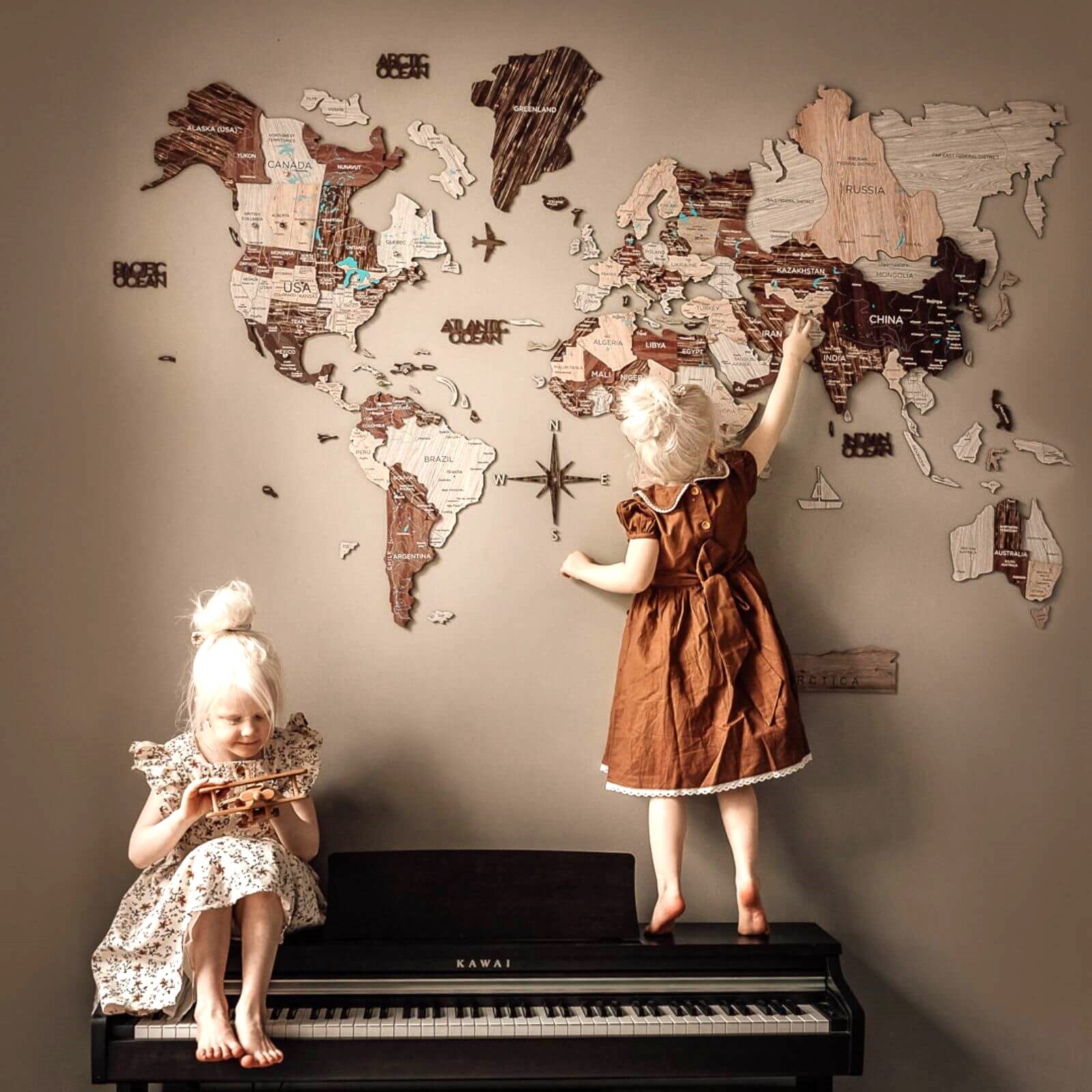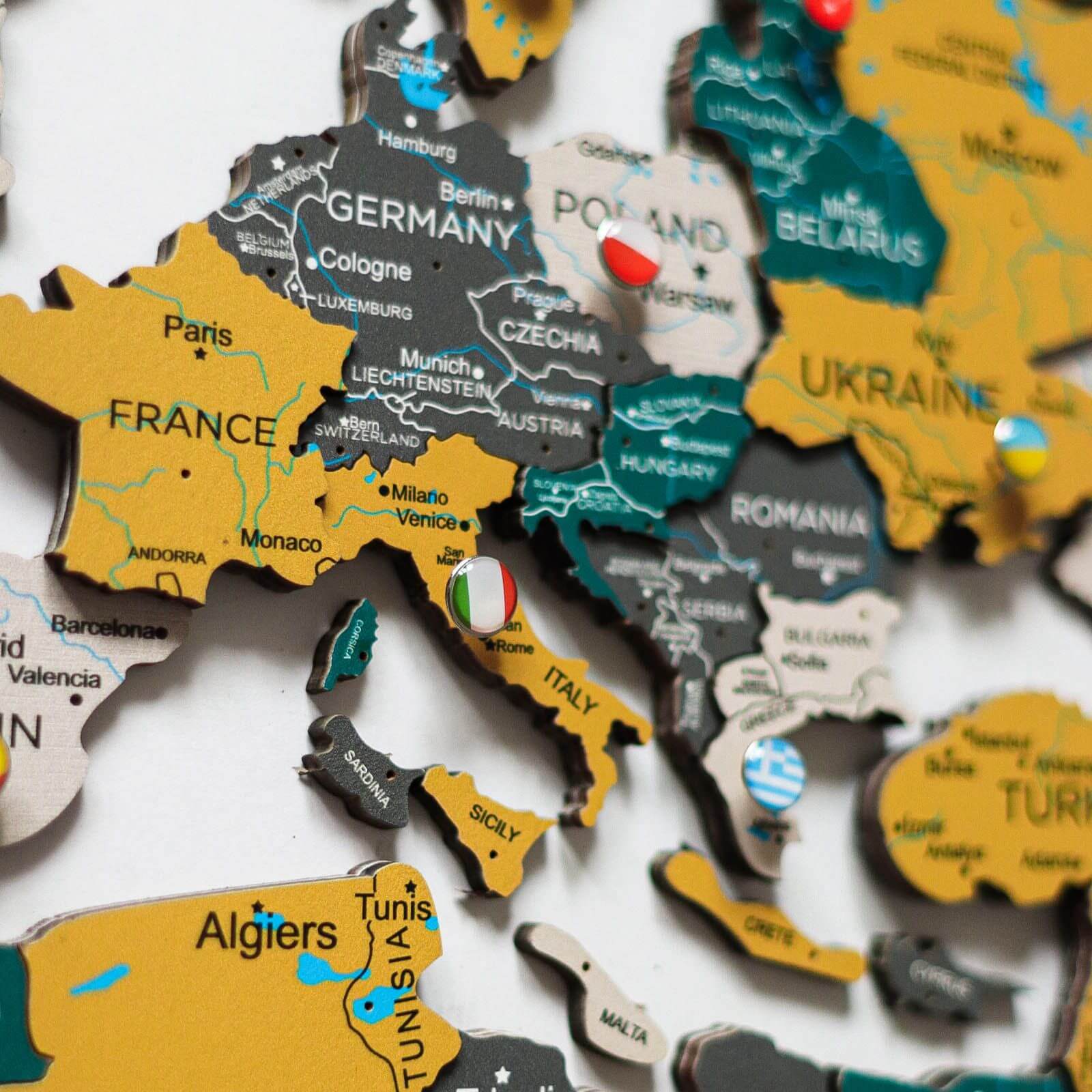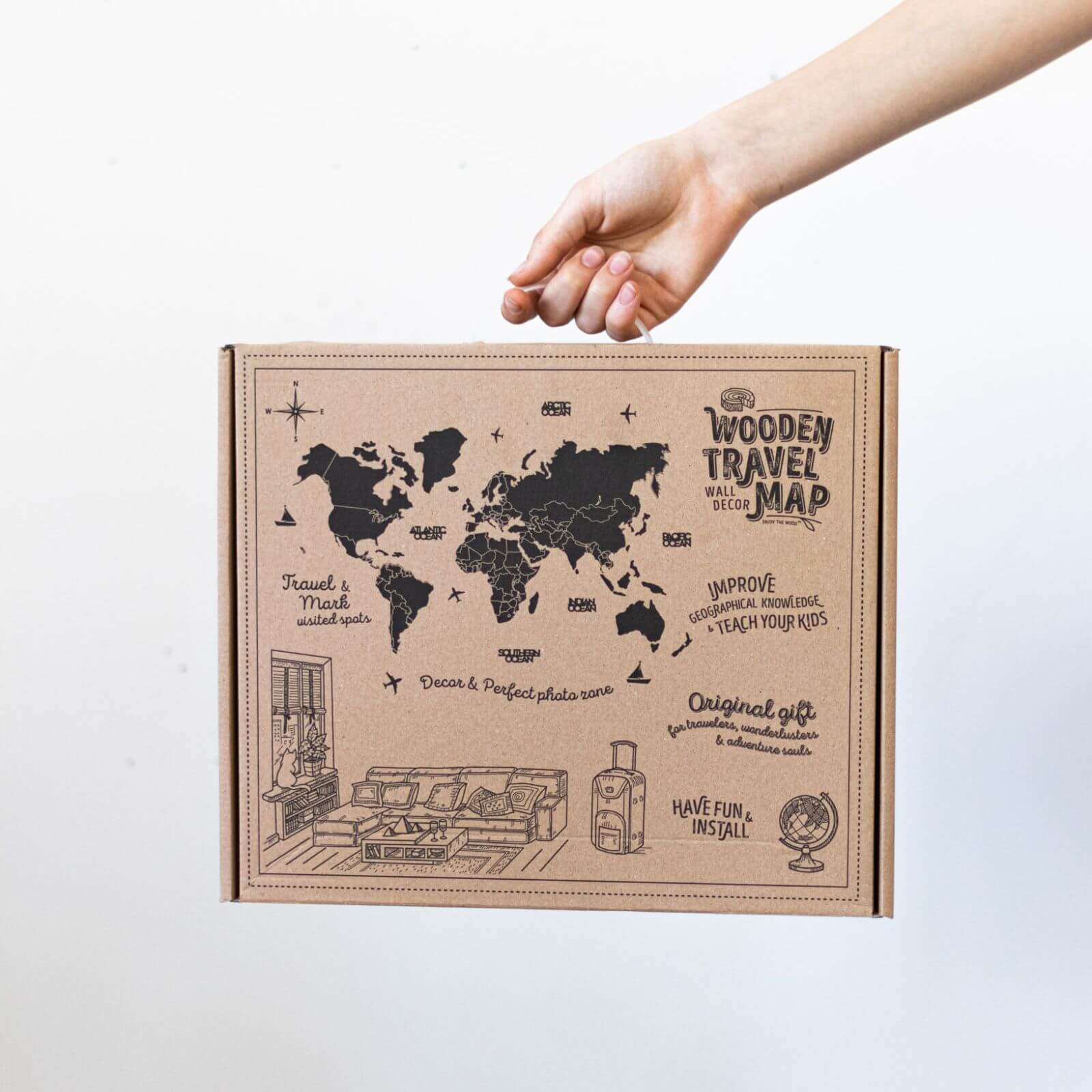 Travel Wall Decor Set: 3D Wooden Colored Map with Flag Pins
What makes travel wall decor set from Enjoy The Wood stand out? It's a 2-in-1 unit that includes all you need to adorn your interior – a handcrafted 3D wooden colored map and a collection of flag pins to mark certain locations.
people bought this product in the last 24 hours

Product description
If there's a frequent traveler in your life, you know the struggle of choosing the best gift for those seen-it-all globe-trotters! Travel-themed wall décor from Enjoy The Wood is the answer. This set comprises a huge wooden wall map that comes with a range of flag pins.
The latter can be used to track your past adventures, visualize the distance between your next travel destination and homeland, or push-pin the photos made on the road. Available in a variety of colors – Country, Cappuccino, Nordic – our travel wall décor can be flawlessly integrated into any interior.
Industrial, rustic, transitional, modern, or minimalist living room, dining room, home office, or any other setting will surely welcome the map. Travel wall décor is a finely made illustration of the world. Although some of the countries and islands on our maps are omitted, they still have the power to evoke interest in our world and new adventures. Using the art piece as your wall décor, you can have:
A perfect gift for yourself or a passionate traveler;
A great gathering spot for family and friends;
A visual planner for your future trips;
An artwork that brings character to any environment;
A sophisticated décor to transform the blank wall.
Specification:
Travel wall decor set includes a 3D wooden map made of quality wood and flag-themed pins crafted from metal. All the materials used in the process of manufacture are earth-friendly and non-toxic. Keep in mind that the flag pins have sharp tips, so ensure to keep them away from little children. Geographical locations are provided in English (can be customized upon request).
Thickness
6 - 12 mm (0.23''- 0.47'')
MISSION OXYGEN:
20 trees today - 50.000 trees tomorrow
This product has no reviews yet.
Popular Posts
On This Page: Minimalist Decorating Ideas #1 Wooden 2D Map of the World #2 Wooden 3D World Map Wall Art #3 World Map Concrete – Minimalist Home Décor #4 Glass Vases – Minimalist Decorating #5 Aest...
On This Page: #1 Add Decorative Wall Map Like Travel Wall Decor #2 Use Wooden Lake Maps as Travel Themed Decor #3 Add Wooden Key Holder as Travel Inspired Decor #4 Use Wooden City Map Like Travel...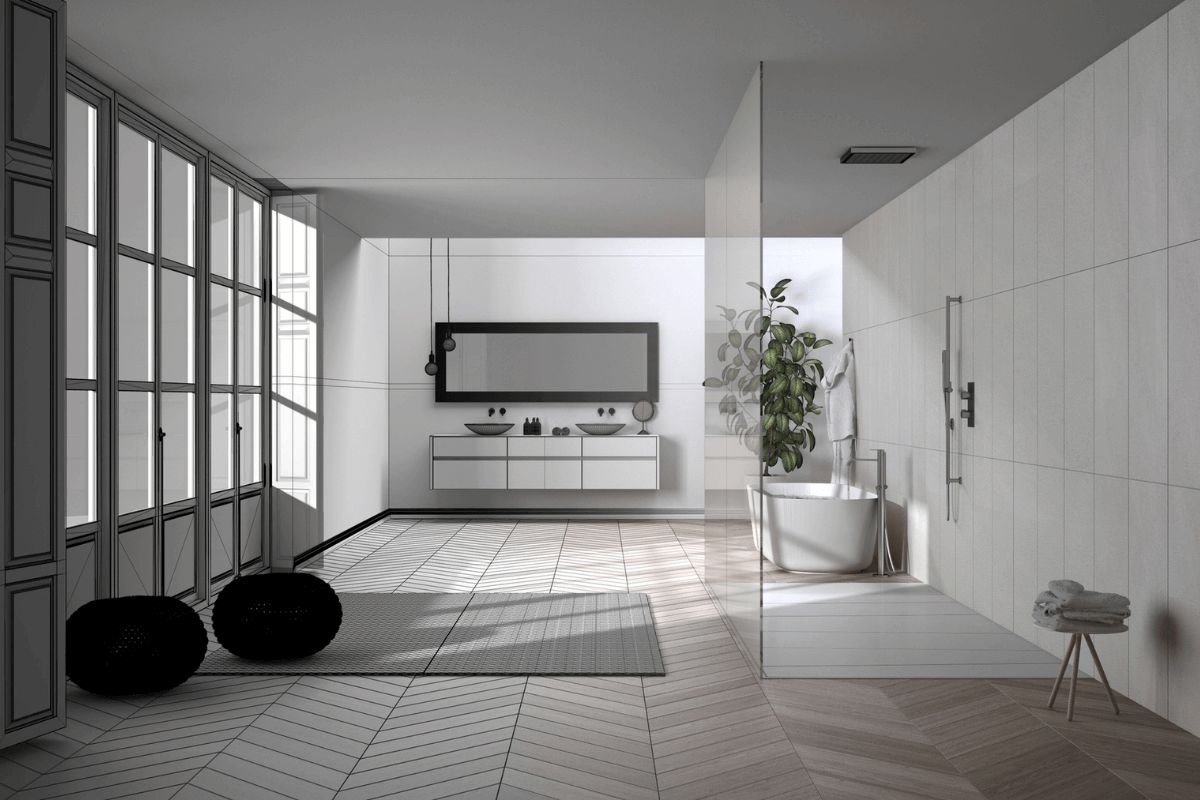 On This Page: Decor Ideas for Beige and Gray Bathroom Black and Grey Bathroom Decor Ideas White and Gray Bathroom Decorating Decorating Ideas for Pink and Grey Bathroom Gray and Gold Bathroom Déco...
WE HAVE BEEN FEATURED