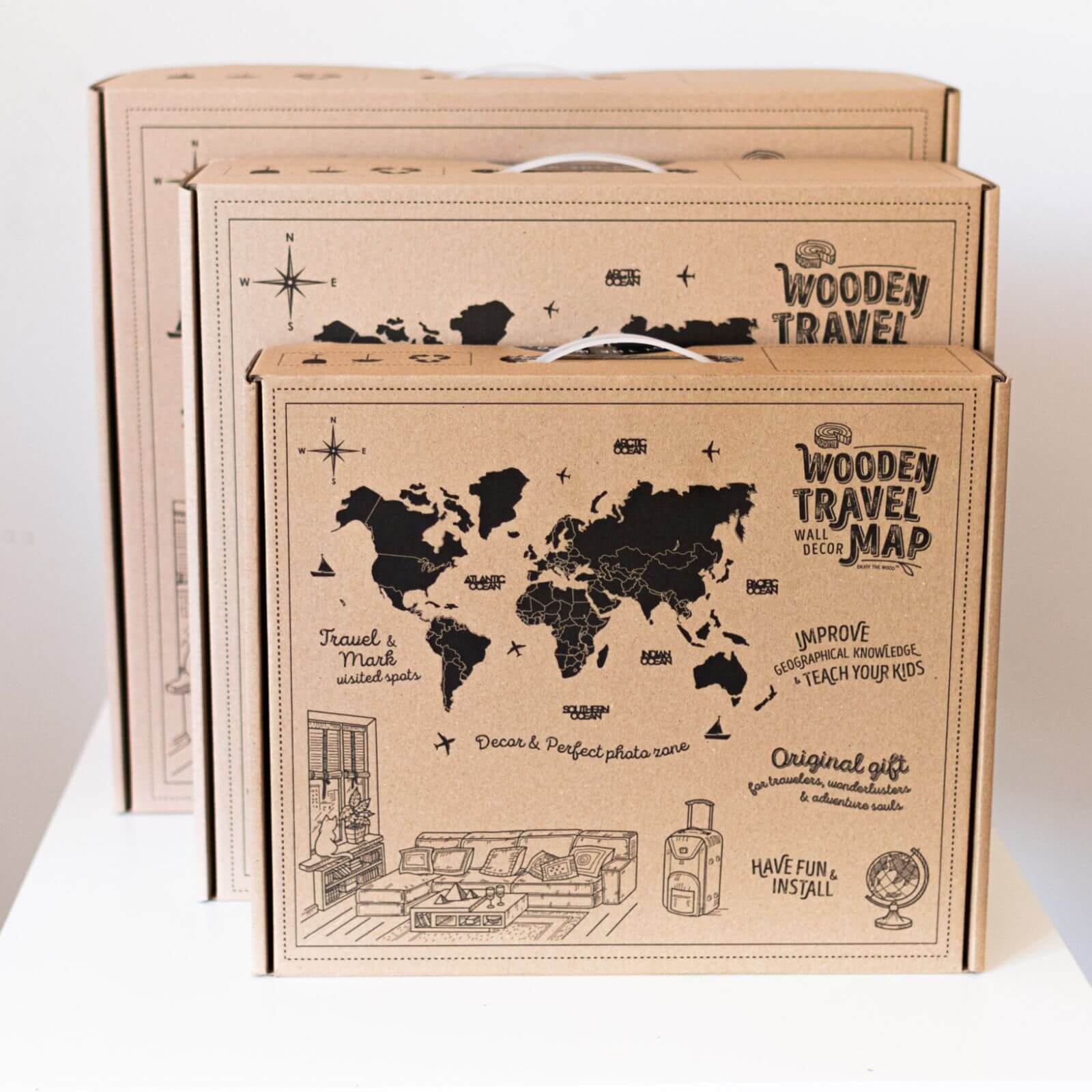 3D Wooden World Map Azure
Looking for a non-standard way to decorate your space? Or, perhaps, you're tired of boring gifts that do not impress recipients? In both cases, a 3D wooden map from Azure line will have a maximum wow effect.
Only maps left in stock!

BUY NOW!
people bought this product in the last 24 hours
visitor(s) currently looking at this product
Product description
Made from high-quality wood, a 3D world map in blue color offers your home interior a greater perception of quality. The pieces from the Azure collection have an eye-friendly palette. All the colors – from navy, aqua, and turquoise to sky blue and aquamarine – play well together and add more life to any interior.
The 3D map is available in different options:

Blank Map (only Map, names and borders NOT printed);
Prime+ ( Map with names, borders, rivers, lakes +mountains printed);
The world map is perfect to glare at when planning your next destination, before going to bed, or reminiscing on your last travel adventures. Living rooms, bedrooms, offices, and halls will look more alive with a beautiful décor from Azure line.
You can also inspire your loved ones by giving them with a unique and travel-themed gift! Whether it's a birthday, Easter, Thanksgiving, Christmas, Hanukah, or any other special occasion, the 3D wall map will 100% make them feel good at home. Please note that the map is not an educational tool since some small islands and countries are omitted.
You will self-install the wall décor with no extra help! Use the instructions and a sticky tape provided with each purchase to cope with the process as fast as possible.
For more information on map sizes, refer the Size Guide page
Specification:
As the first creators of Wooden World Maps, Enjoy The Wood offers you original products backed by a strong patent portfolio, reaffirming our commitment to innovation and protection 🥇. Our colorful art large world map from the Azure collection is handcrafted from top-quality fiberwood with all the countries and continents clearly printed. Feeling stressed? Mount a map to create a small haven of relaxation right in the living room! All materials used in the process of manufacture are earth-friendly, i.e., safe for you and the environment in general.
Default language
English (can be customized)
MISSION OXYGEN:
20 trees today - 50.000 trees tomorrow
Brand Name
ETW
Patented Design
Gift-Wrapping
High-Quality Materials
Easy To Attach,
Easy To Remove
Lifetime Warranty
Durable And
Stain-Resistant
Eco-Friendly
And Sustainable
Worldwide Delivery
Investors Of The
Wooden World Maps
Stringent Quality
Control On Every Stage
Over 20.000
Positive Feedback
FREQUENTLY ASKED QUESTIONS
Have a question ? We are here to help.
Will the Map stick to the wall which is not perfectly smooth and even (i.e. roughcast or wallpaper)?

Yes, it will. It depends on the type and height of the wall surface layer though. The smoother, the better.
How long does it actually take to install the Map?

The installation process takes several hours. It's a fun project to do as a group, if you wish.
Are there any tips to help with the installation?

Hold off on opening your box with the Map for 2-3 hours upon bringing it home, to give it some time to adapt to your home temperature. After opening the box, follow the instructions included and watch the video guides. Please note that to separate the islands, one should gently press on each piece, from top to bottom, until it comes out, to avoid chipping.
This product has no reviews yet.
Popular Posts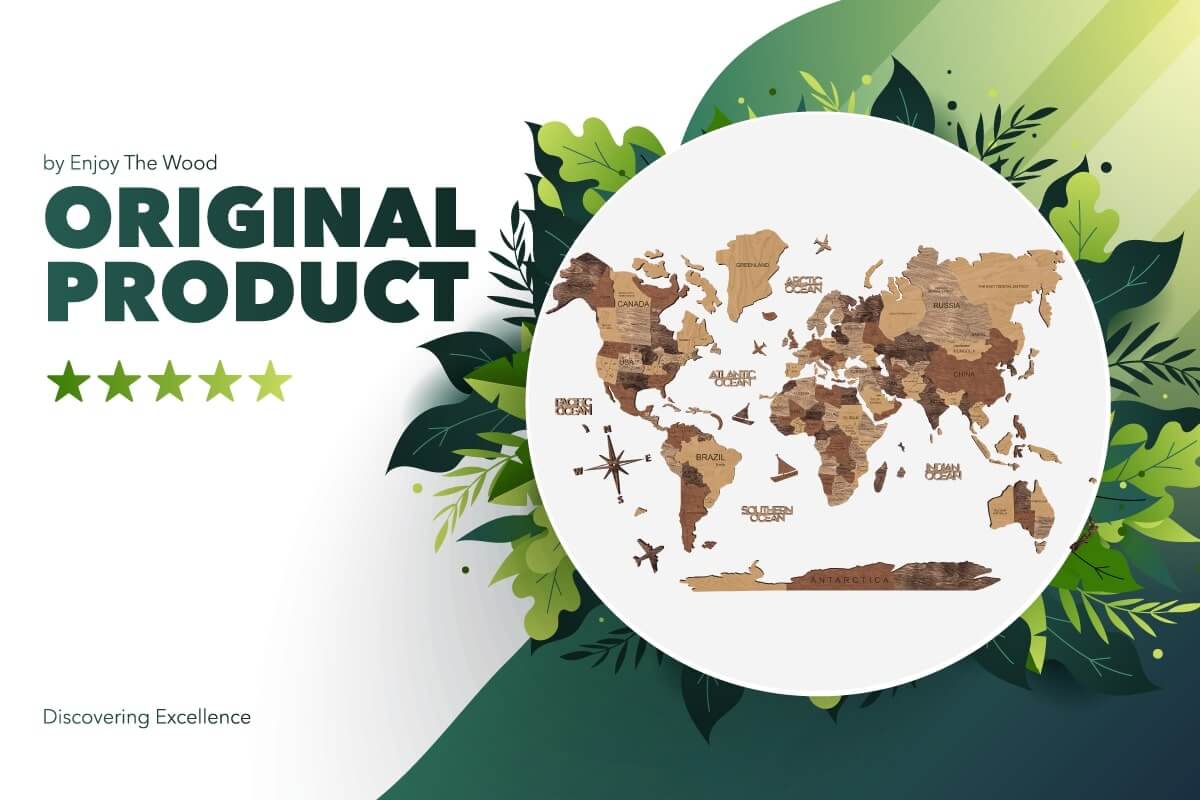 On This Page: The Essence of an Original Product Enjoy The Wood's Originality and Legal Confirmation The Day the World Saw the First Enjoy The Wood Map How to Identify Scammers Opting for Enjoy Th...
On This Page: Enjoy The Wood at TOP 100 USA Awards Enjoy The Wood: The Fostenko Family Goes Above and Beyond at TOP USA Awards The TOP USA Awards 2023 was successfully held, celebrating the amaz...
When it comes to Enjoy The Wood manufacturing, it's not just about in-house production. It's about crafting a memorable customer experience that embodies comfort, elegance, and a chill vibe. We're ...
WE HAVE BEEN FEATURED