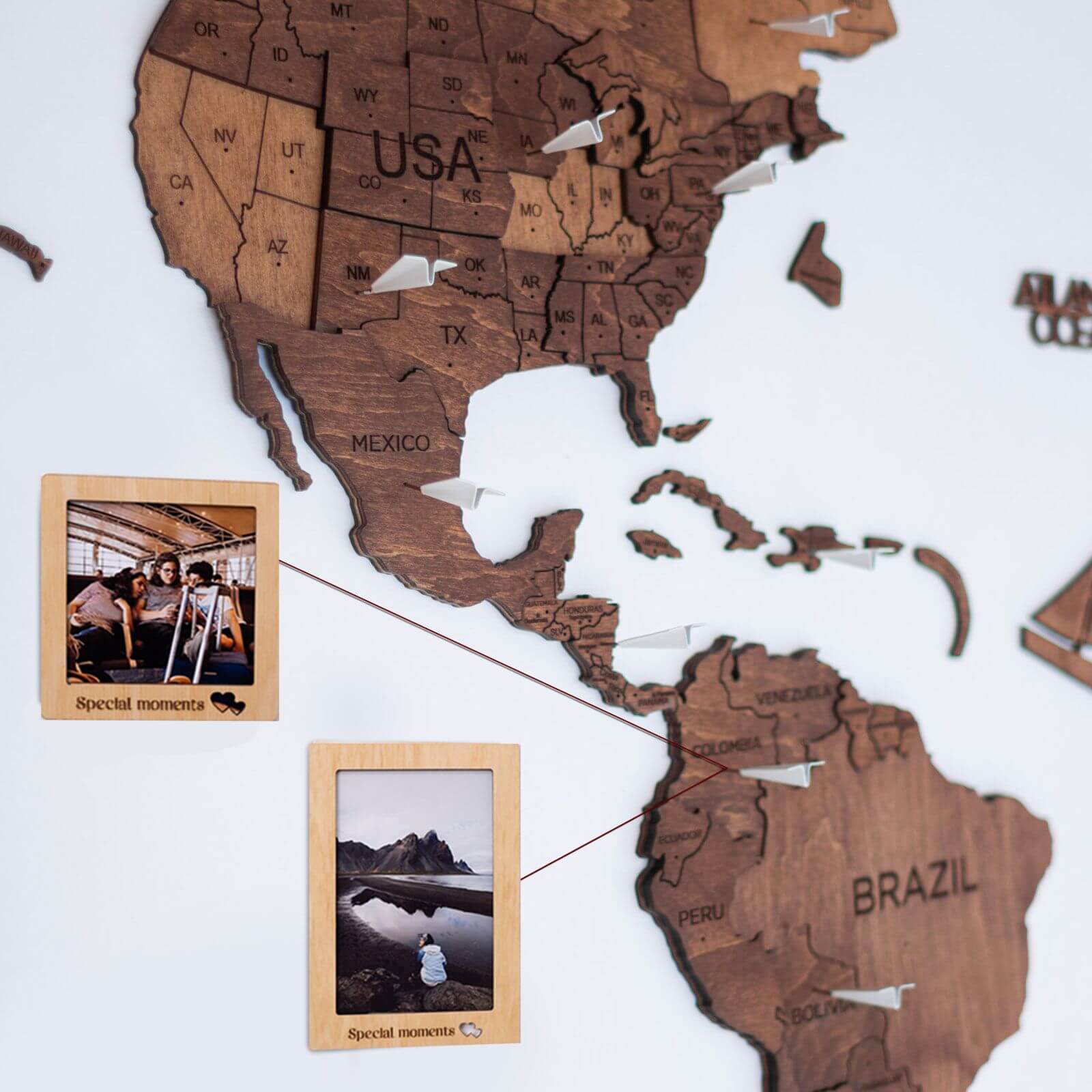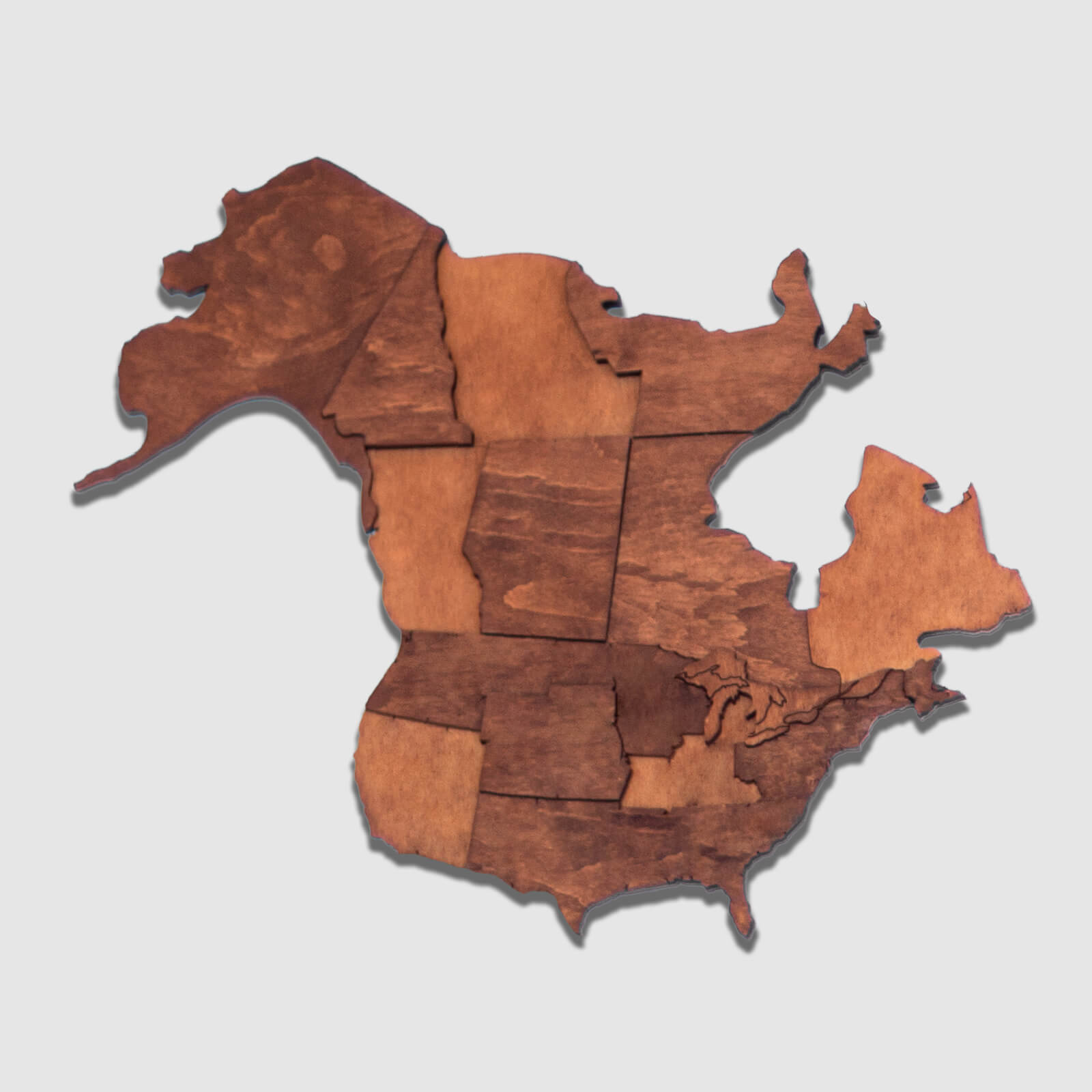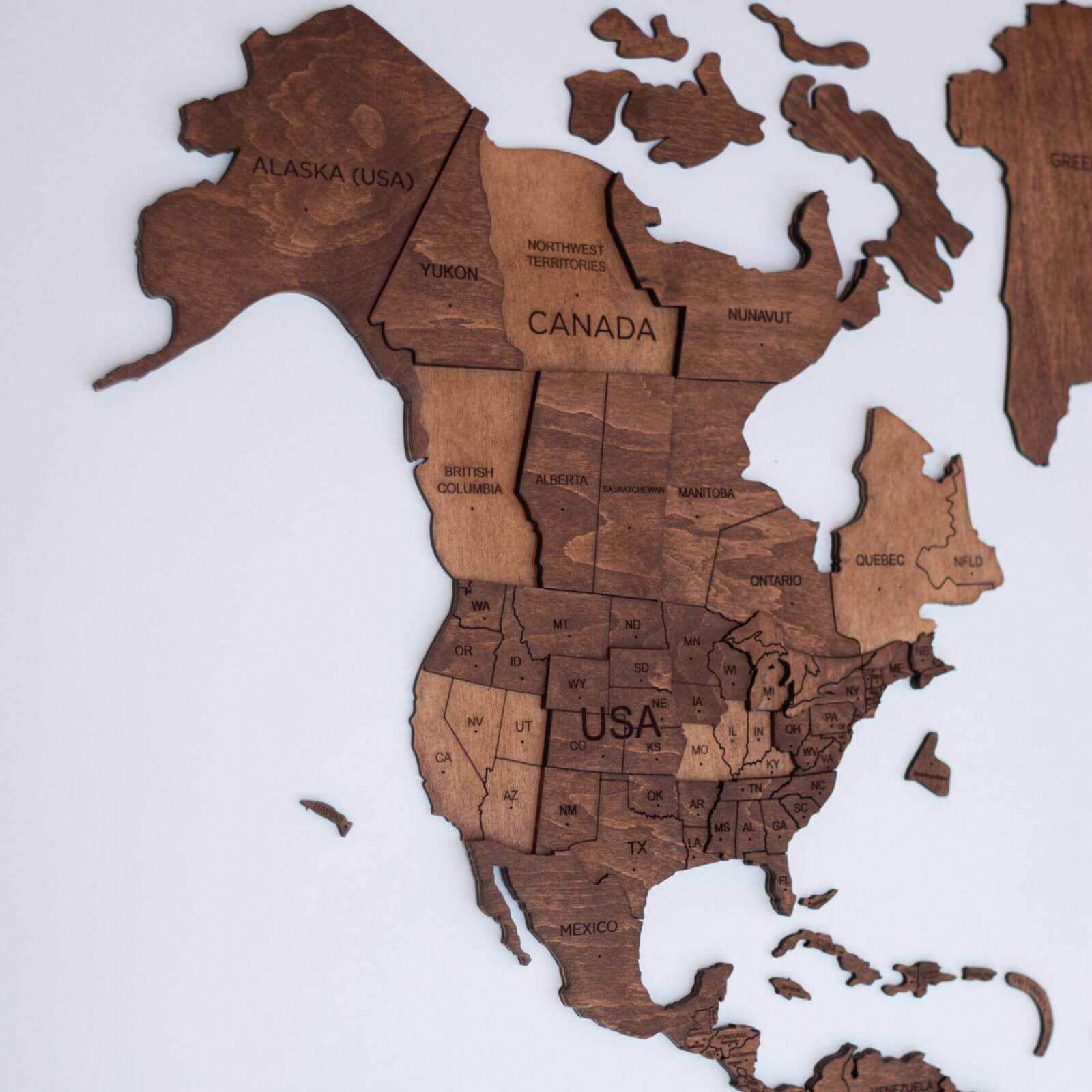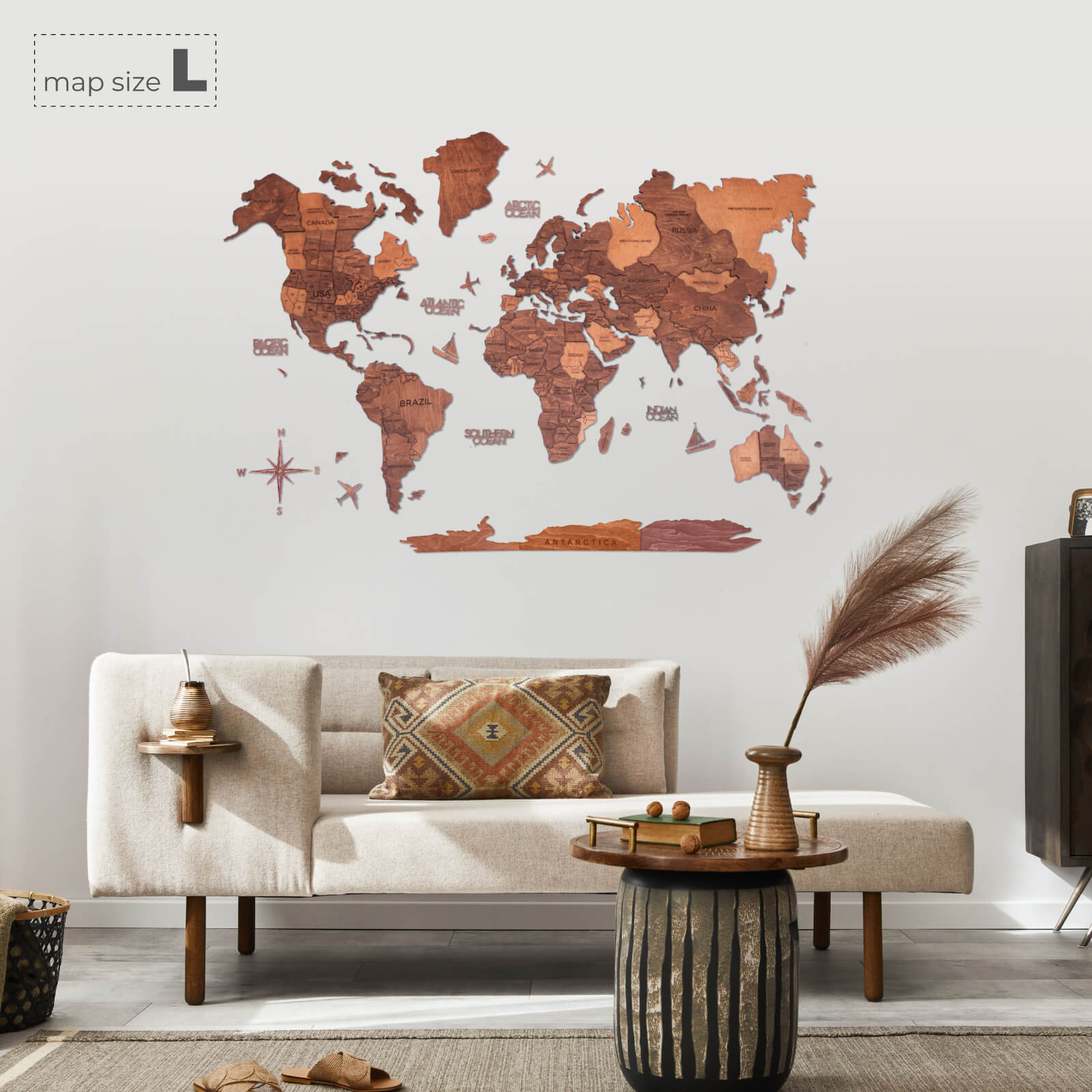 3D Wooden World Map Oak
How often do you curl up on the sofa, think about future trips, and engage in dazzling conversation with friends? Now you've got a reason to do all that and even more! A top-notch 3D wooden map from oak series is sure to liven up your space.
Only maps left in stock!

BUY NOW!
people bought this product in the last 24 hours

visitor(s) currently looking at this product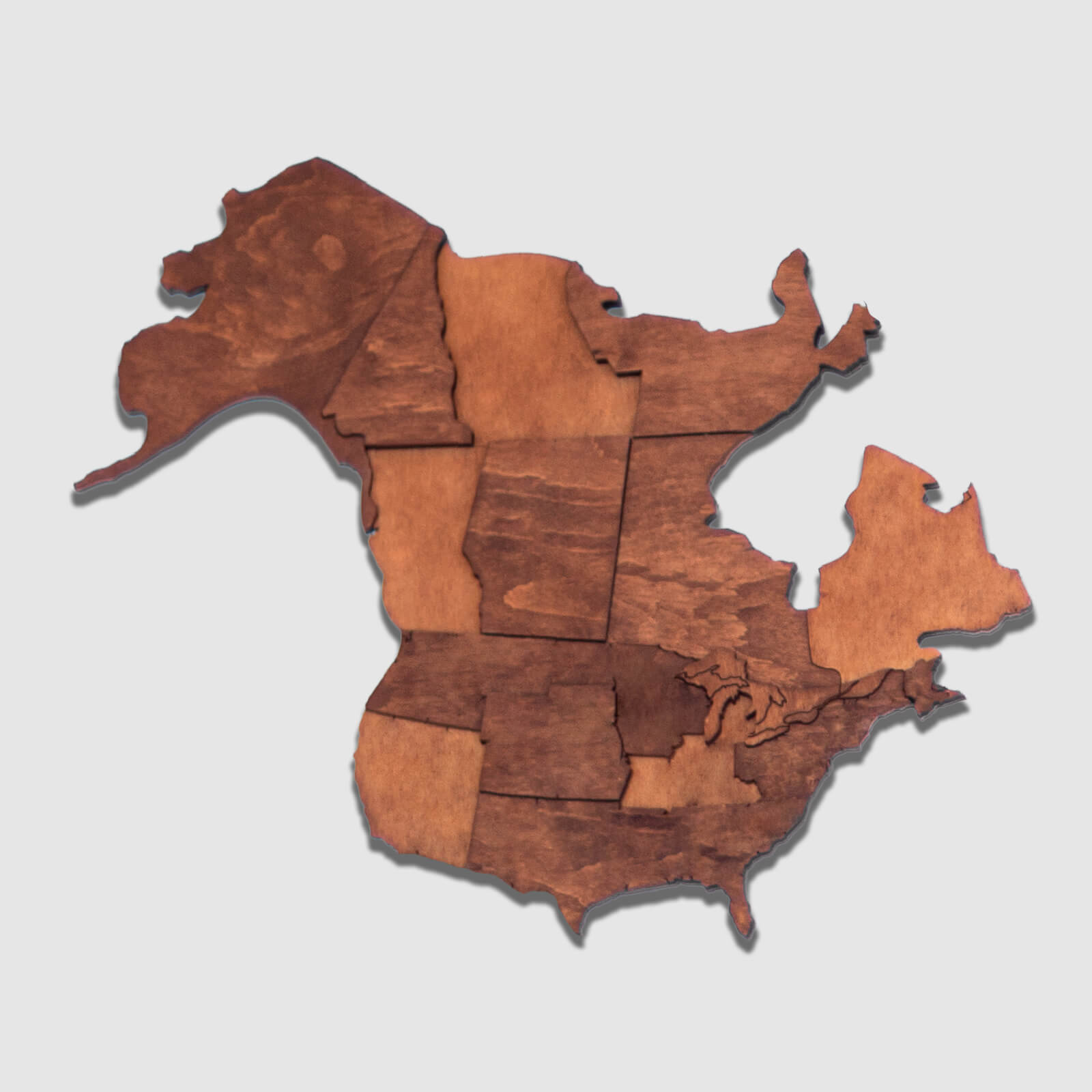 Product description
Lack of inspiration for future travels? Get a little motivation by incorporating a 3D wooden world map oak on your wall! Why not add a stylish piece of décor to your interior and have a constant reminder of how beautiful the world actually is? All conversations start here!
If you're a traveling soul looking for the décor more practical than scratch cards and out-of-date photos, wooden world maps are a great 2-in-1 alternative. On this map, we have the natural oak wood color that plays well with any interior – modern, rustic, transitional, industrial, and so on. 9 wooden photo frames are available to display either past memories or desired travel destinations.
Blank Map (only Map, names and borders NOT engraved);
Prime Map (only Map with names and borders engraved);
Prime+(even more details (mountains, rivers, lakes) and even richer colors!)
The wooden 3D world map puzzle draws kids' attention like no other piece of décor! Although the item is in no way a toy, it's enough to hook the little ones in. Study the world together, dream about the far-and-away lands, and plan your next trip together!
We did our best to simplify a product's design for easy assembly. With sticky tape and a step-by-step guide, mounting a wooden map is fast and doesn't require any previous skills.
For more information on map sizes, refer the Size Guide page
PLEASE NOTE: The map is not a geographical one, some smaller countries and islands may be omitted. Each Map is unique and shades vary because it's made of natural wood.
Specification:
As the first creators of Wooden World Maps, Enjoy The Wood offers you original products backed by a strong patent portfolio, reaffirming our commitment to innovation and protection 🥇. Made of top-notch birch plywood, the 3D map is durable and lightweight. Since the item is quite thin, it looks elegant and enlivens even the tiniest of living spaces. Approach our managers to order décor with the geographical names engraved in your mother tongue.
Default language
English (can be customized)
MISSION OXYGEN:
20 trees today - 50.000 trees tomorrow
Empty wall is not a solution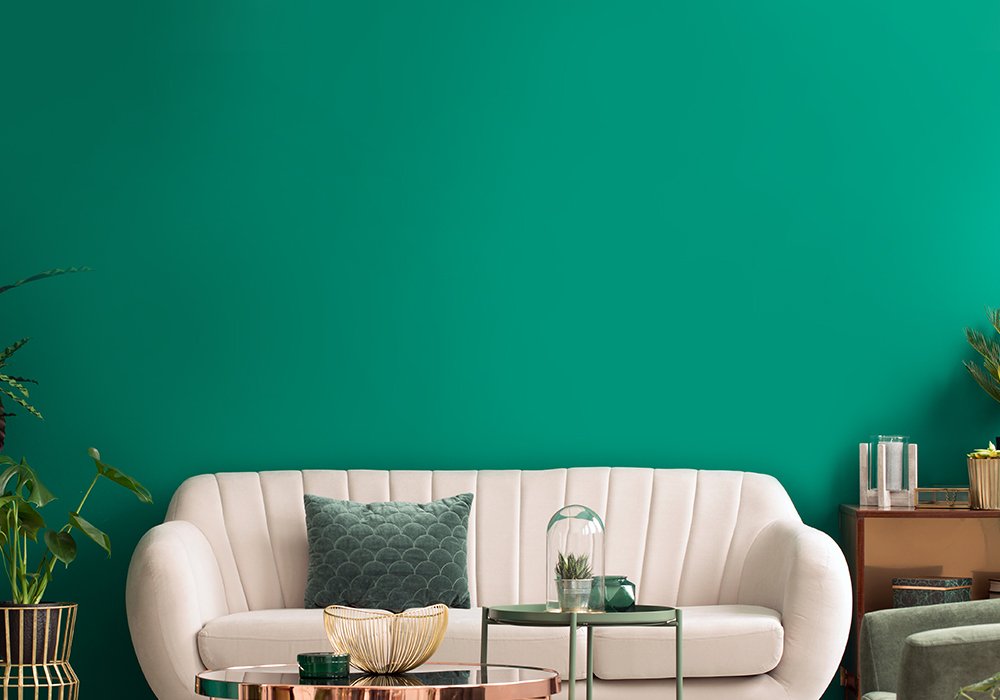 Before
After
FREQUENTLY ASKED QUESTIONS
Have a question ? We are here to help.
Will the Map stick to the wall which is not perfectly smooth and even (i.e. roughcast or wallpaper)?

Yes, it will. It depends on the type and height of the wall surface layer though. The smoother, the better.
How long does it actually take to install the Map?

The installation process takes several hours. It's a fun project to do as a group, if you wish.
Are there any tips to help with the installation?

Hold off on opening your box with the Map for 2-3 hours upon bringing it home, to give it some time to adapt to your home temperature. After opening the box, follow the instructions included and watch the video guides. Please note that to separate the islands, one should gently press on each piece, from top to bottom, until it comes out, to avoid chipping.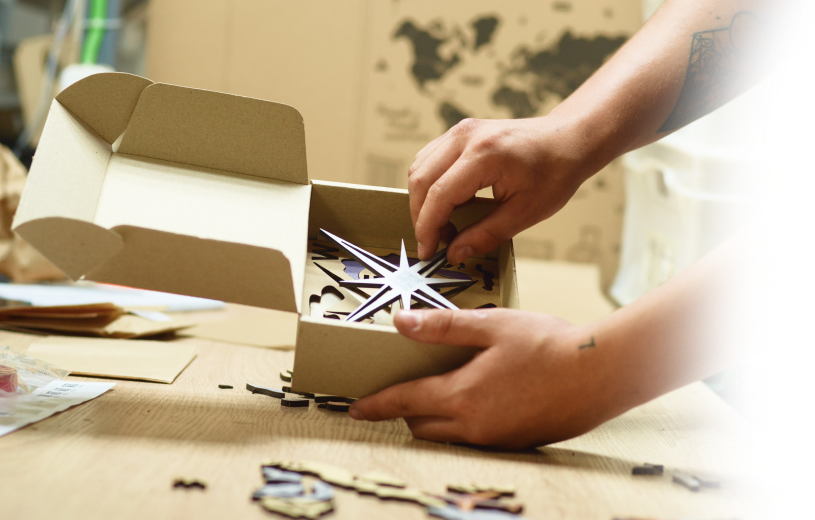 World Map: Timeless, En Vogue & Crafted to Last Generations
There is a die-hard cliché that wood is beyond competition and offers a timeless look. With our handcrafted wall maps, we could go on with more advantages. Our woodwork combines quality, and creative craftsmanship with time-tested wood types. Made of birch plywood, the wooden map is resistant to wear and tear. Besides, the elegant map design successfully transforms the mood of a room or entire place. This provides incredible value for your money.
Whatever Your Interior Style, It's not Complete Without a World Map 
The beauty of real woodwork art can't be replaced. We offer meaningful and quality wall maps built of birch plywood with ingenious engravings. They look good in any design – from traditional and farmhouse to industrial and modern. Mount the map on the wall, and the beauty of your room is centered around it!
Incorporate a world map into your room as:
- a family-friendly décor choice
- the best look without too many efforts
- a travel inspiration 
- an earth-friendly décor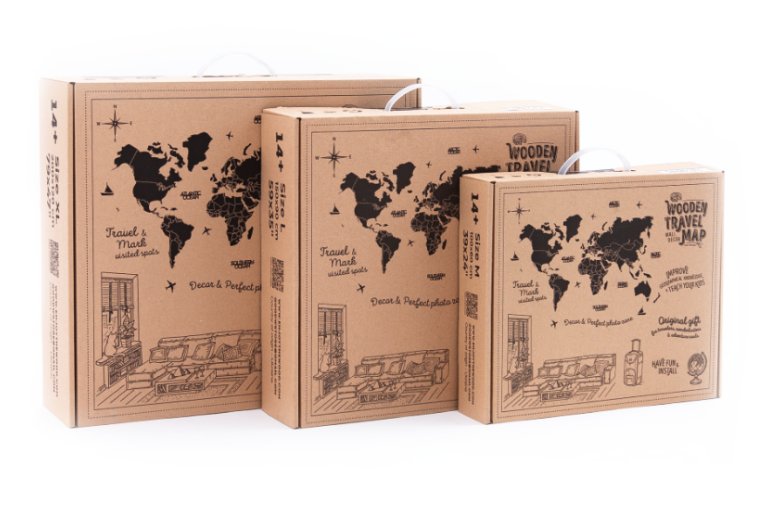 Gift-Ready Packaging
Check out our gift-ready packaging options! Every product is delivered in an aesthetic gift box that is:
- handmade and ready to ship
- equipped wooden continents, planes, sticky tape, instructions, etc.
- eco-friendly 
- crafted in a style that echoes the map style
- a perfect alternative to conventional gift wrapping
This product has no reviews yet.
Popular Posts
On This Page: Minimalist Decorating Ideas #1 Wooden 2D Map of the World #2 Wooden 3D World Map Wall Art #3 World Map Concrete – Minimalist Home Décor #4 Glass Vases – Minimalist Decorating #5 Aest...
On This Page: #1 Add Decorative Wall Map Like Travel Wall Decor #2 Use Wooden Lake Maps as Travel Themed Decor #3 Add Wooden Key Holder as Travel Inspired Decor #4 Use Wooden City Map Like Travel...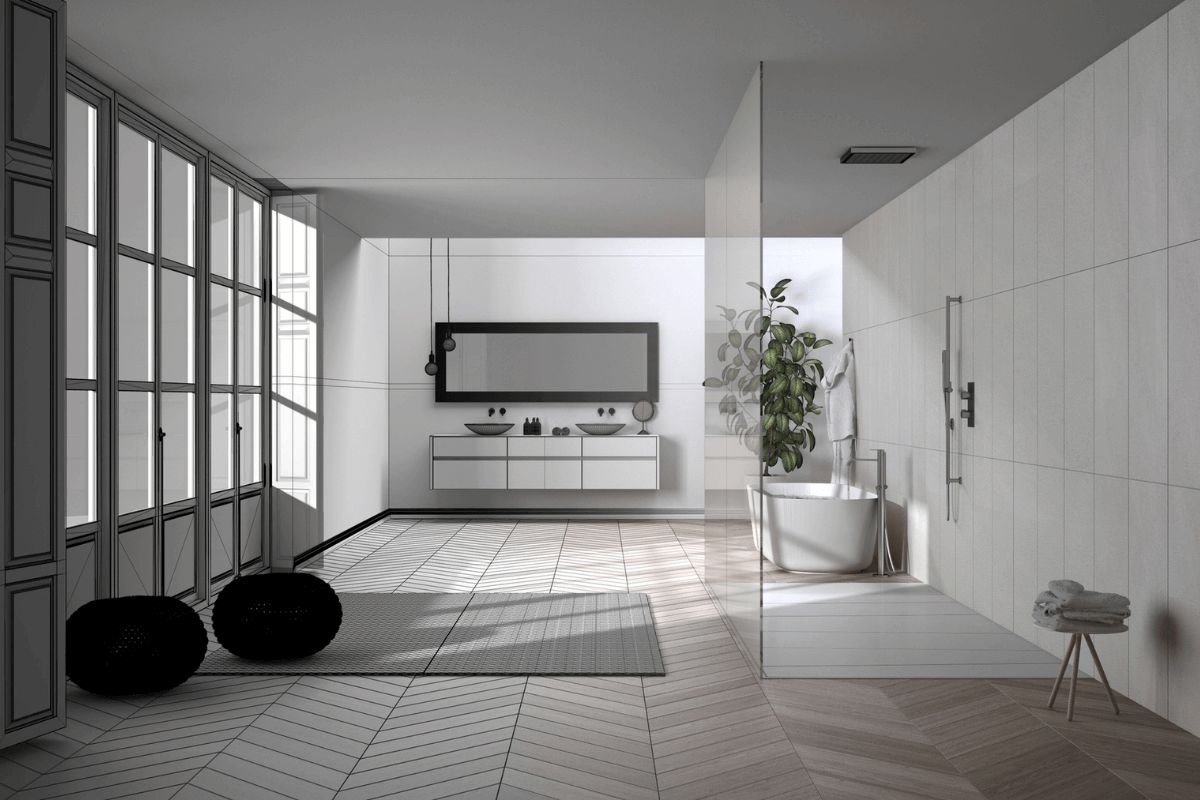 On This Page: Decor Ideas for Beige and Gray Bathroom Black and Grey Bathroom Decor Ideas White and Gray Bathroom Decorating Decorating Ideas for Pink and Grey Bathroom Gray and Gold Bathroom Déco...