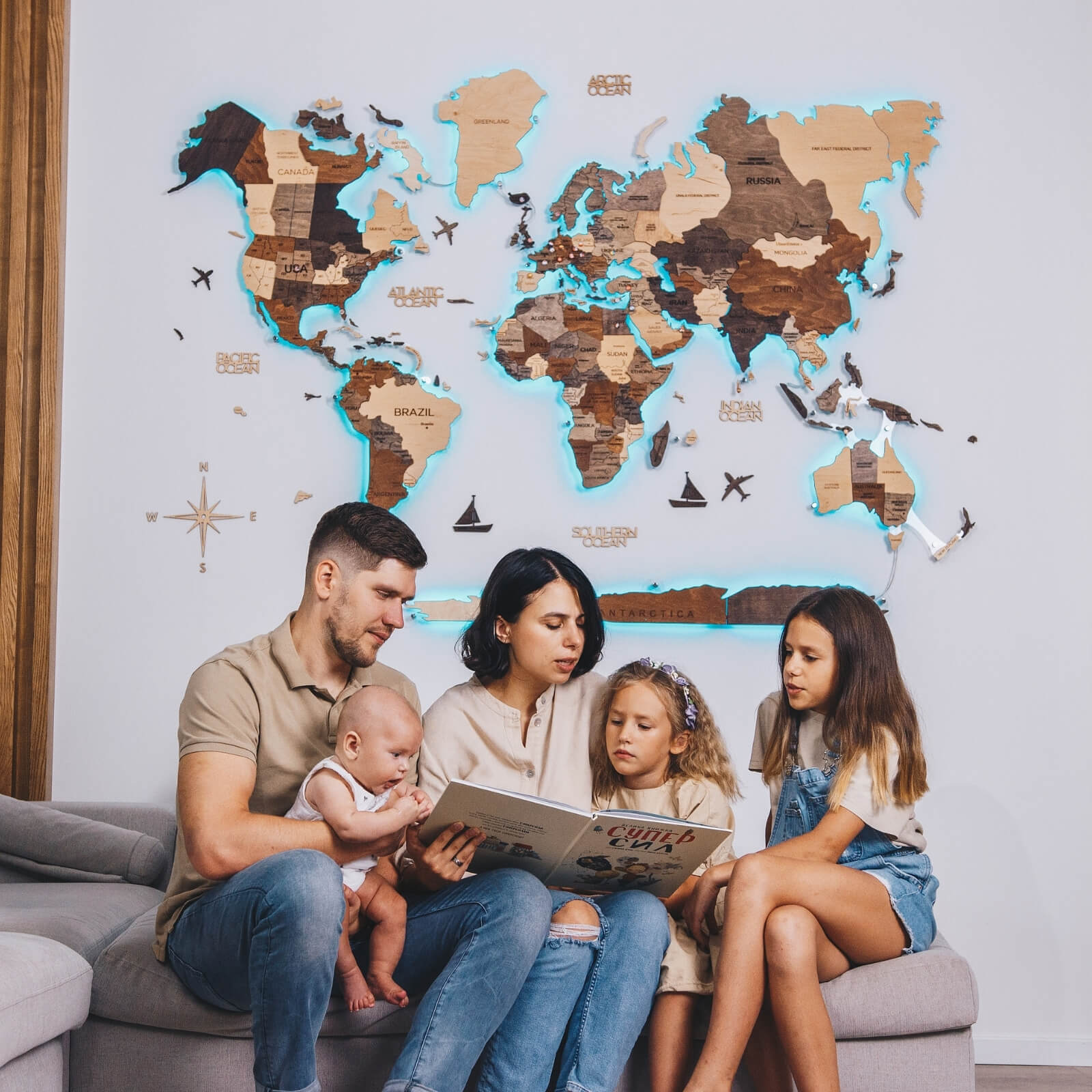 3D LED Wooden World Map
Travel addicts, rejoice! If your home (or any of the rooms) has a travel theme, add a stylish final touch to it with a 3D LED world map! Crafted from quality materials, the wall map turns any interior into an aesthetical haven.
What type of PLUG do you use?
people bought this product in the last 24 hours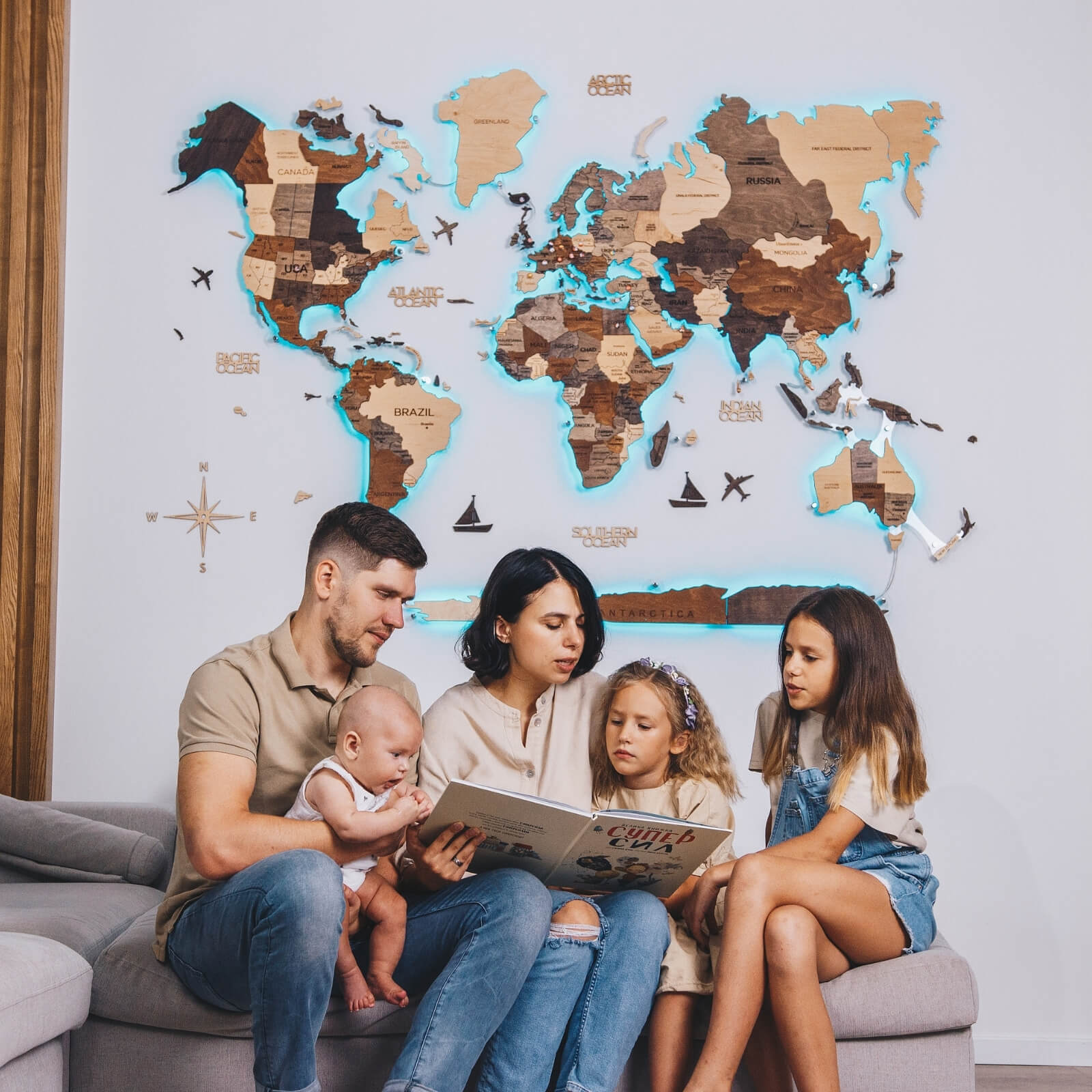 Product description
With a led 3D world map mounted on one of your walls, you'll not only have a beautiful piece of décor in a bedroom, nursery, living, or dining room (or elsewhere!), but you'll have personal inspo for new adventures!
Handcrafted from earth-friendly and non-toxic materials, the 3D map has all the countries, continents, oceans, and other geographical elements clearly traced and quite realistic.
Light up map of the world in any room, be it a bedroom, kid's room, study room, or even sterile office that lacks the human touch. The best thing about the map backlit with colored LED lights is that it plays well with all existing interiors – from classic and transitional to minimalistic and rustic.
Looking for ways to become an excellent gift giver? With our 3D LED maps, Birthday, Christmas, Thanksgiving, and Baby Shower giftees will be impressed!
We offer the simplest and smartest way to bring LED lights to your décor! The piece is easily installed (no tools or special appliances needed, just some double-sided sticky tape) and controlled from your phone — with more new light modes & twinkling!
Meet MORE strikingly beautiful features:
18 new colors. Add a chilling vibe or get into a mega-productive mood with the right color palette!
RGB LED (Neon colors) option. Lights glow in 7 different modes, so you can adjust both the ambiance and brightness of the light using our APP and your phone.
Elegant design. The lights are behind the continents.
Acrylic background. The led 3D world map is ready to be placed on the wall. Some of the smaller islands don't have the acrylic base and backlight. Just stick them to the wall.
Quick installation. The process takes not more than 2 hours. Check out the video with instructions to ease the process. To mount the piece, stick it to the wall using our special double-sticky tape (comes in a package!).
Remote mounting. Every map is provided with a set of special anchor bolts to mount it at a short distance from a wall (get a drill if you go for this option!). We recommend using the anchor bolts if your wall is not sufficiently sturdy/even or if you choose XL/XXL maps.
Works with 110V/220V. EU/US electrical plugs are available (plug left).
CE Certified – all our products meet health, safety & environmental protection requirements.
Enjoy our new assortment of pushpins! We've updated our previous collection to include some new sticky and magnetic ones. Order a world map with a wooden board to document the stories behind your past journeys and 40 colored pins + 8 special events pins. Personalize your map to turn it into a unique and sophisticated trip planner.
For more information on map sizes, refer to the Size Guide page 
PLEASE NOTE: The map is not a geographical one; some smaller countries and islands may be omitted. Each Map is unique, and shades vary because it is made of natural wood.

Specification:
As the first creators of Wooden World Maps, Enjoy The Wood offers you original products backed by a strong patent portfolio, reaffirming our commitment to innovation and protection 🥇. Multicolor 3D led map is crafted from birch plywood known for its durability and quality that together help the item stand the test of time.
Default language
English (can be customized)
CE Certified
Low Voltage Directive LVD 2O14/35/EU
Radio Equipment Directive 2O14/53/EU
EMC Directive 2O14/30/EU
Restriction of Hazardous Substances Directive RoSH 2O11/65/EU
MISSION OXYGEN:
20 trees today - 50.000 trees tomorrow
Brand Name
ETW
Patented Design
Gift-Wrapping
High-Quality Materials
Easy To Attach,
Easy To Remove
Lifetime Warranty
Durable And
Stain-Resistant
Eco-Friendly
And Sustainable
Worldwide Delivery
Investors Of The
Wooden World Maps
Stringent Quality
Control On Every Stage
Over 20.000
Positive Feedback
FREQUENTLY ASKED QUESTIONS
Have a question ? We are here to help.
Will the Map stick to the wall which is not perfectly smooth and even (i.e. roughcast or wallpaper)?

Yes, it will. It depends on the type and height of the wall surface layer though. The smoother, the better.
How long does it actually take to install the Map?

The installation process takes several hours. It's a fun project to do as a group, if you wish.
Are there any tips to help with the installation?

Hold off on opening your box with the Map for 2-3 hours upon bringing it home, to give it some time to adapt to your home temperature. After opening the box, follow the instructions included and watch the video guides. Please note that to separate the islands, one should gently press on each piece, from top to bottom, until it comes out, to avoid chipping.
This product has no reviews yet.
Popular Posts
On This Page: Minimalist Decorating Ideas #1 Wooden 2D Map of the World #2 Wooden 3D World Map Wall Art #3 World Map Concrete – Minimalist Home Décor #4 Glass Vases – Minimalist Decorating #5 Aest...
On This Page: #1 Add Decorative Wall Map Like Travel Wall Decor #2 Use Wooden Lake Maps as Travel Themed Decor #3 Add Wooden Key Holder as Travel Inspired Decor #4 Use Wooden City Map Like Travel...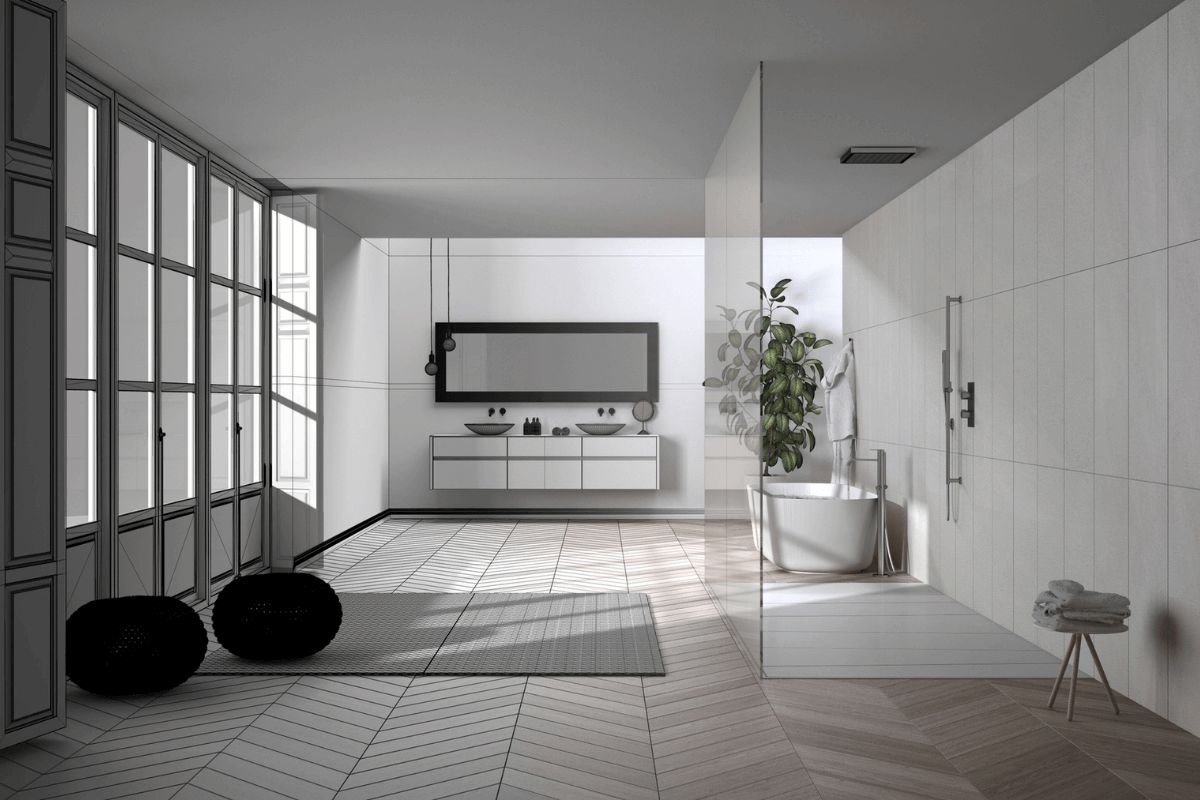 On This Page: Decor Ideas for Beige and Gray Bathroom Black and Grey Bathroom Decor Ideas White and Gray Bathroom Decorating Decorating Ideas for Pink and Grey Bathroom Gray and Gold Bathroom Déco...
WE HAVE BEEN FEATURED